Yacht for Charter
SOUTHERN COMFORT
8728
51ft / 15.8M
| Builder: Lagoon
| Year: 2017
---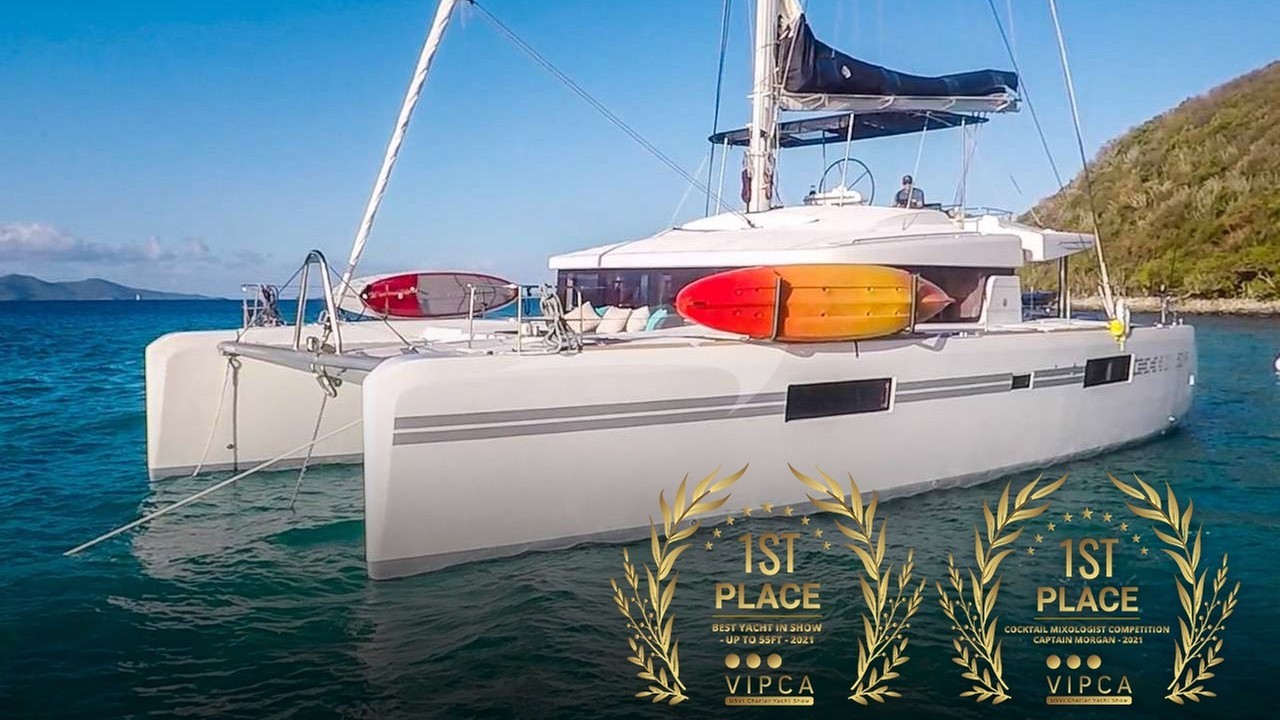 ---
Yacht Charter SOUTHERN COMFORT By Lagoon
Cruising Speed
8kts (15kph)
From:
$29,000
plus expenses
Contact Us For More Information
Captain: Ish Alexander (26)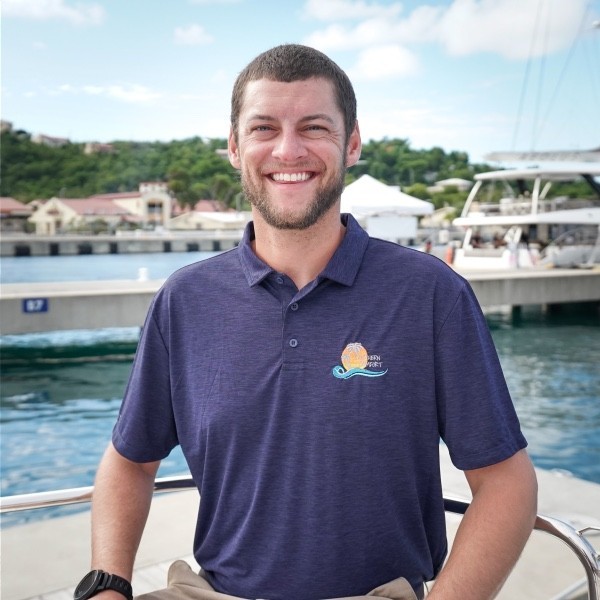 As a child, Ish anxiously awaited the arrival of summer when he would head to his grandparents' cottage in Ontario. The waters of Lake Huron became the playground where Ish learned to sail his grandparents' 16' Wayfarer. On any given sunny summer day, he could be found out on the lake struggling to untangle himself from a rat's nest of lines or being caught by a sneaky gust that caused him to capsize. Those first few years with the Wayfarer served as a foundation for a great passion for sailing. After graduating from high school, Ish attended Prescott College in Arizona where he fed an insatiable appetite for the outdoors. College orientation, a 3-week backpacking trip through a canyon in Arizona, opened a whole new world of outdoor pursuits and possibilities. Over the next 4 years, he filled his spare time with surfing, backcountry skiing, white water rafting, rock climbing, stargazing, campfire-ing, and howling at the moon! A desire to sail in salt water persisted, even in the desert. Ish satisfied his salt water cravings with a job living and working aboard sailboats in the British Virgin Islands. Over 6 summers with Sail Caribbean, a summer camp for teens, Ish served as captain, fleet captain, and program director. He was able to also fulfill his aspiration to work on a commercial salmon fishing boat in Alaska before finally realizing his lifelong dream of leading unforgettable charters for guests in the Virgin Islands. His time in the VI has given him outstanding knowledge of the local culture and natural treasures to be enjoyed here. He has a deep love for these beautiful islands and the surrounding waters and is excited to share this passion with each and every guest who comes aboard.
Chef: Julia Malone (25)
Julia has dedicated much of her time and passion to preserving and protecting these very wild places that she has grown to treasure. Julia gained certifications as a Scientific Diver, presided over UF's chapter of the National Surfrider Foundation, and volunteered for the Association of Reef Keepers where she cleaned the beaches and waters of the BVI and worked to conserve marine sea turtles. Julia has spent three summers with Sail Caribbean. There, she has served as captain, sailing instructor, dive advisor, and marine biology teacher. With each summer spent in the BVI, Julia has grown in her knowledge and appreciation of the sea, marine life and the culture of the islands. Her experience complements her Wilderness First Responder and Rescue Diver certifications in safely sharing her passion and enthusiasm for outdoor recreation with people of all ages and experience levels. All this, however, pales in comparison to Julia's love for food. A strong believer in food being the ingredient that binds us all together, Julia works hard to create a menu that excites and unites each group of guests she encounters, whether at home with friends and family or on the job. An appreciation for coupling meals with the right ambiance and a love for fresh & local ingredients motivates Julia to bring adventure and exquisite flavor to the table for each meal.
Ish and Julia met in 2017 working for Sail Caribbean, a summer camp that runs three week trips at sea for teens aboard sailboats in the BVI. Their fondness for one another steadily grew throughout the summer, as they filled their days teaching their students sailing, SCUBA diving, marine biology/conservation, and leadership skills. They immediately bonded over their shared appreciation for the deeper things in life ... the beauty of a nighttime sky, the unifying power of music, the significance of the friendships closest to us. After only knowing each other a few days, they found themselves staying up late eagerly exploring bilges and engine rooms together, trying to understand their systems, or taking the dinghy out to remote spots to marvel at the phenomenon of the bioluminescent plankton in the sea below. They quickly realized their motivation to thrive in this industry was intrinsic and thus began their quest to become term charter crew. Due to their genuine passion for sailing these waters and their deep love of human connection, Ish and Julia excel at making each guest feel welcome and comfortable while unveiling the awe-inspiring beauty and adventure that these islands have to offer. Ish and Julia foster a relaxing environment onboard and prioritize customizing each charter to the guests' specific interests in order to create trips that groups will warmly cherish for a lifetime. Their enthusiasm, work ethic, and personable nature make them a great team as they continue to follow their passion for hosting unforgettable charters in their favorite place in the world!
May 2022 USVI Charter
What an amazing trip. Wonderful food, wonderful crew! Love, love, love it!
- Wayne & Cindy

Trip of a lifetime! Wonderful crew and good times had by all!
- Addison, Emily & Jackson

Simply the best! Thank you guys so very much for such an amazing time. You both are the best crew ever and we certainly wouldn't have enjoyed ourselves without you!
 - Kristen, Dusty & Ryland"

May 2022 USVI Charter
Dear Ish & Julia,

We came aboard Southern Comfort day 1 armed with tons of background research and very high expectations. We knew a lot about our upcoming adventure, but what we didn't know is that not only would our expectations be met but they would be blown away!!! The hospitality and boat knowledge that Julia and Ish displayed were beyond impressive. From the first delicious dinner to the last scrumptious breakfast, Julia's cooking was well planned, gorgeously plated, plentiful and incredibly tasty. We were only bummed that we ate one lunch off the boat, because it could not compare to Julia's! The water activities were also well planned and phenomenal. Ish made everything easy and accessible ... the snorkeling, dives, kayak and paddleboards were a blast! And we even got to water ski!

But what stood out most of all was Julia and Ish's passion for what they do. Everything done with a smile and a kind word, always making us feel confident and pampered. And so many little details that seem easy but we know took a lot of effort. We appreciated every single one!
We enjoyed literally every single moment, and we walk away with 2 new friends, many amazing photos and memories we will carry with us forever!

With much gratitude,
Anne and Jeff
Chris and Jason
Dawn and Pete
Laura and Chris




April 2022 USVI Charter
Hogs on a boat ... it all started with Leonard's bucket list 15-20 years ago. Even with COVID complications removing BVI, the USVI did not disappoint. Four husbands who all went to high school, one wife who also did, and three wives who joined the fun, all explored the fun times together. Ish and Julia became part of our family as they cared for us and shared their lives with us. We loved the amazing food served three times per day and many of us had lots of "firsts" of foods. Yummy!! Snorkeling, cruising "on the Boat", exploring beaches ... we loved it all. Time after dinner to relax and reminisce, play the Newlywed Game, go to Prom, etc. led to lots of memories and laughter. Again, Ish and Julia were amazing! We are adopting them. Their parents must be so proud! Go Hogs!
Leonard & Denise
Mark & Carla 
Bill & Sandy 
Vanessa & Dennis 
April 2022 USVI Charter
Best trip ever!!! Boat was fabulous. Crew was wonderful. Food was outstanding. We look forward to coming back soon. We would really like to point out that Julia and Ish were so kind and helpful, catering to all our requests. Could not imagine going on another boat trip without checking what boat they are crewing so we can be onboard. Once again, thank you for everything!
Nataly and Victor
Good times and great vibes! We started the trip with 8 friends and left with 10. Julia's cooking is fantastic! Ish led the underwater excursions and hit the happy hour button. For all who come after us, sit back, enjoy the scenic ride, and have a wonderful time like we enjoyed.
With love and smooth sailing,
Sheldon and Nancy
March 2022 USVI Charter
This trip was a special time for our family to spend time together before schedules get complicated with college. On Southern Comfort you are never "not on vacation"; no waiting in lines for dinner reservations, dive or snorkel excursions. We were on our own schedule. Julia and Ish made it all happen with ease. We dined daily in gourmet food and there sure was plenty of it!! Ish's easy going, calming vibe made our daily activities relaxed ... especially with diving! We thank Julia and Ish for sharing their talent of hospitality and love. It made it so special for us. This is truly a vacation our family will never forget!
March 2022 USVI Charter
After my birthday sailing trip with three other couples was canceled one week into COVID, rescheduled three times, re-directed from BVI to USVI, and had a crew change, I was not sure what our sailing trip would be like. Those concerns quickly disappeared upon arrival to Southern Comfort. We were warmly greeted with Julia's smile and Ish's calm demeanor which instantly relaxed us all. The pair worked tirelessly the entire trip - incredible, delicious gourmet meals every day (tailored to address food allergies), selective, beautiful coves to swim, kayak, paddle board, dive, anchor, sail in the turquoise waters were just what we asked and hoped for … every, I mean, every attention to detail was considered. I have never seen two people work as hard as Julia and Ish and yet did so with ease and smiles. They truly care about ensuring you have a wonderful trip and are passionate about what they do. I could not have asked for a better birthday or a vacation. Anyone who is able to have Julia and Ish as their crew would be lucky to have them. The trip was worth waiting for and one I will always remember in a large part to Julia and Ish's unbelievable hospitality. From the bottom of my heart, thank you Julia and Ish!! We all miss you already
- Jillian 
March 2022 USVI Charter
"Wow!! What a trip! Julia and Ish outdid themselves. Our trip went way too fast. Julia's cooking and culinary artistry was truly amazing! Every meal was superb and even better than the restaurant! Their hosting skills were top notch. Ish was a very capable, responsible, and most competent captain! They were both so fun and friendly! They will be missed and are truly an asset to their profession and we wish them both well :) Southern Comfort is a gorgeous vessel! 
Fondly, 
the Jenny Weber Group,  from Weldon Spring St Louis, MO"
February 2022 USVI Charter
What incredible hosts you are - best vacation ever - so relaxing with the most delicious meals. Julia's cooking and meals are an inspiration each day. Couldn't ask for a better and more patient dive instructor than Ish. Julia and Ish are so sweet and thoughtful. I wish I could do this every year. 
Many, many thanks
-Vanni Family
February 2022 USVI Charter 
Ish & Julia,
Thank you! Food and service was top notch - a 5 star hotel on the water. More importantly though was your genuine friendship and graciousness. Your endless work ethic and making sure every need is met always is only overmatched by your loving, genuine personal touch. We had a wonderful time but we are sad to leave such special new friends! Come to Colorado - you are home. Dive Master Ish, thank you!!! Some of the best diving ever! We will never forget! Really perfect diving!
- Chad & Kara 
Many years ago I made a 'bucket list', and on the top was always a Caribbean Charter with my best friends. Never in my dreams did I expect to have literally the time of my life. Julia and Ish are warm and kind, talented and work tirelessly to make sure we had the very best experiences. We laughed, we cried, sang and danced. It is so hard to leave, but we hope to be back some day. Thank you from the bottom of our hearts for such a special trip. 
Much love, 
Jennifer & Louis
January 2021 USVI Charter
Julia & Ish,
I'm not much of a writer, but I'll try anyway. This has been such a wonderful week. I'm a bit heartbroken that it's ending and that this is the last day we will ever spend on this boat. The ocean has become our "happy place", but just how happy a place that truly is depends entirely on who we spend the days with. Chris & I have truly cherished getting to know you two. Your kindness and joyful attitude have made this a very special week indeed. I could go on about the wonderful food and the SCUBA and the weather. But the truth is that our favorite part was the two of you. We wish you a lifetime of happiness, favorable winds, and good sailing. I hope our paths cross again someday!
Love,
Laurie & Chris
Christmas 2021 USVI Charter
The Maner Family of five enjoyed 7 wonderful days aboard Southern Comfort with Julia and Ish as our crew. From the start Julia and Ish were friendly and professional. We found the boat comfortable and clean. We enjoyed AMAZING healthy meals made by Julia. She was extra careful with our daughter's tree nut allergy. Her attention to detail was very much appreciated. Ish is a great captain and bartender and was always offering a different cocktail to compliment Julia's appetizers. Ish also saved the day by going to a pharmacy for medication for one daughter while we were at dinner in Cruz Bay. So kind of him. Overall, the family rates this trip a 10 and we would do it again in a heartbeat. We loved the whole experience! Julia and Ish are the best! ❤️
December 2021 USVI Charter 
The whole family considered this to be a once in a lifetime kind of vacation and I have to say that it was one of the fastest seven day vacations that I have ever experienced.  Julia and Ish and the Southern Comfort catamaran did not disappoint.  They made us feel comfortable from our first planning conversation to our first step onto the Southern Comfort and each and every day until it was time to sadly say goodbye.  The food - holy moly can Julia cook!  We ate three delicious (and kind of healthy!) meals a day and each and everyone of them was outstanding.  What a surprise it was to get that kind of cooking out and about the USVIs!   The sailing - Ish is a terrific captain and made us feel safe and sound on both the SoCo and it's dingie!  Ish was also very patient with our questions and responded very deliberately yet in ways that were easy to understand.   We really felt that Julia and Ish were a great combination and complimented one another very well.  We would give them 5 out of 5 stars and highly recommend them to future vacationers.  
November 2021 USVI Charter
Dear Julia,
Thank you so much for a spectacular time! Although I arrived home to a full house and Thanksgiving preparations, how could we not miss the warm Caribbean and pampering we received on the Southern Comfort! From the time we arrived on the boat until the time we had to leave, you made our trip exceed any expectations that I conjured up in my mind. The catamaran was very well maintained and beautiful. A great vessel for respite from the daily grind. 
The sailing, snorkeling, hiking, diving and swimming were just the adventures that our group were looking for. You and Ish were great Captains, cruise directors, chefs and staff. We were all amazed at the spectacular  service provided to 8 people by just the 2 of you. 
The food was so delicious and diverse. Quite a feat in a small kitchen! You are quite an amazing chef. I'm still waiting for the cookbook! Everything you served was fresh, flavorful and visually delightful! A foodie paradise, if you will. 
I would highly recommend this experience to everyone. You both made our first sailing experience an extraordinary adventure!
Thank you for everything and please keep in touch. You are wonderful people who we really enjoy and admire.
Take care and have a healthy happy holiday season.
Fondly,
Jean
November 2021 USVI Charter
We hope our delay in sending this note to you does not diminish our gratitude or the joy we experienced for the seven days we sailed the Caribbean on Soterion with Ish and Julia. Every moment was magical as we enjoyed the special quality of your beautiful catamaran and the completely enjoyable company of your Captain, Ish, and First Mate and Chef, Julia. We couldn't have been more comfortable with such luxurious space and copious amenities. The perfect weather with strong winds, choppy waters, and abundant sunshine was an added benefit. And yet, it is Ish and Julia that made our experience most fun and memorable. In less than an hour, we knew that we were in experienced, capable hands and that getting to know our two hosts would be an absolute delight. As chef, Julia was 100% successful in meeting the challenge of our daughter, Julie's, unusual dietary restrictions. She presented one beautiful and delicious meal after another that the three of us thoroughly enjoyed. The meals seemed effortless despite the hours she spent in the galley, often with Ish at her side as sous chef or as clean-up assistant afterwards. The way they worked together as the sailing crew was even more impressive. They seemed to read each other's minds, and their nimbleness running from one part of the boat to the other was enviable. Their partnership as sailors and hosts was a joy to watch, and we're grateful to have been the beneficiaries of their skill, attentiveness to us, and utterly charming personalities. They also met the challenge of my fall and associated back pain with great concern and care, which made me feel safe and comfortable. We feel as if no words can do justice to their contribution to our absolutely perfect sailing experience, but we hope in some way this conveys our admiration of them and our gratitude for their efforts to care for us in every way possible. They each are very special individuals, and we are privileged to have had the opportunity to get to know them and spend time with them on your extraordinary sailing vessel. They definitely do the magnificent Soterion proud.

Gratefully,
Joan and Harry

Ammenities
Indoor audio system, iPod dock, TV saloon, Wi-Fi, 14ft/4.3m RIB 40hp, Beach games, Floating mats, Kayaks multiple, Kneeboard, Tube - towable, Wakeboard, Water skis - adult, Water skis - child, BBQ, Deck shower, Big game fishing gear, Hammocks, Kosher, Special diets, Swim platform
Diving
Not Insured, Snorkelling gear, Underwater still camera, 6 Tanks, 6 BCs, 6 Regulators,
$150.00 per Resort Course.
Referral Course if $300.00.
Captain Ryan is a dive instructor.
3 dives per week per person included.
Additional dives $50.00 per dive per person.
Online course required before charter commences.  Rate for the course during charter is $150.00.