Yacht for Charter
TAJ
9142
78ft / 24M
| Builder: VPLP
| Year: 2003
---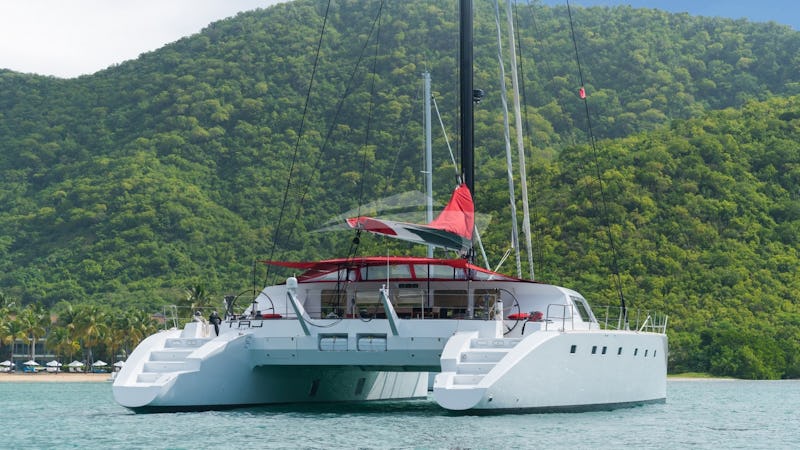 ---
Yacht Charter TAJ By VPLP
Cruising Speed
12kts (22kph)
Locations
West Mediterranean
From:
$31,919
plus expenses
Contact Us For More Information
Captain: Jaan Soon (49)
Previous yachts
Captain on S/Y VITALIA II, catamaran 38 m (ex Orange 2)
Engineer/Second Captain on S/Y CILIAM, catamaran 28m
Captain on M/S AMANDIRA, 52m Pinisie, Indonesian Traditional vessel
Engineer on S/Y CILIAM, catamaran 28m
First Mate on S/Y CORIOLAN V/VI, catamaran 25m
First Mate on S/Y KEEP TRUST, Classic 8m from 1940, 13m overall
Deckhand: Lou Le Galliot (36)
Previous experience
First Mate on S/Y ORIOLE, classic sloop
Captain on S/Y LIBERTY, Lagoon 440
First Mate on S/Y SERENADE, sloop 21m
First Mate on S/Y PATRIARCHY, schooner 23m
Skipper on S/Y PALYNODIE VI, classic 15m
Plenty of regatta experience
Job description
Lou has the expertise required to stand in for Captain in his absence, acting as second
in command. She
Chef/ Hostess: Sabrina Royer
Previous experience
Waitress at Le Café des Alpes – Corenc (38)
Head Waitress at Le Terrasse Café – Megève (74)
Head of staff at Stone Grill – Nouméa (98)
Barmaid at Yellow Beach – St Martin (971)
Waitress at Coco Beach – St Martin (971)
Waitress at NBA American Sport Bar – St Tropez (83)
Barmaid at The Golden Heart – London, England
Job description
Sabrina is in charge of the galley and is responsible of guests and crew meals, assuring
a rich variety of food. She estimates food needs, reviews inventory assuring adequate
supplies are available, sticking to budget and guests' expectations. She carries out food
service activities in order to have meals prepared at scheduled times and makes sure to
comply with health regulations. Thanks to her creativity, she develops new recipes and
ways of serving food in order to satisfy different guests' wishes.
Ammenities
14ft/4.5m Zodiac 50hp, Assorted water toys, Paddleboards multiple, Wakeboard, Water skis - adult, Fishing gear - light
Diving
Not Insured, Snorkelling gear