Yacht for Charter
XENIA 50
6272
49ft / 15.2M
| Builder: Privilege Yard
| Year: 2015
---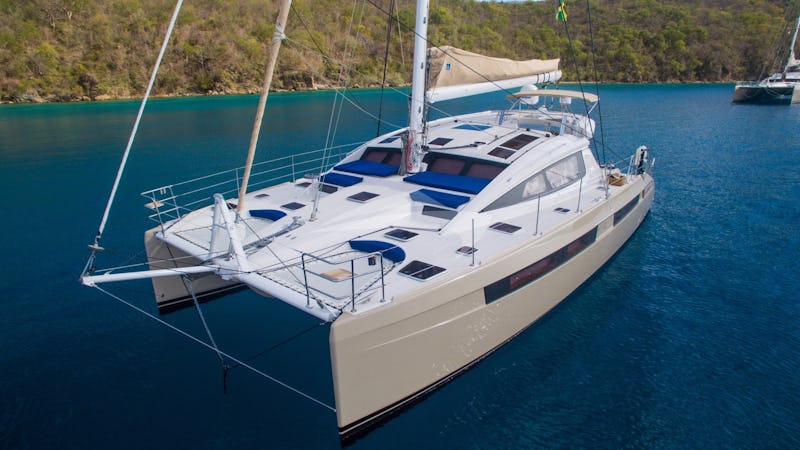 ---
Yacht Charter XENIA 50 By Privilege Yard
Cruising Speed
8kts (15kph)
Engines
2 x Yanmar 75Hp diesels
From:
$17,100
plus expenses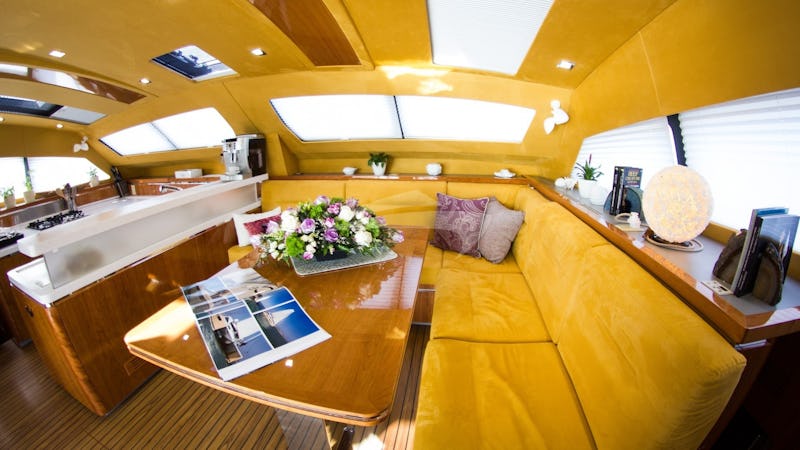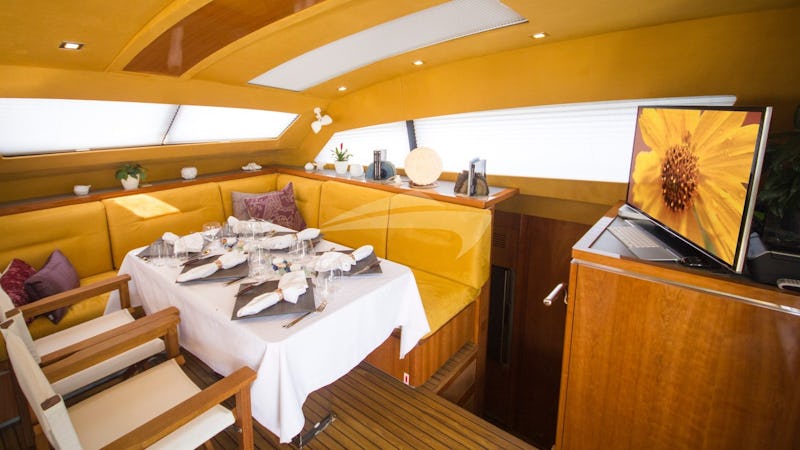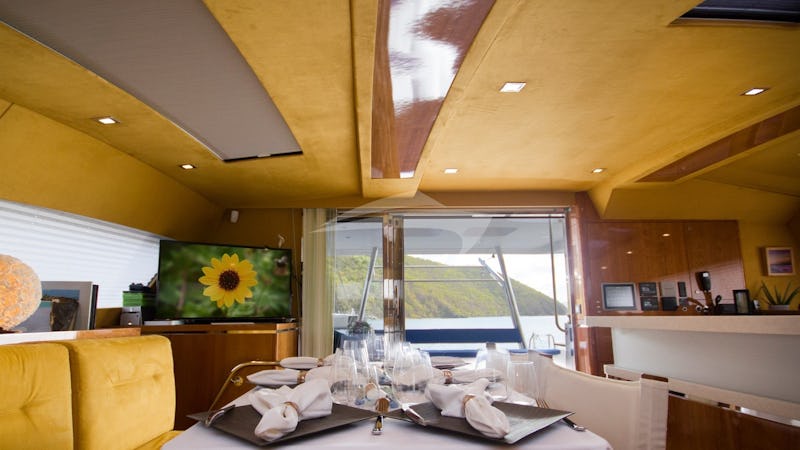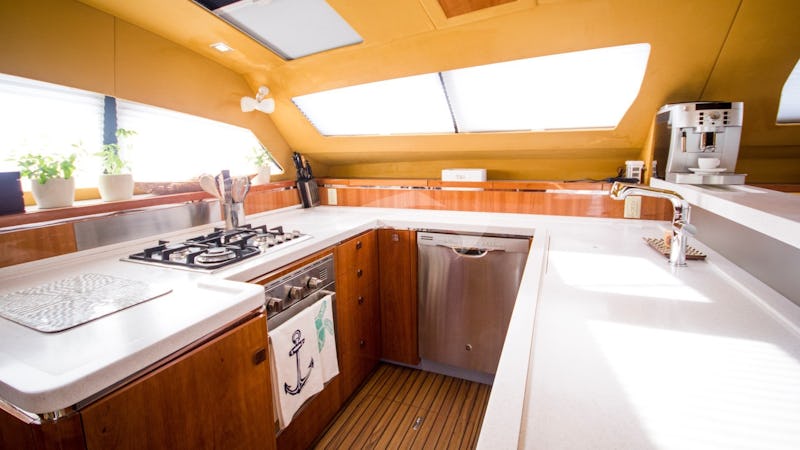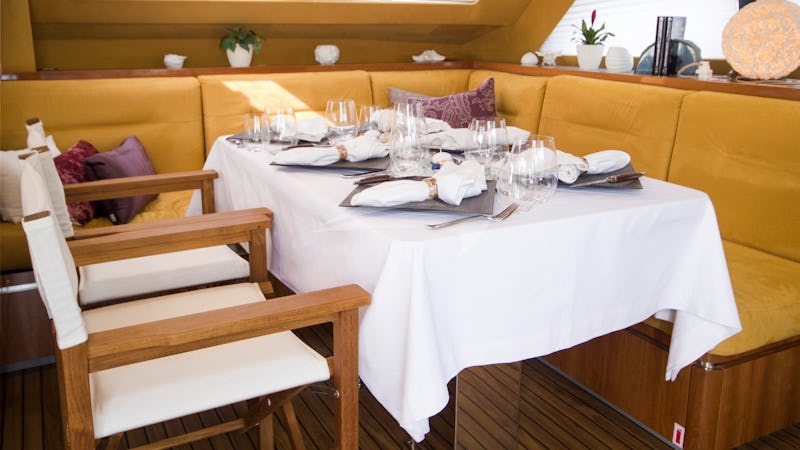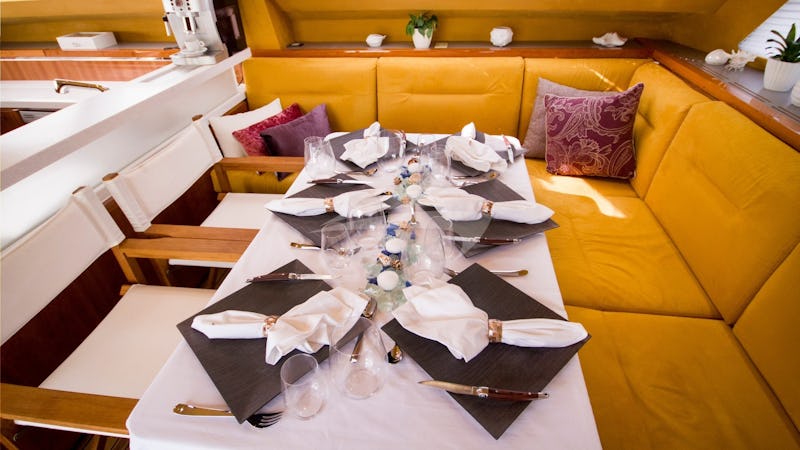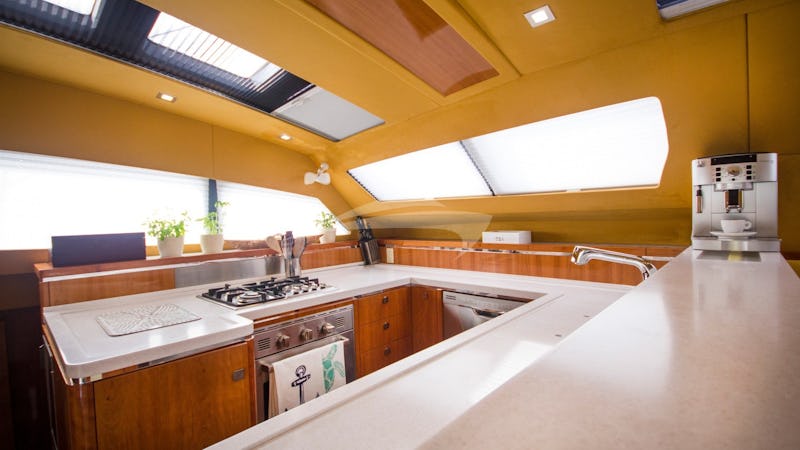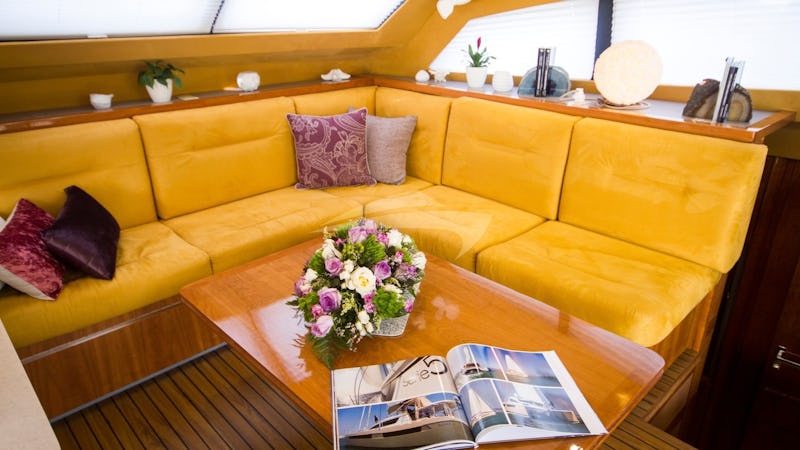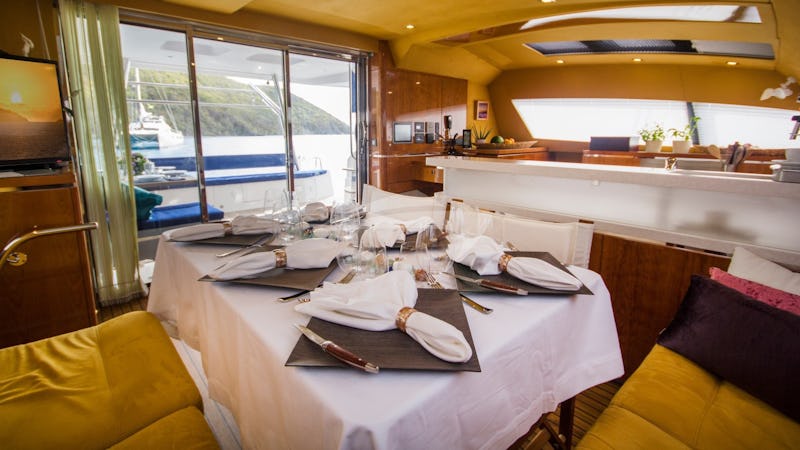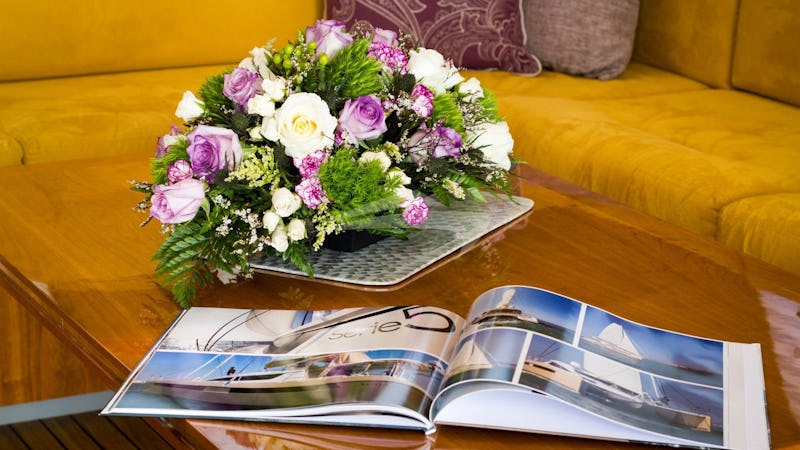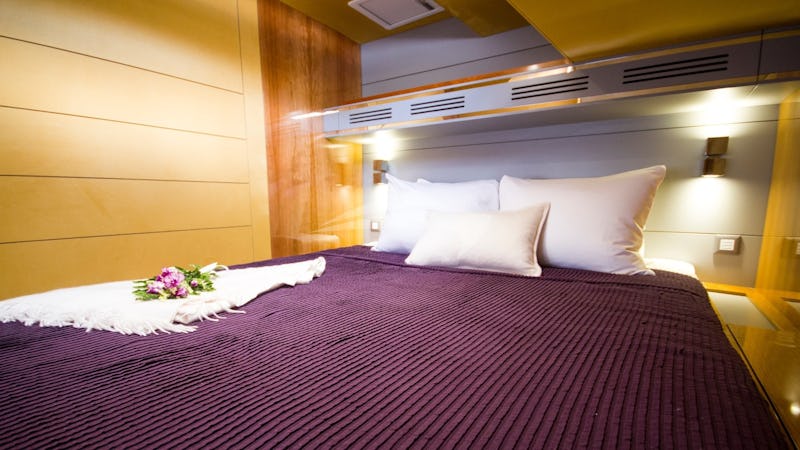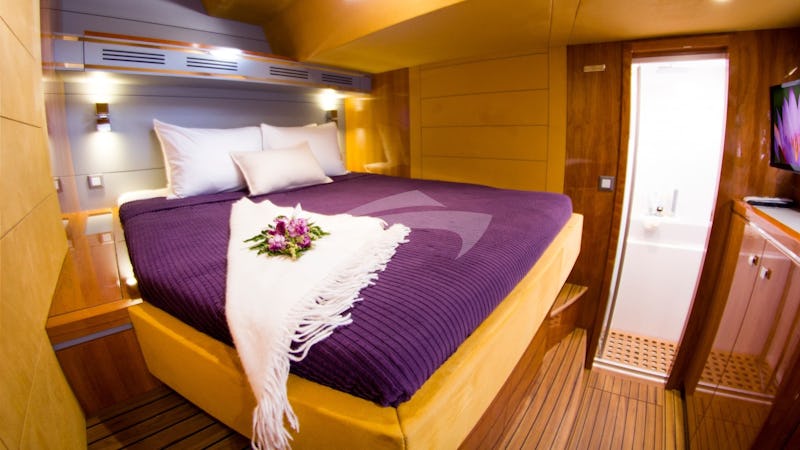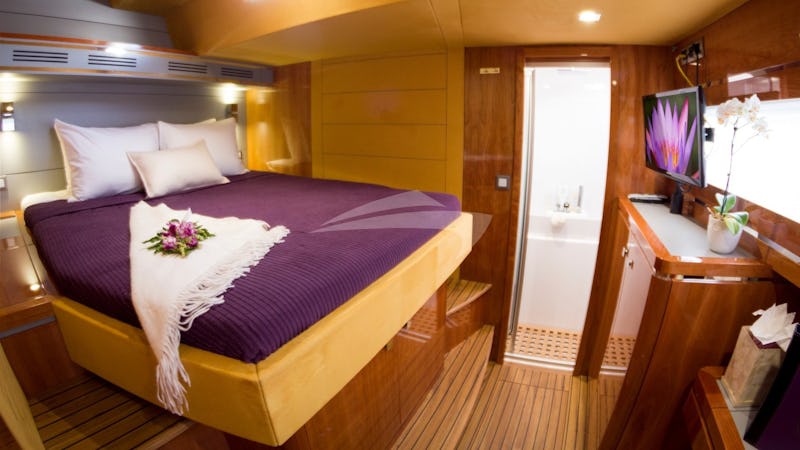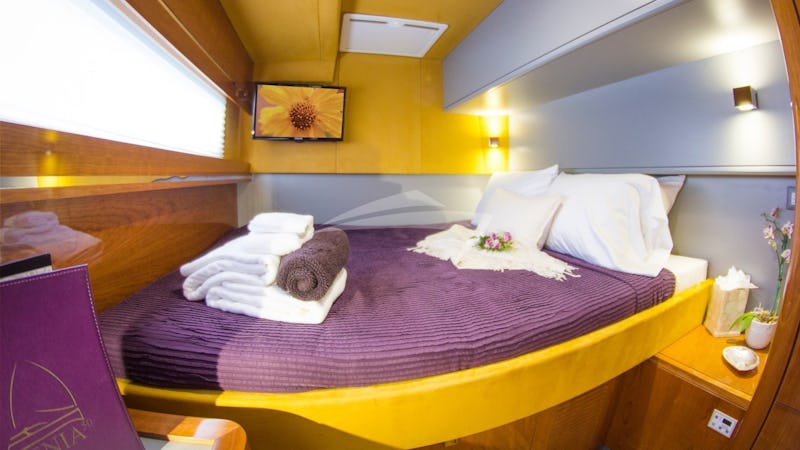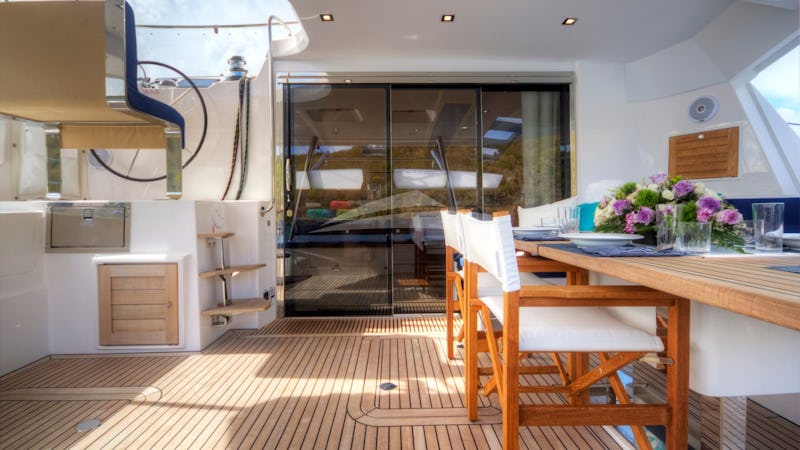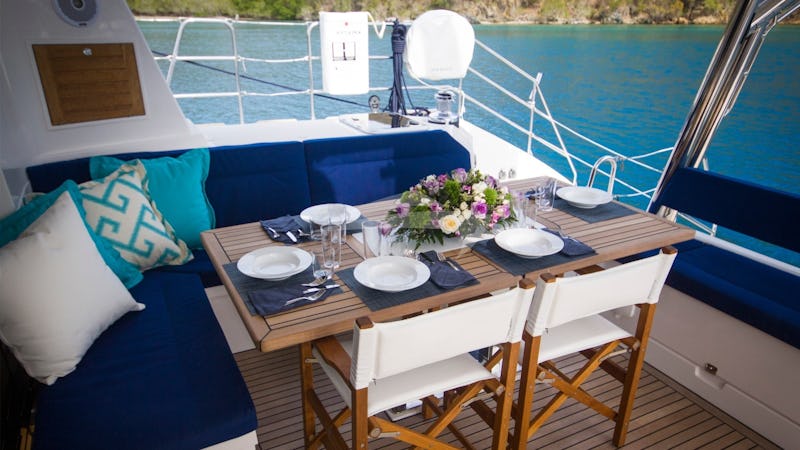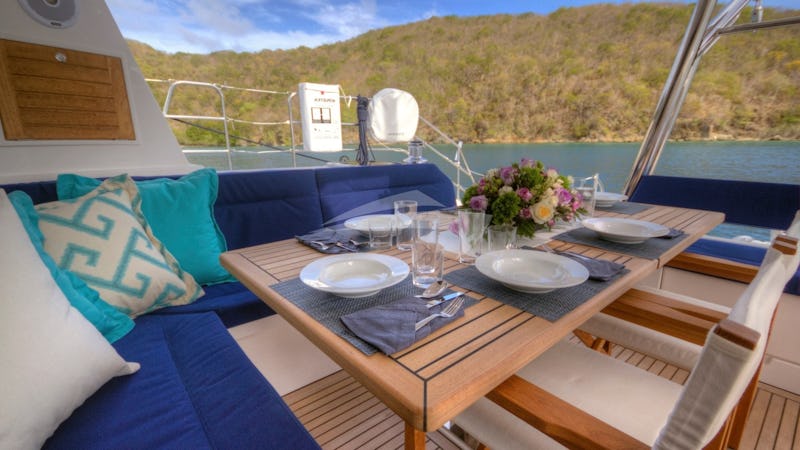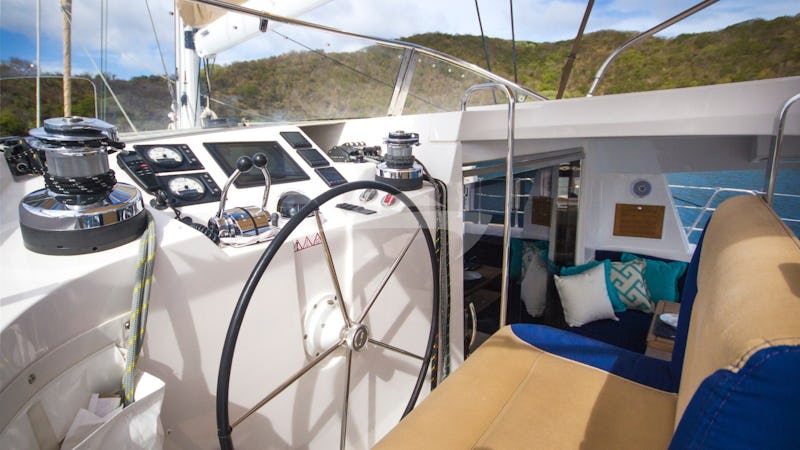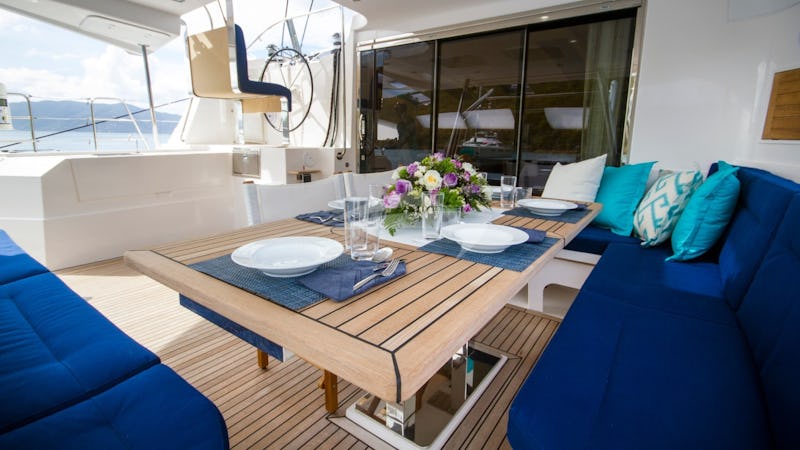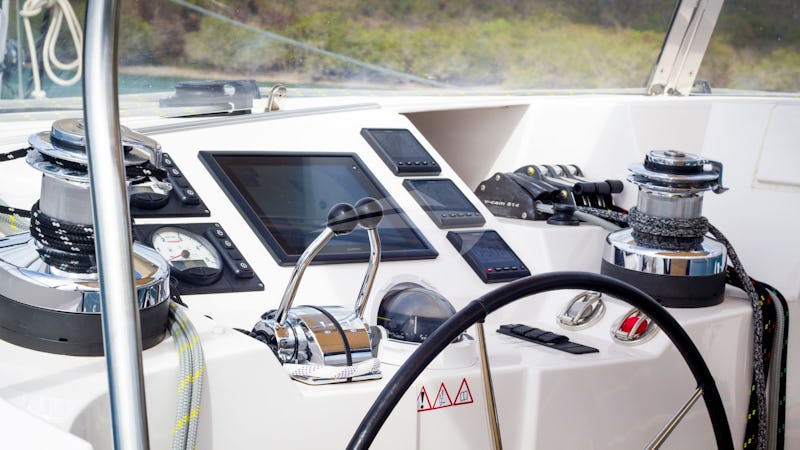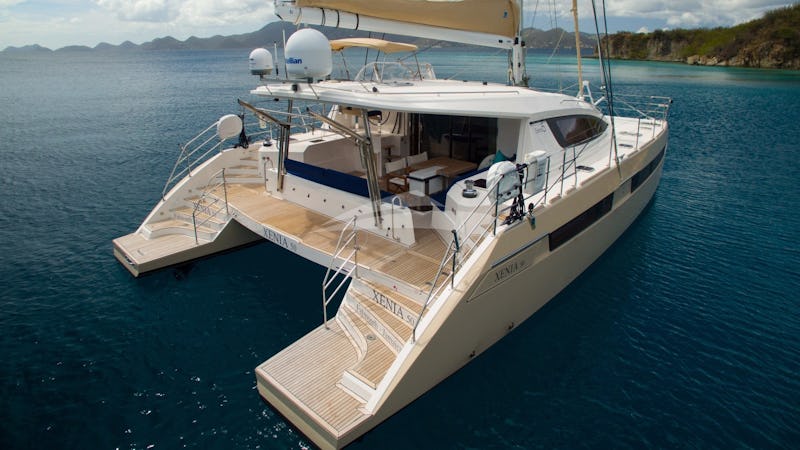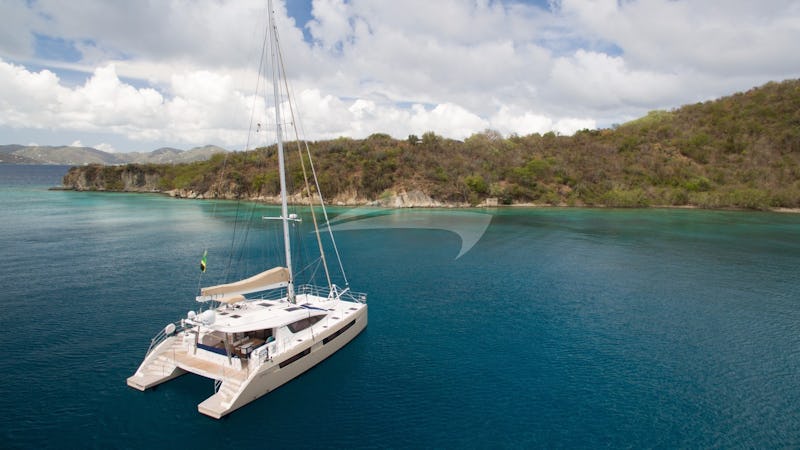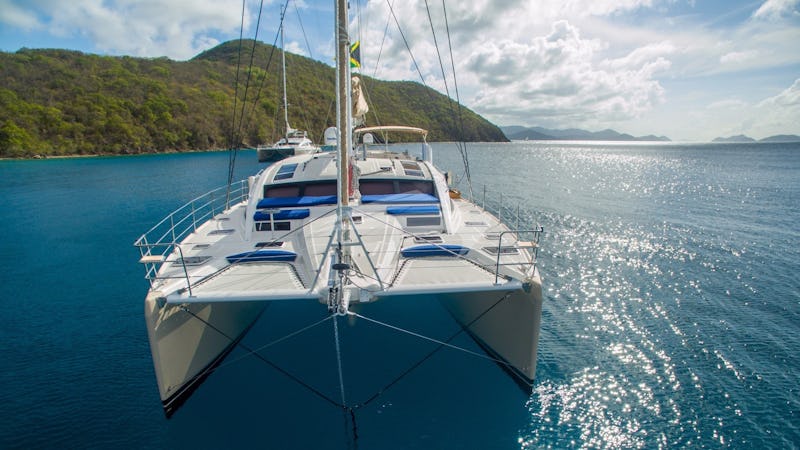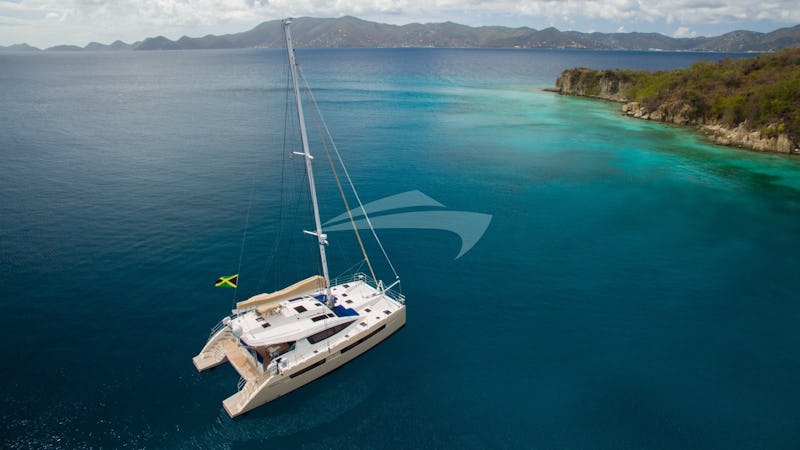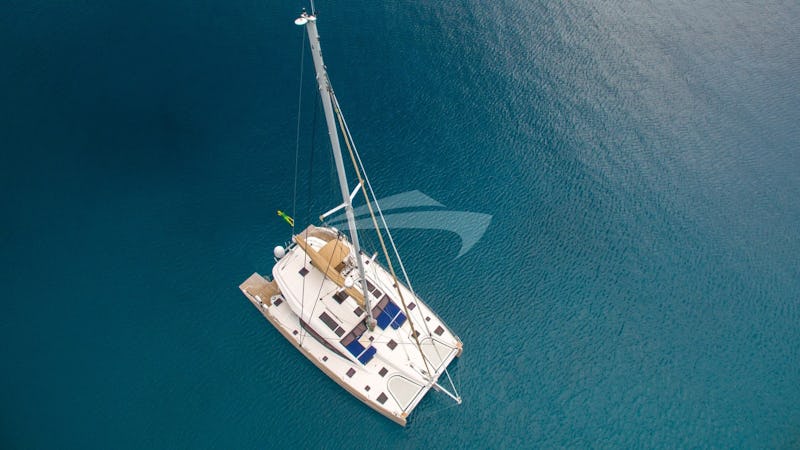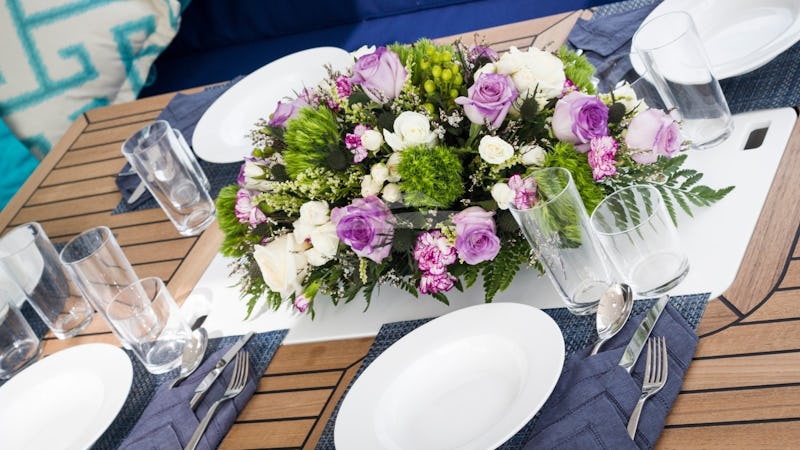 Contact Us For More Information
Privilege catamarans are known for their quality, sophisticated and luxurious high-end designs and comfort. XENIA 50 was launched in 2015 and is beautifully decorated and outfitted to the highest standards. She offers three guest cabins each with a queen size berth, private bath with electric fresh water flush toilets, stall shower and vanity. There is plenty of lounge space in the cockpit, salon and top deck. Come sailing with XENIA 50 and enjoy the best of yachting.

Captain: Peter Lech
With Peter and Jade as accompaniment on your XENIA 50 experience, your sojourn will be decidely nothing less than world class. What sets Peter and Jade apart is that—in addition to being highly-skilled crew—they are both also extremely talented gourmet chefs. Having spent years creating culinary delights for the rich and famous (including Hollywood starlets and American presidents) they proffer the true epitome of lavish gourmet dining.
Peter applies his classic French training to local exotic ingredients and, as a certified Sommelier, pairs them with the best wines from around the world. Jade's influences stem from her Asian-Pacific upbringing, with emphasis on fresh and healthy meals brimming with delectable originality and sumptuous flavors. With Jade and Peter, your dining is guaranteed to be exquisite—with the very best of gourmet cuisines expertly prepared to ensure every bite is tailored to perfection and catered to the highest possible standard. With superb service and a personalized menu, the mouth-watering cuisine aboard XENIA 50 is an adventure in and of itself.
Peter's ease at the helm and 14 years of management experience ensure only the very smoothest of vessel operations. He literally cut his teeth on his family's Morgan 27 and Morgan 40 on the tempestuous waters of the Great Lakes. Racing several evenings a week and three-day cross-lake marathons are still commonplace in the Lech family, with them consistently placing top of their class and best overall. Sailing is in the Lech blood.
Jade's extensive sailing grounds span the Pacific Coast from Vancouver Island to Costa Rica, the Atlantic shores of New England and the Eastern Caribbean. She has hands-on experience with virtually any kind of sailing vessel—from tuna fishing boats and tall ships to luxury catamarans.
Peter and Jade look forward to welcoming you aboard XENIA 50.
June 2019

May 27-June 3, 2019
Dear Jade & Capt Pete, 
We can't thank you enough for your hospitality on out first sailing experience, quiet honestly we weren't sure what to expect. The boat is well appointed, comfortable and you all made us feel like royalty. Our maiden voyage was a success as your itinerary was the perfect taste of the BVI's We would love to plan another trip and bring all our girls… hope to see you again. 
Fondly 
Michael and Cynthia 
MN 

May 27-June 3rd 2019 
Dear jade And Peter,
Thank you so much for a unbelievably beautiful experience
This was our first experience with a charter boat- wow! Can't wait to try this again- but not without you two. we so appreciate your hospitality helpfulness, kindness and patience :) Jade you should be a rated michelin Chef- taste texture variety Freshness, delightfulness EVERY single meal. Thank you for spoiling us. we appreciate it and will try to replicate your dishes at home. 
Thank you for such a memorable trip- memories that will last a lifetime for the six of us. 
Best Mike & Missy 
MN USA

May 27-June 3rd 2019
Jade & Pete,
Thank you for all your hospitality & talents We had a wonderful Week enjoying great food and friends in a wonderful setting. Thanks for all you do & for memories that will last a lifetime. 
Katrina and Aaron.
MN USA



May 2019
Jade and Peter
You guys have outdone yourselves and our expectations! We have had such an incredible time aboard your baby Xenia 50. Jade and Peter your meals are to die for- we want to bring you home with us! Please come and visit and we'll show your our hood. :) loved every minute of our trip. Art and Annie San Diego 
"Another trip off our bucket list. so Happy we joined you on this trip. What a great team, it does take two. Best wishes in all your adventures -Geri
Arizona

"Pete and Jade - Thank you so
Much for your Hospitality- We Had a great trip and will recommend this vacation to all. because of you I am able to remove a bucket list item that has been there for years. If you are ever in Phoenix to call us and stay for a couple days. Jade you are responsible for the 10 pounds I have gained! -Tom Arizona

"What a fantastic dinner from beginning to end. Great group of friends and hosts that cannot be described because their talent, generosity & desire to please know NO bounds. Pete and Jade Thank you a thousand times for your fabulous drinks, snorkeling spots and meals that would put a smile on anyone. We will never forget this. All our love and respect
Gary & Natalie 
April 2019
Dear Jade and Peter thank you for this amayzing trip. Jade you make the best food and you really are part mermaid. Peter , you are a great Captain and you recommend the best spots. You made are trip in the BvI's the best it could have bin.
-Eloise ( age 9- all typos and misspell's are her own)

Dear jade and Peter,
I had an amazing time. Thank you so much. I am so glad we got to come back. The food was sooo good and the waterskiing was awesome. Thank you so much for making my trip the best it could be. I hope we can come back in the future.
 -Piper (age 11)

Dear Jade and Peter,
I am not sure how but this years trip was even better than last year- hard to imagine that possible. jade - so incredibly talented in the kitchen and the girls adore you. Thank you also for making Eloise's birthday so special! Peter- great captain, drink maker Etc.etc. You guys make the perfect team. Thank you for everything!
 Amanda,Craig, piper and Eloise —looking forward to next time!!!

MArch 2019

"Dear Pete and Jade,
Words cannot express how very great full we are for all you both did to make this trip truly unforgettable! Every moment was perfect. From the beautiful snorkeling spots, unmatched hospitality, outstanding meals-each crafted with incredible, imaginative components, to the tubing ( go Mr. captain!!) and Paddle boarding- we were able to experience so many "firsts" with our girls that we will never forget!! You two have a fantastic gift to creating a magical time for your guests in which the phrase " not a care in the world" is truly a reality!! Again manny many thanks. And hoping very much to see you again soon! Next time with little Thomas joining in. Safe travels and good health!!
The Simons
Jessica
Tony
Mary Grace
Chandini (Chandler :) )
If you ever have time to visit please consider this an open invitation anytime !! ""
March 2019
Another Bucket item Accomplished! Will definitely return for a future visit. Peter and Jade made the trip a wonderful one- great food experience as well as bartender skills. Thank you both for a great sail. 
Nick and Michelle 
Jessie and Jeff 
Louisiana USA
February 2019
Pete and Jade,
Thank you for everything and more! Words cannot describe our appreciation of both of you . From the moment we arrived we felt welcomed into your home. Xenia 50 is as beautiful as you are!  Your love of food and hospitality goes beyond measure. Simply Amazing! We will see you again soon… we will miss you in the meantime!
Love and Friendship
Kenny, Angie, Steve, Heather Mike & Shannon, Cleveland Ohio
January 2019
Jade and Re-Pete,
Thanks so much for the best 80th Birthday I ever had. The entire family, doing their own things appreciate your unfailing indulgence of our pursuits from foils, kites , snorkels, scuba and/or laziness. Jade's imaginative meals were always a delicious of 10 or more ingredients( making it impossible to copy only photograph) this was the best voyage ever for us and hopefully ok for your too Peter and Cindy Mebel Boston MA Greg and Maria Paia Maui HI  Jeff and Rebecca Franklin THANK YOU AND FAIR SAILING! 

New Years 2018/19
Peter and Jade,Thank you for and amazing week. this trip exceeded our expectations. it was everything we dreamed of and more. the food was FANTASTIC!! Each snorkel spot was beautiful, the boys had a blast. you are wonderful hosts and we hope to see you again. Fondly, the Brown Family


Christmas 2018
We have been looking forward to a vacation on the water for many years. this one exceeded our expectations. A wonderful relaxing, happy trip thanks to you two. David and Robin    Philadelphia PA PS the seven fishes was amazing!!!
What a vacation! we couldn't ask for more- the hospitality, food and the care you took of us. we will be raving about this week for years to come! Thank you, thank you! -Kim and Lyndon
Not knowing what to expect and thinking about it for so many months, i've never been more happy, impressed and grateful for such a lovely voyage. when we were told 5 star service I couldn't imagine that on water but all expectations were far exceeded! The Cuisine and accommodations stupendous and the crew- Jade and Pete- true lovers of their craft and such a joy to be with. Until we hopefully meet again thank you doesn't even cover the gratitude we have. Happy New Year-Gloria SPeter and Jade Thank you! For your wonderful Hospitality! I was great sharing Christmas with you . The Seven fishes a la Jade was awesome. Everything was great. will tell everyone Xenia 50 is the best. have a great 2019 Bob
November 2018
Celebration of many things….. 50th birthday Anniversary and Closing on a new home. This trip has ruined all other vacations forever! What a beautiful boat with and extraordinary crew. Jade and Peter have spoiled us rotten and we are blown away by the multiple talents. looking forward to another Xenia 50 Trip in the near future.-Happy sailing Tam and Cal Myrtle Beach SC
Thank you for a wonderful week! You helped us to relax, celebrate and enjoy our time with you and our friends. Kim and Patrick Dual citizens of NY and now Charleston SC



March 2018
We can't thank you enough for another fantastic vacation! our time with you on the Xenia 50 is a yearly family Highlight that we all love and look forward to. You exceed Expectations every day with fishing, beach time, snorkeling, tubing, secluded coves, sunset ( and sunrises if we could ever rally in time … and FOOD!!! Know that we will miss you both as we return to snowy Boston and we are so grateful to you for your amazing hospitality -Caroline, David, John and Chris xoxox
March 2018
Dear Peter and Jade, It is a rare thing to have one's expectations so entirely exceeded by the experience. In Don's case the expectations were modest but he was blown away. In Nicole's case her expectations were very high- and she was still blown away! A simple sailing adventure became a world of discovery and a gastronomic journey that we believe will not be outdone, at least until we see you next. Thank you ever so much for all of the caring detail. -Don and Nicole North Vancouver, Canada. Thank you so much Jade and Peter for the the amazing trip. The food was beyond amazing the entire time and it was all an unforgettable trip. Definitely one of my most memorable trips. thank you so much for everything!- Bella Thank you for the one of a kind experience on this boat. The food was amazing and all the stops we had made were great too! Hope to come back soon and have a great time! - Marlon Thanks so much Jade and Peter for a amazing trip and the best tacos i've ever had along with many other one of a kind meals. - Will

July 2017

"Carol - Huston, Texas 
The Best sailing trip ever! Not a single disappointment along the way, rather Jade and Peter out did themselves time and again with their amazing sailing , food and customer service. We will be back! xoxo Carol"

"Sandy & Cathy - La grange Georgia

Fabulous sailing and each meal a culinary experience! Jade and peter were the perfect host to a beautiful vessel. they anticipated our every wish and were truly a great team. We enjoyed every minute. we will partner again! xoxo the winslows"

June 2017
Mascioli Albuquerque & Family - Brazil
Thank you Jade and Peter
We had a wonderfull Time and made fantastic memories. The food was incredible and you were very sweet with the kids. We are sad to leave but hopeful to come back. 
isabella , 8 yrs old Thank you Jade and Peter
I really liked your food because it is different. i really liked jade and Peter because they are fun an nice. I really liked it is a sail boat because we can sail in it. I had fun doing this time with you =) I really liked the place we went because they were beautiful and nice. i liked that when we were visiting the islands because thy were very interesting. Jade thank you for taking us to see the turtles. Jade think you as well for taking us to Snorkel on our last day.. I liked it because we saw lots of fishes and coral. Peter thank you for putting all the films we wanted Tobago cays because i saw 8 turtles 15 sting rays. i like to be there because the beach there had a lot of shells and rocks. so thank you so much!! you were very well doing your work.Peter you were a very good Captain for our boat. In Bequi i really liked that i saw a water snake. Jade i liked that you played with me. Jade i liked you because sh is fun and i liked peter because he was a very nice captain =)
June 2016
From Rich and Vicki;
"Everything was wonderful, awesome food and AMAZING SERVICE, thank you both for our perfect VACATION!"

From Sally and John 
What a pleasure meeting Peter and Jade Everything was beyond amazing and wonderful!

From Stephen and Arjiel:
Difficult to put into words how wonderful sailing with Peter and Jade was. We were treated like Kings and Queens, Princesses and Presidents, to the point of feeling guilty. Both exceptional chefs! Xenia 50 & Crew deserve each other! 


June 2016
Thanks Jade and Peter for a fabulous vacation! The Boat is amazing and Exceded our expectations crew were top notch fun and full of knowledge! Food was Fantastic and we were pampered the whole week! This is a trip we will never forget and we thank you for helping make this trip a great family vacation!
Christine, Adrian Kyle & Ryan
June 2016
Jade and Peter, Awesome boat... Check! Awesome weather...Check! Awesome food... Check! Awesome scenery...check! Awesome service...check! GREATEST HOSTS ON THE PLANET ...DOUBLE CHECK!!
Thank you for a fantastic week, one that we will never forget. looking forward to being back with y'all soon! 
Cheers!! Kellie, Drew, Adam  and Ray
March 2016

What an amazing week. Peter and Jade went above and beyond for my three children and me. Thank you for such a memorable adventure. The trip of a lifetime! ❤️ the Taylors
New Year 2015/16
We had a wonderful time. Meals were excellent, drinks were fun and creative. Peter and Jade were superb hosts and leaders. We WILL be coming back!PS we also loved the high tech boat!The Graass family


 June 2015
Once again, thank you very much for the fantastic trip. We wish we had more time. 

This trip was truly the gem of the fam trip. Nobody was expecting such a beautiful boat, a friendly crew and a superb chef. Personally, the cold soup of avocado and cucumber was my favorite meal in the entire week! 

The feedback from everybody was spectacular. They were very picky checking how clean Xenia was. Also, highlighted the quality of the amenities, the orchids in the bathroom, the customer service, all snorkel equipments new and the detail of the final and amazing gifts. 

Once again, many thank you for the amazing day!

Tania
 May 2015
Hi Pete & Jade,

Thank you again for lunch - which was absolutely outstanding!




 May 2015
I just wanted to say THANK YOU for a terrific lunch on Friday. It's was over the top delicious with a wonderful presentation. Loved the wine too :-)

You're awesome!

Sue


 May 2015
Thank you both for an excellent lunch, I thoroughly enjoyed it especially the lobster starter.

Have a great summer.

All the best,
Liz
 May 2015
Hi Jade & Peter

I just wanted to thank you both so much for inviting me for lunch on Saturday. It was absolutely delicious and I was blown away by the flavours of a well-balanced meal. The chicken with preserved lemon was incredible as was the radish and fennel salad. It was all beautifully presented and the clean plates of all guests said it all! 

Thank you for making me feel so welcome.

Kind regards
Trudi K
 May 2015
Dear Jade and Pete

Thank you so much for the hospitality on Xenia last weekend. Susan and I enjoyed lunch very much.
Looking at the image below, seems others did as well.


Ammenities
DVD library, DVD player master cabin, Indoor audio system, TV all cabins, Wi-Fi, 12ft/3.7m RIB 40hp, Beach games, Board games, Inflatable floating island, Kayaks multiple, Kneeboard, Paddleboard, Paddleboards multiple, Skurfer, Swimming noodles, Tube - towable, Wakeboard, Water skis - adult, BBQ, Coffee machine, Deck shower, Fishing gear - light, Ice maker, Special diets, Swim platform, Water maker
Diving
Not Insured, Snorkelling gear, Underwater scooter