Yacht Charter Itinerary Exumas
---
The Exumas
With 365 individual cays and islands, lose yourself in a tropical escape without the bustling tourist crowd.
Best known for the captivating turquoise waters that surround them, the Exuma Islands offer endless quiet anchorages, sweeping sandbars, and white sand beaches that transport you to another world.  This chain of 365 islands is part of the Out Islands of the Bahamas, but collectively they hold a much more laid-back vibe, and there's something unique to be experienced on each of them. 
Here you'll enjoy nature in its simplest form. With flawless coastlines, pristine reefs, and exclusive island surroundings, it's a dream destination for those seeking the ultimate escape, from boaters and fishermen to divers, snorkelers, and kayakers. 
Local attractions of the Exuma Cays won't disappoint. Visit the famed Thunderball Grotto, a cave seen in the James Bond film of the same name, and swim with the now-famous swimming pigs at Big Major's Spot. Wildlife in the Exumas is plentiful, from the photogenic and surprisingly social nurse sharks at Compass Cay to the Allen's Cay giant iguanas, fearsome-looking yet gentle creatures that welcome visitors who bring them gifts of vegetables. 
An elite offering of restaurants and famous nightlife hot spots can be found hidden among the islands, but these gems are very rare. Many of the Exuma Cays are private, some functioning as luxurious private-island resorts and others the ultra-exclusive homes to stars such as Johnny Depp, Tyler Perry, David Copperfield, and country singers Tim McGraw and Faith Hill. 
Whether you're seeking adventure, seclusion, luxury, or relaxation, or a sampling of each, an Exumas yacht charter offer unequaled possibilities to satisfy your every desire. 
Paradise Island to Highbourne Cay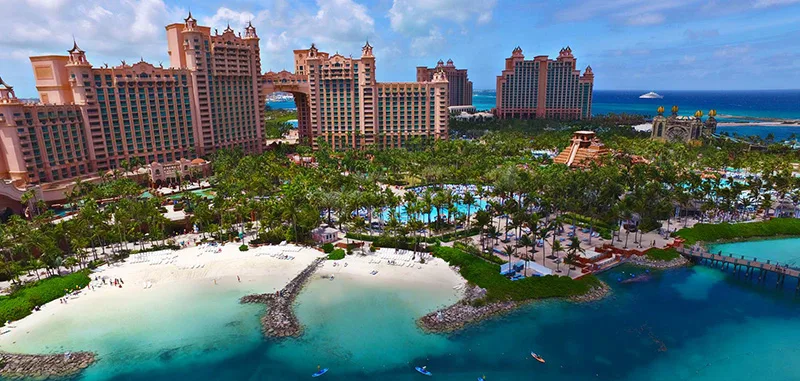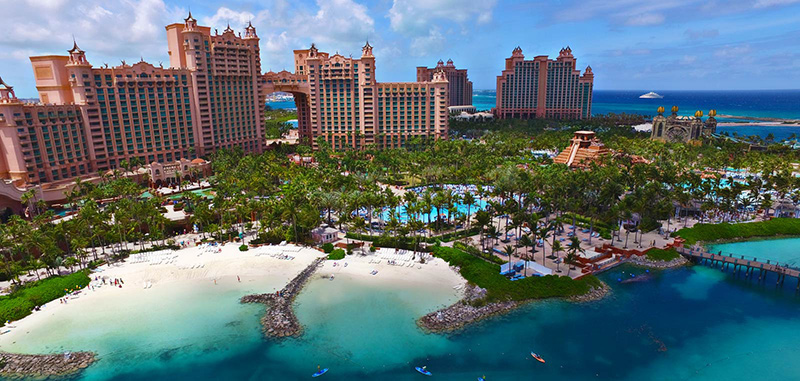 As you approach Atlantis Marina, it is impossible to miss the striking pink buildings standing proud in the distance. Surrounded by glistening blue water, you enter Paradise Island, Nassau. As you make your way to your private charter yacht, you can feel the excitement from head to toe. The vacation of a lifetime is about to begin. Upon being greeted by crew's friendly faces, you can't help but notice the massive superyacht behind them. It is time. You take off your shoes and walk onto the gangway. Your private yacht vacation has officially begun. 
As you get acquainted with the yacht, your captain begins the journey from Paradise Island to Highbourne Cay. Known as the gateway to The Exuma Cays, this private island welcomes yachties and guests from all around the world. Featuring a world-class marina and luxurious beachside cottages, Highbourne Cay is the ultimate yachting destination. 
Highbourne Cay is just a short distance from New Providence making it a very popular yachting destination. Highbourne Cay features eight beaches, all in pristine condition. Overlooking the sandy beaches, you will find the many locals eager to make your stay worthwhile. Enjoy lunch at the famous "Xuma's Restaurant and Bar" or head back to your yacht for a lunch prepared by your private chef. Whatever suits your fancy, yachting to Highbourne Cay is sure to exceed your expectations. 
Highbourne Cay to Shroud Cay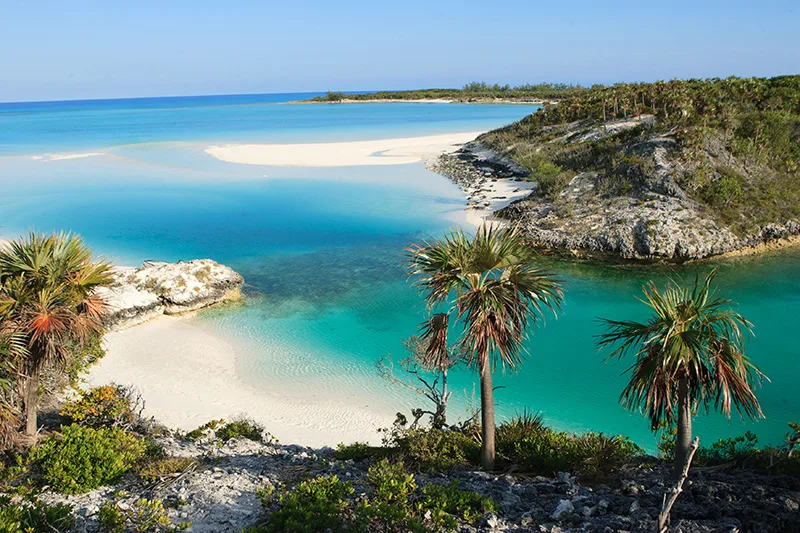 As you spend time on Highbourne Cay, you begin to feel your worries melt away. Once you've explored Highbourne Cay, your yacht takes you to a place only a few can go, Shroud Cay. As your yacht arrives at your destination, you're immediately greeted by clear water. Untouched by man, the natural beauty of Shroud Cay can't help but take your breath away.  
A diver's haven: clear, abundant with fish, thought by many to be the bluest of all the waters in the world. In this chaotic world, it is hard to find a place to connect with nature. As you enter the waters of Shroud Cay, you hear nothing but the ocean waves gracefully caressing the sides of your yacht. The marbled blue water looks increasingly inviting. Here you can spend time using water toys, diving, or simply jumping into the ocean and immersing yourself into the greatest vacation of your life.  
Shroud Cay to Warderick Wells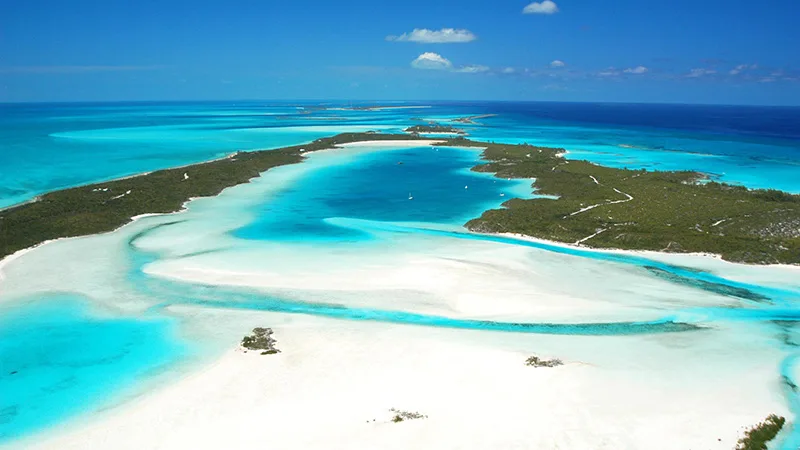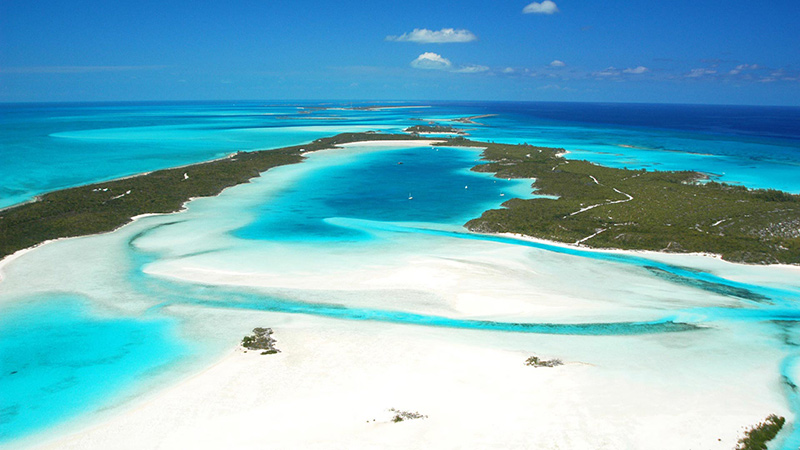 From one remote destination to another, Waderick Wells takes "crystal clear water" to a new level. A virtually uninhabited slice of paradise, Waderick is perfect for snorkeling, sailing, and even hiking. Take an up-close and personal tour of a nearby tidal pool, a tropical haven for birds, sea turtles and fish like you've never seen.  
Home to the Exuma Cays Land and Sea Park, Waderick Wells is perfect for explorers of all ages. Revel in more than seven miles of coastal trails, one leading to Boo Boo Hill. Skip the laughter (yes, Boo Boo Hills is an actual thing). Offering a spectacular panoramic view of the island, the anchorage, and Exuma Sound, when it comes to yachting in the Bahamas, this is the place to be.  
Warderick Wells to Staniel Cay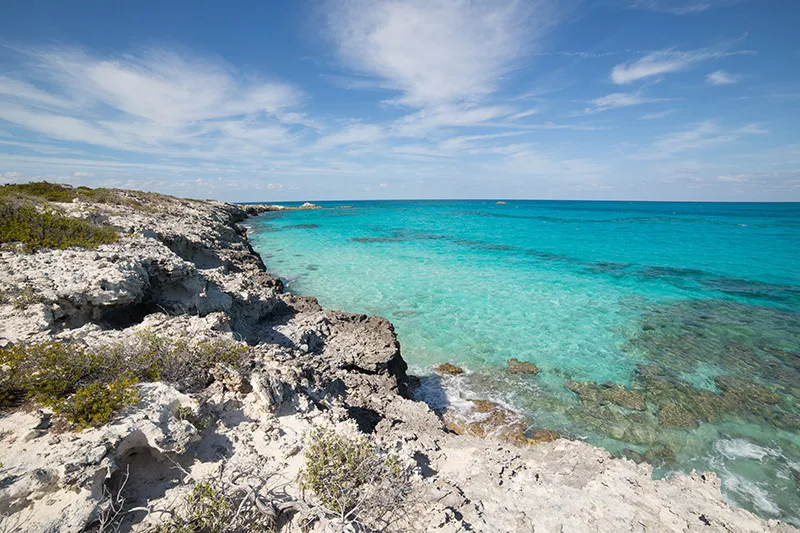 Cruise over to Bell's Cay and make time for snorkeling at a spot commonly referred to as the Aquarium. Upon entering the water, you'll find schools of brilliantly colored fish. For the dare devils, swim and socialize with the friendly nurse sharks that make the docks of Compass Cay their home. If you prefer a more relaxing day, find yourself at the "Rachel's Bubble Bath," a natural whirlpool with warm, calming water. The private island of Fowl Cay boasts a stunning coral reef, as well as a perfectly shaped crescent beach. Spend the afternoon snorkeling in the warm, clear water as you admire the abundance of sea life teeming throughout these waters.  
Dine at Hill House and enjoy 360-degree views of the surrounding islands. As you feel the warm, balmy sea breeze, let all of life's worries disappear as you transport yourself into total relaxation.  
Staniel Cay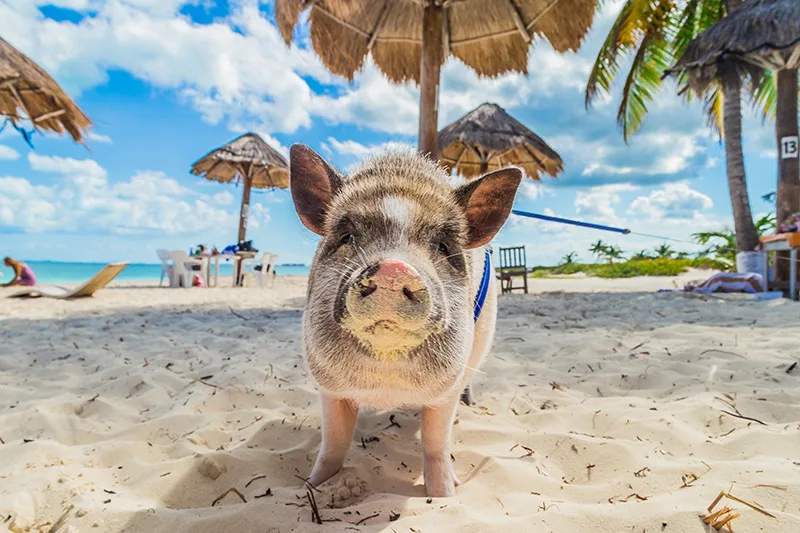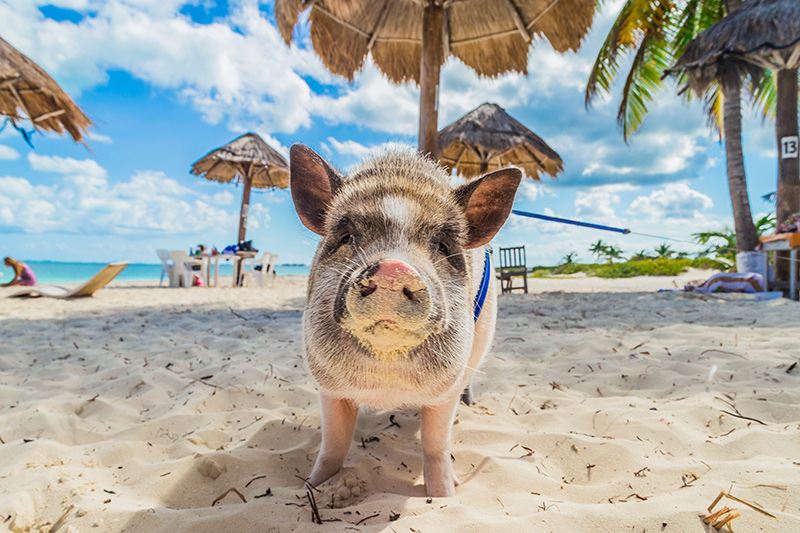 From the splendid surrounding coves and beaches to vibrant over-the-water cottages that line its shore, Staniel Cay is the jewel in the center of the long necklace of Exuma islands. Stretching for 100 miles southeast of Nassau, Staniel Cay lies less than a square mile and is home to about 100 people. Staniel Cay is the hub for the Pipe Creek area, a group of islands stretching for eight miles north to Compass Cay. Of particular interest is "Thunderball Grotto," a hollowed-out island where James bond movies "Never Say Never Again" and "Thunderball" as well as "Splash" were filmed.  
Snorkelers can swim into the natural fishbowl at slack tide and become one with the many varieties of fish. Light streams through the top where rain has eroded natural skylights.  There are several entrances and passageways to explore. Look but don't touch… Thunderball islands are protected by the Bahamas National Trust. Anglers are treated to some of the best bone fishing flats in the world, (there's an annual Bone Fishing Festival each summer), while Exuma Sound offers blue water fishing only minutes offshore. Local guides are always available. 
After exploring the turquoise playground, you are guaranteed to work up a serious appetite. Luckily, there are many incredible options to choose from. If you choose to stay on board your private yacht, allow your gourmet chef to prepare a delectable dinner starting with hors d'oeuvres overlooking the sunset. Crack open a cold beer or sip on a handmade cocktail made just to your liking. When it's time for dinner, expect to be catered from A-Z. Your favorite foods, drinks, butters, breads, whatever your palette desires.  
If you prefer to eat out, the Staniel Cay Yacht Club offers a delicious dinner menu. In traditional Bahamian style, the Staniel Cay Yacht Club has been serving guests since 1956!  
Staniel Cay to Paradise Island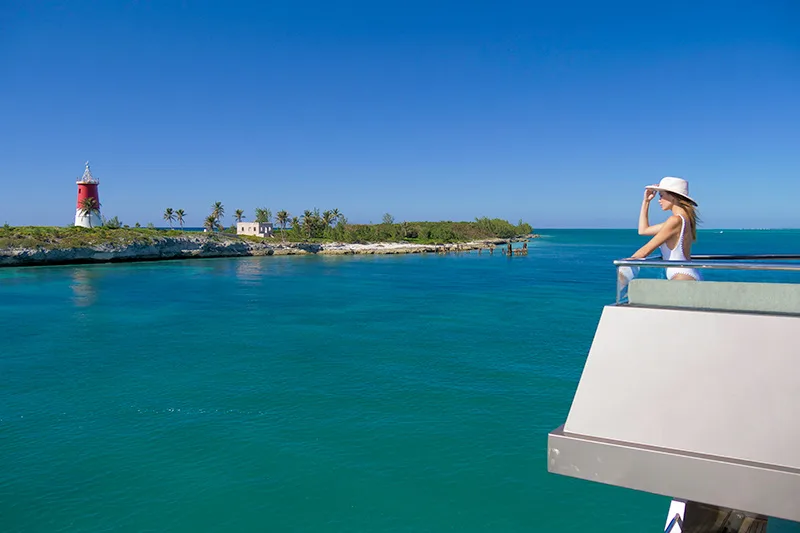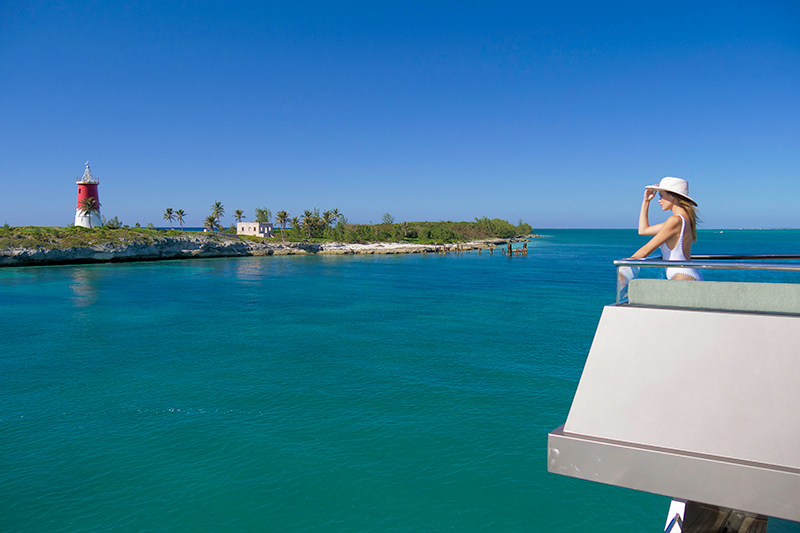 While voyaging back to Paradise Island, plan to visit the casino, play around on a world-class golf course, or take advantage of some fantastic duty-free shopping. Atlantis Paradise Island features a record-breaking marine life habitat, hosting a diverse group of aquatic animals. Aquaventure is a 141-acre water park that includes the famous Mayan Temple's Leap of Faith slide, 11 large pools, five miles of white sand beaches, and an 18-hole golf course. 
Whether you prefer the natural wonders of the Bahamas or the countless amenities offered at Atlantis, there is something for everyone in the Bahamas. Sailing on your own Private Charter Yacht offers the luxury to go where you want when you want. Life is too short to let boundaries hold you back. On a private charter, the world is your oyster.  
---
THE EXUMAS OVERVIEW
TIME ZONE: Eastern Time Zone
CURRENCY: Currency in the Bahamas: Bahamian Dollar, which is equivalent in value to the U.S. Dollar
CLIMATE: In the Summer: Maximum: 91°F/33°C.; Minimum: 75°F/24°C. The water temperature in the Bahamas hardly ever drops below 72° F (equivalent to 22° Celsius) near the shorelines.
discover the best of yachting