British Columbia Yacht Charter
---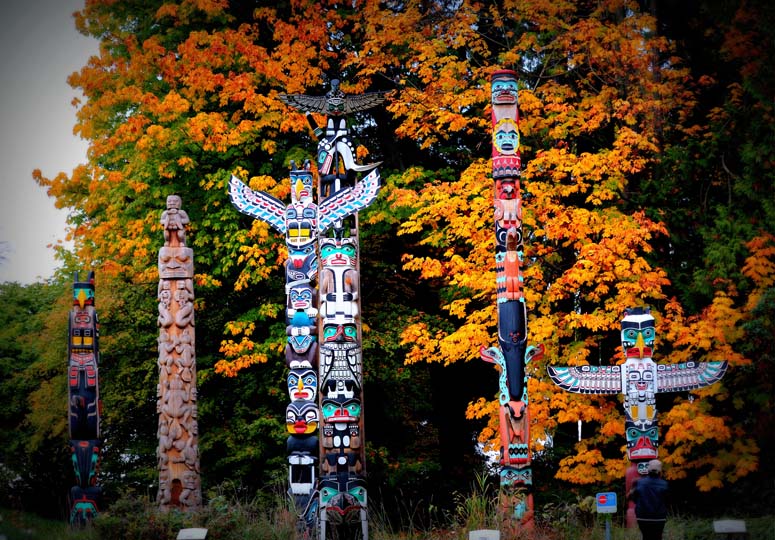 British Columbia
Pristine cruising waters offer an escape from it all without going far.
With its rugged natural beauty, fascinating local culture, and endless attractions to explore, it's no wonder outdoor enthusiasts are drawn to Canada's westernmost province. Its location on the Pacific presents a magical cruising opportunity filled with stunning coastal landscapes, snow-covered mountains, and narrow fjords and inlets.
Just off the coast of the capital city of Vancouver, you'll find a captivating expanse of islands and waterways perfectly suited for exploration by private yacht. One spot not to be missed is Desolation Sound at the far end of the Sunshine Coast, considered by boating aficionados to be one of the top cruising grounds in the world. The glistening waters here are calm and sheltered and offer numerous protected anchorages, views of extraordinary coastlines, and access to quaint villages to experience the local culture. The unmatched wilderness feel of this region will transport you to another world, without traveling very far at all.
British Columbia offers a uniquely-blended experience including natural parks, towering mountains, plunging waterfalls, and protected bays, alongside welcoming communities, artistic culture, and charming local flair. Whether you decide to hike, bike, fish (imagine the delight of halibut fresh out of the water prepared by your chef!), kayak, paddle, or cruise, the choice is yours on how to further explore this spectacular region.
Vancouver
The cosmopolitan city of Vancouver is a phenomenon within itself. A bustling west coast seaport, it's one of the few cities in the world where you can go from the beauty of the beach to the magnificence of the mountains in a mere 20 minutes – although it's far more relaxing to take your time. The city is rich with culture, including endless options for fine dining and a thriving art, theatre, and music scene. The highlight of this destination is, without a doubt, Desolation Sound, a must-see marine park you won't want to miss.
Pendrell Sound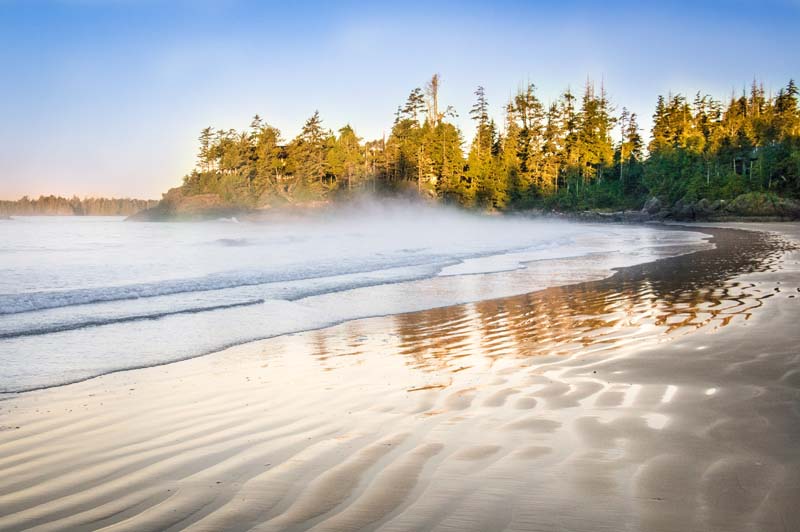 Known for its gentle, warm waters that average 74 degrees Fahrenheit year-round, Pendrell Sound is an oasis for swimming, lounging on rafts, scuba diving, and fishing, no matter the season. This protected anchorage is home to tranquil, magical surroundings, and offers the chance for wildlife sightings in a natural habitat. Peaceful seclusion at its finest.
Prideaux Haven

This national park is heralded as one of the most scenic anchorages in Desolation Sound, and it's easy to see why.   Its elongated bay is dotted with islands, inlets, and small coves, each one more glorious than the next. Adventure-seekers can traverse the towering fjords or simply enjoy the awe-inspiring backdrop of rugged coastal mountains.
Bliss Landing
Aptly named, Bliss Landing is an idyllic hideaway of calm waters and tranquil shorelines, perfect for kayaking, paddle-boarding, waterskiing, and wakeboarding. The surround of lush greenery adds to the serene feel of this sanctuary.
Lund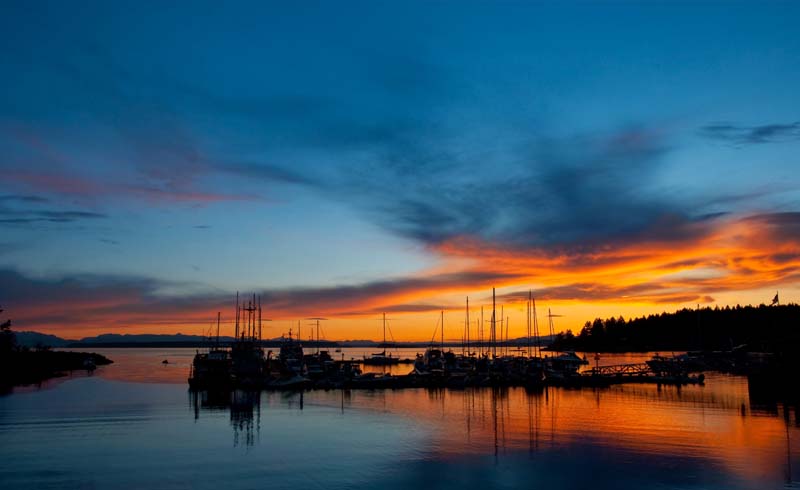 The northernmost town on the Sunshine Coast, the seaside village of Lund is the epitome of small town vibes. It's also just seven miles from Sarah Point, Canada's longest hut-to-hut hiking trail, stretching through beautiful landscapes, coastal shorelines, creeks and lakes, old growth forests, and panoramic mountaintops. With several entrances and offshoots along its route, this scenic trail offers easy day hikes for those wanting to spend some time on land and experience the area's breathtaking backcountry by foot.
Savary Island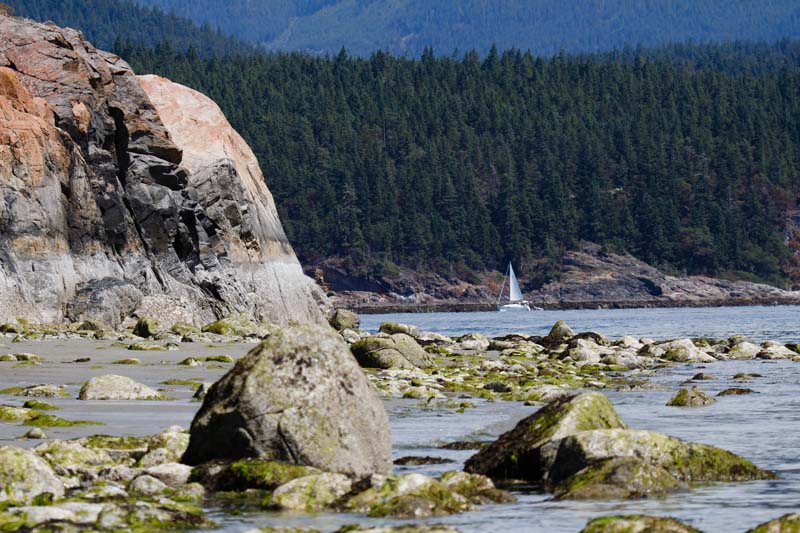 With brilliant white sand beaches, glistening swimming waters, and stunning ocean and mountain views, Savary Island offers a tropical getaway to rival any spot in the Caribbean. Sip a cocktail onboard and enjoy a fresh catch prepared by your chef as you absorb the sun and sea air.
Powell River to Vancouver
Before moving on, take some time to admire the unspoiled wilderness and endless ocean vistas of Powell River. The short flight back to Vancouver will give an aerial view of the Pacific Northwest you've come to know and love.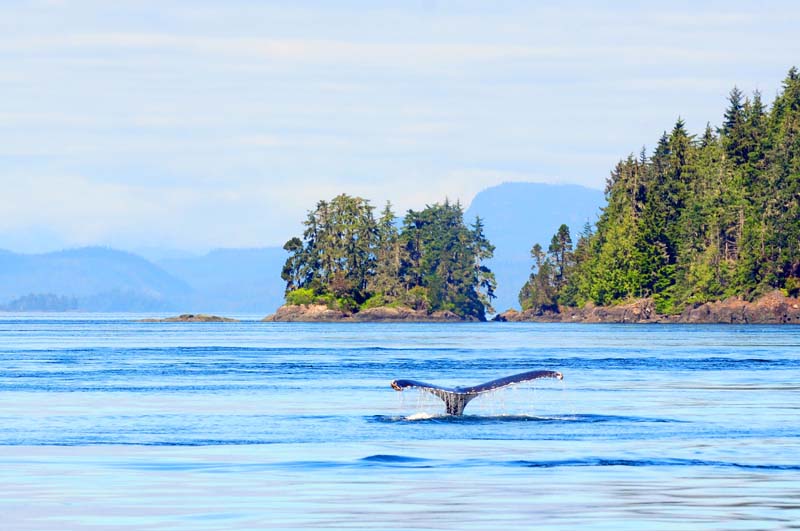 ---
BRITISH COLUMBIA OVERVIEW
TIME ZONE: Pacific Daylight Time
CURRENCY: CANADIAN DOLLAR (CAD)
CLIMATE: If in winter Vancouver is the mildest large city of Canada, in summer it is the coolest, but also the sunniest. On the west coast of Vancouver Island, summer is even cooler.
May: 63° / 49° F
June: 67° / 54° F
July: 72° / 57° F
August: 72° / 57° F
September: 66° / 53° F
discover the best of yachting