TOUCH Yacht For Sale with Worth Avenue Yachts
---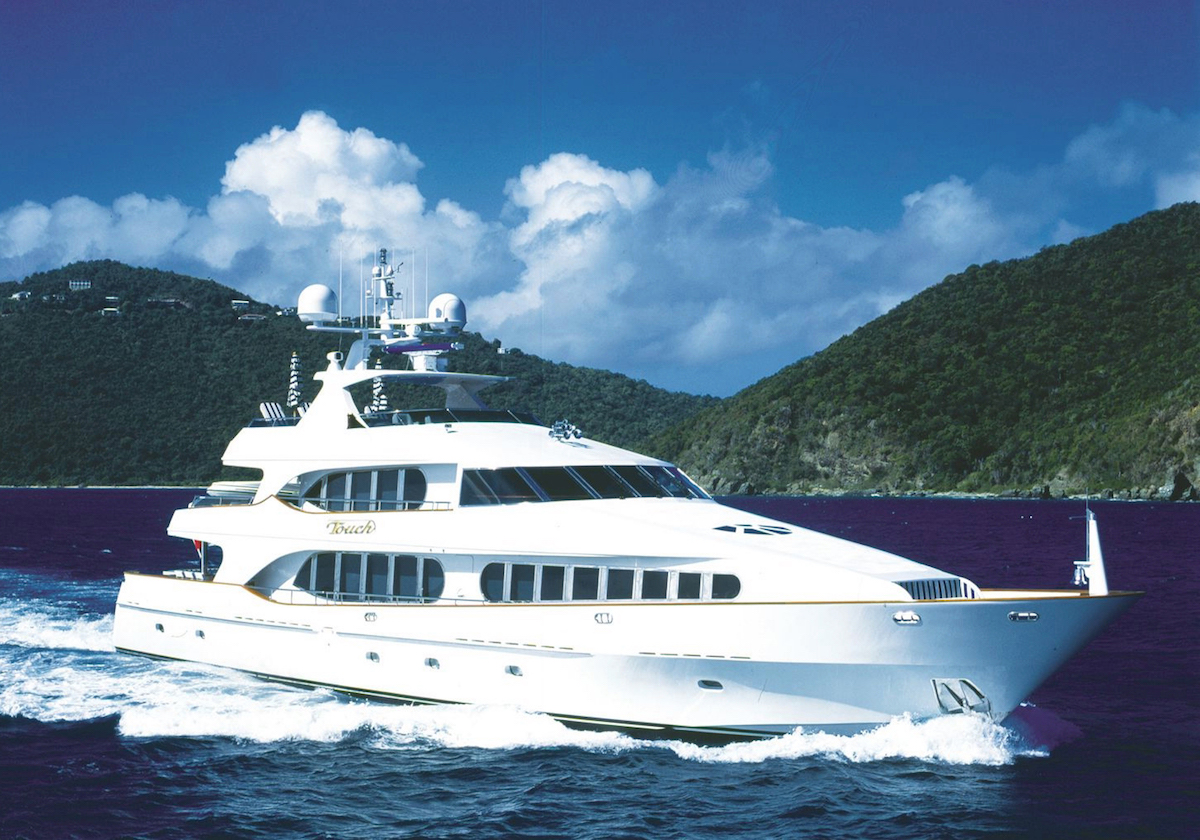 The 120' (36.58m) Louisburg luxury motor yacht TOUCH for sale with Worth Avenue Yachts.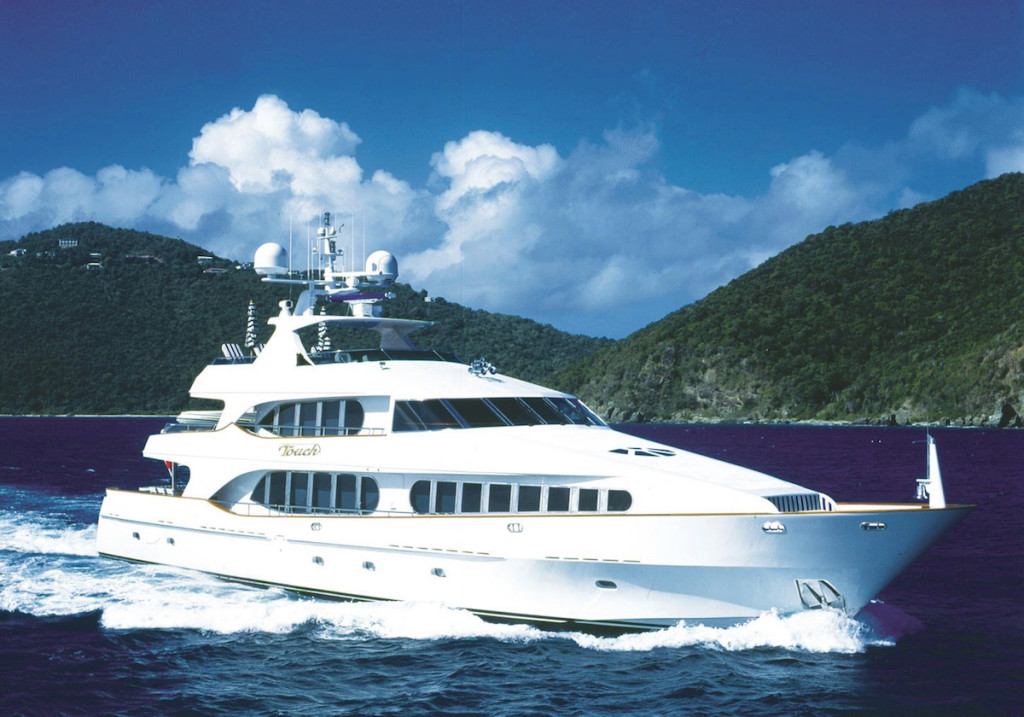 A great opportunity for buyers yacht TOUCH is a tri-deck motor yacht built and launched by the Canadian shipbuilder Louisburg in 2004.
Yacht TOUCH features four king sized cabins, a six-person main deck Jacuzzi, and an owner's suite with private staircase, aft deck, Jacuzzi, and office. The other three spacious cabins are located on the lower deck, and the yacht accommodates up to 8 guests.
With an ornate interior by designer Danielle Vignault, yacht TOUCH's decor features glossy wood and sumptuous furnishings, showing a decadent Italian style. Glass sculptures and lots of rounded surfaces only emphasize the European design. A large salon is complemented by an elegant dining room under a glass chandelier.
On deck there are plenty of entertaining areas, from the large Jacuzzi on the main deck to the forward seating area on the bow. The flybridge features captain's chairs, a bar, exercise equipment and sunbeds.
For full detailed specifications on this fine Louisburg yacht click here motor yacht TOUCH. To discuss this yacht with her Worth Avenue Yachts broker send us an email, fill in our short contact form or call us direct.
Please note, this yacht is Not For Sale to US Residents While in US Waters.
Photographs of Yacht TOUCH:
Specifications for Yacht TOUCH:
Overview
Main Deck:
Large main salon and dining area
Galley and crew mess area
Jacuzzi on aft deck
Open plan aft deck with marble round table
Walk-in refrigerator
Bosun's locker
Foredeck lounge area
Lower Deck:
Guest foyer with refrigerator and sink
Three Guest Staterooms, each with en suite bathrooms
Swim platform
Lazarette
Engineer and captain's cabins
Laundry and control room
Engine room
Forward crew accommodation (separate from guest area)
Anchor locker
Upper Deck:
Master Stateroom with en suite bathroom (including Jacuzzi)
Boat Deck with Davit and 17′ tender
Outdoor Lounge area w/ Ice maker and bar area
Bridge
Sundeck:
The sundeck features a complete bar area with fridge and sink, four sun lounge seats, two gym style treadmills, and four automated lookout chairs. This area also is integrated into the vessel's A/V system, with complete outdoor sound system.
Audio & Visual Equipment
V-Sat 4006 antenna with DAC 2202 controller
SeaTel Sat TV 4004 antenna with DAC 2200 controller
Crestron fully integrated A/V system for entire vessel
Bose sound system throughout vessel (w/ Sub woofers in all guest areas)
Request 20,000 song database system, fully integrated into A/V system
Karaoke unit in salon (complete with electric guitar)
Plasma screen TV's in all guest state rooms, salon, and aft deck
Autopatch system to all TV's
X BOX 360 & Nintendo Wii units integrated into salon A/V system
iPod docks for all areas of the vessel
BlueRay and HD DVD in all areas
Deck Equipment
Sundance 'Optima' Jacuzzi (seats 6) on aft deck
2x Anchors with Maxwell electric windlasses w/ 350′ of chain
4x Maxwell electric deck winches
Marquipt hydraulic passerelle fully extendable to 25′
Marquipt tender lift 2500 hydraulic davit
2x Full gym style treadmills
Marquipt side boarding ladders
Yanmar Diesel 3.5kW crash pump
Bauer Junior 2 dive compressor
Dive equipment with 4 dive tanks and 2 BA's
GPIRB, EPIRB and SART's all on deck
4x Zodiac 8 person Life Rafts
Electrical Equipment
2x Northern Lights M1064A generator sets, 92kW each, 11,500 hrs., November 2015
208 VAC 60 Hz 3 phase (American system) with certain areas also combining European
220VAC Single phase outlets
Electronics
Furuno FR-2135 S band radar
Furuno FR-2115-B X band radar
Anschutz NP2015 autopilot and steering system
3 X Leica MX420 GPS units
Furuno Navtex receiver NX-500
2x Furuno FM-8500 VHF's
Furuno Inmarsat C
B&G Sonic speed and depth system (fully integrated into Navigation system)
Radio Zeeland DMP monitoring system
Nobeltec digital chart system
Furuno AIS FA-150 (fully integrated into Navigation system)
Galley/Laundry
Miele induction cooktop with 5-burners, 2 ovens, 1 grill
Ventmaster extractor with Ozone creating UV lamp system
Moyer Diebel sterilizer
2x Subzero 611 integrated refrigerator and freezers
Walk-in refrigerator with 200 sq feet storage space
Subzero 611F Standard Deep Freezer
2x Miele PW 6065 Professional Washing Machines
2x Miele PT 7136 Plus Professional Dryers
Mechanical Equipment
2x MTU Detroit Diesel 2000 Series engines, Model R1227K22, 805 hp at 1800 RPM
2 X Twin Disc Model MG6557 RV Transmissions with Ratio 2.481 : 1
American bow thruster Trac stabilizer system
American bow thruster Trac 60HP electric bow thruster
Aqua Air 20 Ton 4 Stage Chiller air conditioning system
Air handlers throughout entire vessels interior
Headhunter TW200 MSD 2 sewage treatment system
Alfa Laval MIB 303 fuel separator
2x Watermaker WMSQ 1950 units
MP Pumps model 21365 Bilge pump (210GPM)
MP Pumps model 29535 Fire Pump (180 GPM)
2x MP Pumps model 26086 Grey Water pumps (150GPM)
2x Hydronax Double Ram steering system
Pegasus Deluxe rudder and shaft seals
2x 3" Shafts with Bruntons 5-blade 42" propellers
Atlas fully automated main switch board with 70kW shore power capacity and automated generator paralleling ability for up to 160kW on generators
Headhunter Hydropac freshwater system with (2) Grundfos pumps capable of 22 gpm, variable speed
2x Sterilight UV lamp water treatment sterilizers
Atlas Copco compressed air system capable of 150psi
Tenders and Toys
Novurania 17′ fiberglass RIB w/ Yamaha 80 hp 4-stroke outboard engine
Water skiing boards
2x Wakeboards
3x Inflatable 3-person tubes
2x Clear 2-person Kayaks (see through, capable of 70′ visibility)
Refit 2015
Hauled out summer 2015 at Lauderdale Marine Center
All new bottom paint
5 Step OrcaSystem polish
Shafts, rudders and stabilizers all dropped:
New cutlass bearings
New rudder shaft seals
New stabilizer seals
New bow thruster seals
All new sea cock valves
Refit 2011
Complete new paint from bottom to top of mast with DuPont paint system
Complete AV upgrade by Triton Technical Seattle including new flat screen TV's, audio system and speakers, components, racks and wiring. Full support can be given mostly over the internet. Upgraded Crestron system incorporating iPad controls. New HD salon 60" HD and Master 42" HD TV's with Blue Ray players and 8 Sat receivers. New 20,000 song Request System (iPad controlled). New speakers throughout yacht. New sliding racks for main system.
Complete satellite internet upgrade. New hardware including racks, components and wiring throughout including 42" SeaTel Dish for excellent footprint/coverage, new main I direct router and new routers throughout vessel. Also new antenna system fitted for access to shore based wireless internet.
All new decks installed throughout
All Fire-­mains overhauled, re-­welded and re­-plumbed
All new exterior Varnish
All exterior fabrics and coverings replaced including all sundeck chairs, cushions, pillows and mats
Deck chairs re­-varnished
All interior gold fittings re-­dipped including interior railings
Gold leaf re-plated on rear sliding doors, furniture and door frames. Other areas as needed to bring into perfect condition
Interior fittings, knobs and attachments replaced where needed
All interior wood work repaired and re­-varnished/polished where necessary
New guest linens throughout
New curtains in Master and main salon
Marble repaired and polished as needed
Full engine room refit including new main engine and generator exhausts, new engine room fans, main engines Bore scoped…all excellent, no major service required at this time
Injectors and injector pumps checked, all in excellent condition. Full service history of engine services available
ALL pumps and ALL electric motors checked, rebuilt and replaced where necessary, including but not limited to: Stabilizer electric motor removed and rewound. Stabilizer hydraulic. pump rebuilt, stabilizer cooling pumps (electric and hydraulic rebuilt including electric motor) Fire pump and bilge pumps wet ends and motors rebuilt. Refrigeration pumps rebuilt. Air Conditioning fresh and salt water circuit pumps replaced . Water maker pumps replaced and or rebuilt. Alfa Laval fuel polisher rebuilt. All engine/ genset cooling pumps checked and rebuilt. UV freshwater sterilizer rebuilt. Further details available from Touch engineer upon request.
Sewerage system stripped down rebuilt and repainted.
Entire seawater circuit stripped down and rebuilt (new valves etc.).
All thru hull flanges re-­welded and rebuilt where necessary, and ALL valves checked, rebuilt and replaced where necessary.
Full stabilizer rebuild and retro refit including hydraulics and pump and motor overhauls.
Bow thruster removed and rebuilt.
Anchors re-­galvanized.
Anchor windlasses rebuilt.
Bow capstans rebuilt.
Main shafts removed, checked and new bearings installed.
Rudders removed, new bearings and hydraulics refitted.
Props removed and checked and reworked to "S" Class.
Complete DMP monitoring system rebuild including new sensors and calibration and new computers.
All fuel, fresh water, black water, grey water, oil and dirty oil tanks, thoroughly cleaned, inspected, sandblasted and re-coated where necessary.
New anti-fouling paint and zinc anodes.
Passerelle removed, rebuilt and painted.
Crew areas fitted with new TV's, DVD players and controls.
New ships management and inventory system by Triton Administrator. The system has been fully implemented and documented by Touch's engineer.