Worth Avenue Yachts at the MYBA Charter Show
---
Worth Avenue Yachts is excited to have our charter team in Genoa for the MYBA Charter Show this week. The 25th annual show extends from April 29th through May 3rd and is the most important international exhibition dedicated to Charter professionals and Superyachts. Attended by the most prestigious Charter Agencies and Brokers globally, the Genoa Charter Show showcases luxury charter yachts and the most exclusive display of ancillary services for the yachting industry.  The numerous events surrounding the Show and the beautiful location in the Porto Antico of Genoa justify this event's professional reputation.
Katie Wray-Macpherson, Worth Avenue Yachts' Charter Professional, attended lunch service on AMARULA SUN on the first day of the show. AMARULA SUN, the 130' Westport, is a popular charter vessel. The yacht sleeps 10 guests in 5 cabins with 7 crew member catering to your every whim.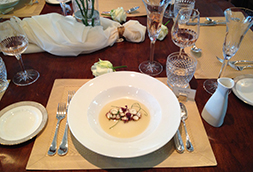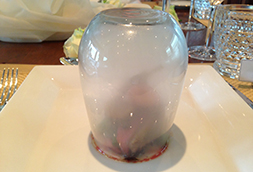 AMARULA SUN operates in the West Med throughout the summer season at a rate of $150,000 plus expenses. The chef served up an impressive arrangement starting with octopus in squid broth followed by a grilled pigeon under a glass dome filled with smoke. When they removed the dome, the delightful smoky smell enveloped the senses.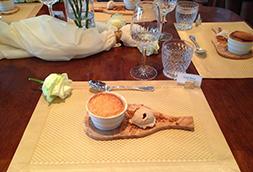 The final course was described as being marmalade on toast. The creamy fluffiness combined with the brulee style crust and chill of the gelato were a perfect combination. The following day our team dined onboard NERO. NERO is a 295' Corsair that sleeps 12 guests in 6 staterooms. This magnificent custom build is world renowned and offers charter guests an endless number of activities to do onboard or in the water. NERO charters the West Med for 420,000 Euro per week plus expenses.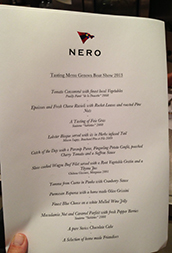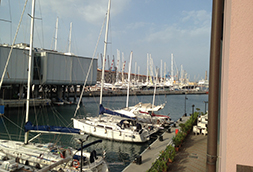 Other yachts to be inspected at the Genoa Charter Show include: SEALYON, RUNNING ON WAVES, ODESSA, OCEAN PARADISE, IDOL, CAPRI and many, many more. For further information contact our office at (561) 833-4462 or follow us on Facebook for real time updates!