The Monaco Yacht Show 2016
---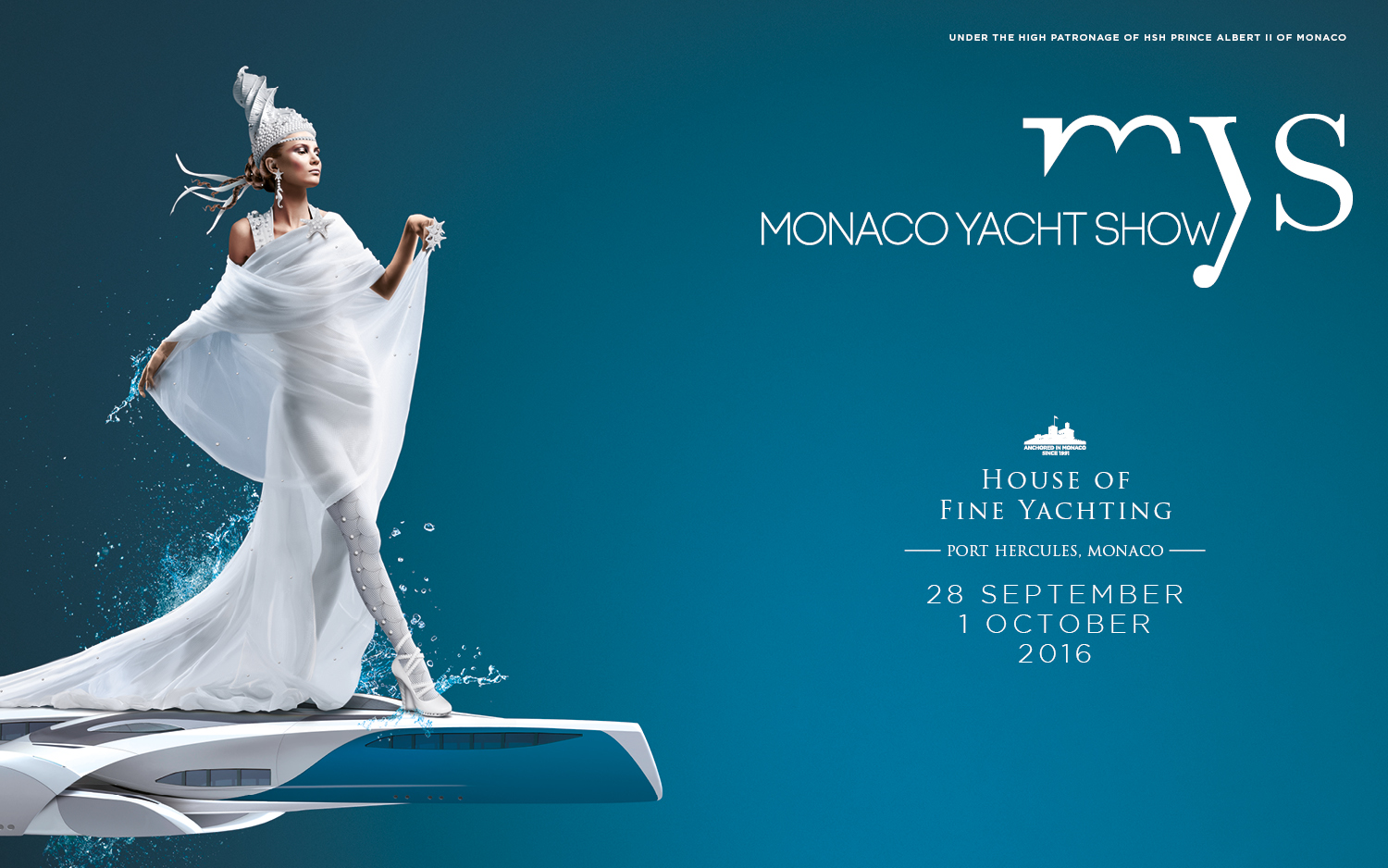 No show has the prestige and volume of large yachts on display as the Monaco Yacht Show – Sept. 28- Oct. 1st 2016.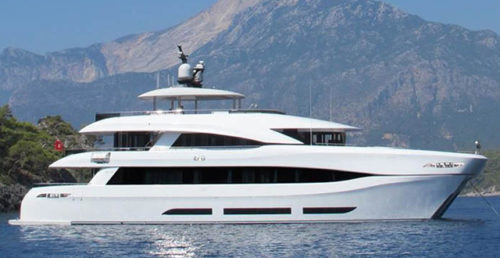 Worth Avenue Yachts is proud to have a new brokerage listing, the 111' Curvelle Power Catamaran QUARANTA on display with joint listing agent Engel & Volkers, the real estate company. Located at slip L08 – Jettee Lucciana – right in front of the Monaco Yacht Club – register in advance for expedited boarding Team@WorthAvenueYachts.com. This is a very special yacht that needs to be viewed to understand the volume and space that this catamaran allows. With the volume of a 40m monohull (e.g. 130' Westport), she features 6 near equal on-deck staterooms, all of which have flexible layouts from twins to king size beds, with ensuite bathrooms.
Other vessels that represent potential "good deals" on display are:
QUINTA ESSENTIA – 55m Admiral 2016
NATORI – 42m Baglietto 2009
DRAGON – 135′ Palmer Johnson 2007
For more information or to schedule a tour of any of the vessels at or around the Monaco Yacht Show please contact Team@WorthAvenueYachts.com
Below is a list of yachts for sale at the Monaco Show. Contact our team for further information on any of these vessels.
Boat Name
LOA
Beam
Max Draft
Builder
Category
Model
Built
Refit
Engine Info
Price
Show Location
ULYSSES
352′ 6″ (107.42m)
59′ 1″ (18.01m)
16′ 9″ (5.11m)
Kleven Verft
Mega Yacht
2016
2016
Twin 2230 HP Diesel/Electric Caterpillar
$195,000,000
At anchor.
ATHENA
295′ 4″ (90.02m)
40′ 1″ (12.22m)
18′ 1″ (5.51m)
ROYAL HUISMAN
Schooner
2004
2004
2011
Twin 2000 HP Inboard Diesel Caterpillar
$69,900,000
Solandge
279′ 3″ (85.10m)
45′ 4″ (13.80m)
12′ 10″ (3.90m)
LURSSEN
Mega Yacht
2013
2013
Twin 2682 HP Inboard Diesel Caterpillar
($189,578,776 Est.)  169 000 000 €
At anchor
TV
257′ 0″ (78.33m)
45′ 7″ (13.87m)
12′ 6″ (3.80m)
LURSSEN
Motor Yacht
2008
2008
2011
Twin 0 HP Inboard Diesel Caterpillar
($103,202,647 Est.)  92 000 000 €
Boadicea
251′ 4″ (76.60m)
46′ 3″ (14.10m)
13′ 9″ (4.19m)
AMELS
Motor Yacht
1999
1999
2016
Twin 0 HP Caterpillar
($66,745,190 Est.)  59 500 000 €
R04
MARTHA ANN
230′ 0″ (70.10m)
42′ 0″ (12.80m)
12′ 0″ (3.66m)
LURSSEN
Motor Yacht
2008
2008
2016
Twin 2010 HP Inboard Diesel Caterpillar
$79,000,000
SUERTE
227′ 4″ (69.29m)
37′ 7″ (11.46m)
10′ 10″ (3.30m)
Tankoa Yachts
Mega Yacht
2015
2015
Twin 2480 HP Inboard Diesel CAT
($67,193,898 Est.)  59 900 000 €
T Central 06
ICON
221′ 6″ (67.50m)
37′ 5″ (11.40m)
12′ 6″ (3.80m)
ICON YACHTS
Motor Yacht
2010
2010
2014
0 HP MTU
($63,379,887 Est.)  56 500 000 €
OKTO
217′ 10″ (66.40m)
36′ 1″ (11.00m)
9′ 8″ (2.95m)
ISA YACHTS
Motor Yacht
2014
2014
Twin 2366 HP Inboard Diesel Caterpillar
($61,136,351 Est.)  54 500 000 €
MIA ELISE II
198′ 0″ (60.35m)
32′ 0″ (9.75m)
9′ 3″ (2.82m)
TRINITY
Motor Yacht
2012
2012
Twin 3384 HP Inboard Diesel Caterpillar
$47,900,000
LADY LUCK
194′ 7″ (59.31m)
34′ 1″ (10.39m)
10′ 6″ (3.20m)
BENETTI
Motor Yacht
2009
2009
Twin 1770 HP Inboard Diesel MTU
($39,261,877 Est.)  35 000 000 €
Maybe
193′ 7″ (59.00m)
35′ 2″ (10.70m)
12′ 6″ (3.80m)
MetalSHIPS & Docks
Mega Yacht
2016
2016
0 HP Diesel CAT
($35,784,396 Est.)  31 900 000 €
UNBRIDLED
191′ 0″ (58.22m)
35′ 9″ (10.90m)
9′ 0″ (2.74m)
TRINITY
Mega Yacht
2009
2009
2015
Twin 0 HP Inboard Diesel Caterpillar
$34,999,000
Skyfall
190′ 0″ (57.91m)
33′ 5″ (10.19m)
8′ 6″ (2.59m)
TRINITY
Motor Yacht
2010
2010
2015
Twin 3384 HP Inboard Diesel Caterpillar
$36,500,000
AE CAP D'ANTIBES
183′ 9″ (56.00m)
34′ 2″ (10.40m)
0′ 0″ (0.00m)
BENETTI
Motor Yacht
2007
2007
Twin 1380 HP Inboard Diesel Caterpillar
($26,361,546 Est.)  23 500 000 €
TURQUOISE
181′ 10″ (55.40m)
30′ 7″ (9.30m)
10′ 6″ (3.20m)
Proteksan-Turquoise
Mega Yacht
2011
2011
2014
Twin 1500 HP Diesel Caterpillar
($27,988,109 Est.)  24 950 000 €
T-Jetty
HUNTRESS II
180′ 6″ (55.00m)
31′ 6″ (9.60m)
10′ 6″ (3.20m)
FEADSHIP
Motor Yacht
1997
1997
2013
Twin 1270 HP Inboard Diesel Caterpillar
$29,950,000
SEQUEL P
179′ 6″ (54.71m)
30′ 5″ (9.27m)
10′ 8″ (3.25m)
Proteksan-Turquoise
Motor Yacht
2009
2009
2015
Twin 1500 HP Inboard Diesel Caterpillar
$25,950,000
STARFIRE
177′ 2″ (54.00m)
31′ 6″ (9.60m)
10′ 10″ (3.30m)
BENETTI
Motor Yacht
1998
1997
2012
Twin 1573 HP Inboard Diesel Deutz
$16,500,000
SEAHORSE
170′ 8″ (52.00m)
29′ 7″ (9.00m)
0′ 0″ (0.00m)
AMELS
Motor Yacht
1999
1999
2016
Twin 1200 HP Diesel Cummins
($24,554,252 Est.)  21 888 888 €
QUAI CHICANE C05
HELIOS 2
167′ 9″ (51.13m)
28′ 4″ (8.64m)
8′ 6″ (2.59m)
PALMER JOHNSON
Motor Yacht
2002
2002
2015
Twin 1000 HP Inboard Diesel Caterpillar
$14,500,000
HADIA
164′ 1″ (50.00m)
31′ 0″ (9.45m)
0′ 0″ (0.00m)
HAKVOORT
Motor Yacht
2006
2006
2012
Twin 1014 HP Caterpillar
($28,044,198 Est.)  25 000 000 €
Quai des Etats Unis – E05
Moonraker
163′ 9″ (49.91m)
30′ 2″ (9.19m)
5′ 5″ (1.65m)
OVERMARINE – MANGUSTA
Motor Yacht
2014
2014
Triple 4566 HP Inboard Diesel MTU
$24,500,000
NATIVA
157′ 6″ (48.00m)
32′ 2″ (9.80m)
25′ 8″ (7.80m)
ARZANA' NAVI
Sloop
2013
2013
Single 800 HP Inboard MAN
($16,714,342 Est.)  14 900 000 €
Berth E06
BIG MAK
156′ 4″ (47.65m)
27′ 11″ (8.50m)
6′ 11″ (2.10m)
HEESEN YACHTS
Motor Yacht
1998
1998
2014
Twin 0 HP Inboard Diesel MTU
($8,861,966 Est.)  7 900 000 €
At Anchor
360
155′ 11″ (47.50m)
29′ 3″ (8.90m)
8′ 11″ (2.70m)
ISA YACHTS
Motor Yacht
2003
2003
2013
Twin 2340 HP MTU
($10,937,237 Est.)  9 750 000 €
At Anchor
BLUSH
155′ 0″ (47.25m)
0′ 0″ (0.00m)
7′ 5″ (2.25m)
SUNSEEKER
Motor Yacht
2014
2014
Twin 2950 HP Diesel MTU
($25,721,182 Est.)  £19,500,000
LADY PETRA
154′ 3″ (47.00m)
29′ 0″ (8.83m)
9′ 5″ (2.85m)
HEESEN YACHTS
Motor Yacht
2012
2012
Twin 1555 HP Diesel MTU
($25,239,778 Est.)  22 500 000 €
ALLEGRIA
152′ 0″ (46.30m)
29′ 3″ (8.92m)
8′ 10″ (2.69m)
HAKVOORT
Motor Yacht
2004
2004
Twin 0 HP Inboard Diesel Caterpillar
$19,950,000
T35
PINK GIN
151′ 8″ (46.22m)
27′ 9″ (8.45m)
20′ 0″ (6.10m)
BALTIC
Performance Sailboat
2006
2006
2011
Single 873 HP Inboard Diesel Caterpillar
($13,349,038 Est.)  11 900 000 €
Berth H06
ACHILLES
151′ 0″ (46.00m)
30′ 7″ (9.30m)
0′ 0″ (0.00m)
SANLORENZO
Motor Yacht
2012
2012
Twin 2040 HP Inboard Diesel Caterpillar
($22,379,270 Est.)  19 950 000 €
REVE D'OR
151′ 0″ (46.00m)
30′ 7″ (9.30m)
0′ 0″ (0.00m)
SANLORENZO
Motor Yacht
2011
2011
Twin 2000 HP Inboard Diesel Caterpillar
($21,312,468 Est.)  18 999 000 €
Oneness (PJ 150)
150′ 2″ (45.75m)
27′ 7″ (8.40m)
6′ 3″ (1.90m)
PALMER JOHNSON
Mega Yacht
2009
2009
Twin 3650 HP Inboard Diesel MTU
$18,500,000
At anchor
PANAKEIA
149′ 4″ (45.50m)
28′ 3″ (8.60m)
7′ 7″ (2.30m)
ASTONDOA
Mega Yacht
2008
2008
0 HP MTU
($17,387,403 Est.)  15 500 000 €
FATHOM
147′ 8″ (45.00m)
26′ 3″ (8.00m)
9′ 11″ (3.00m)
Miss tor yacht
Mega Yacht
2007
2007
Twin 800 HP Inboard Diesel MAN
($7,011,049 Est.)  6 250 000 €
nearby
PRIDE
147′ 0″ (44.80m)
31′ 3″ (9.50m)
8′ 7″ (2.60m)
Viudes Yachts
Mega Yacht
2013
2013
Twin 0 HP Diesel Caterpillar
($19,630,938 Est.)  17 500 000 €
At Anchor
DEEP BLUE II
144′ 0″ (43.89m)
28′ 11″ (8.81m)
8′ 0″ (2.44m)
OCEANCO
Motor Yacht
1996
1996
2012
Twin 2250 HP Inboard Diesel MTU
$9,400,000
At anchor.
ECLIPSE
141′ 1″ (43.00m)
27′ 8″ (8.41m)
0′ 0″ (0.00m)
FEADSHIP
Motor Yacht
1993
1993
2008
775 HP Diesel Caterpillar
$10,950,000
Natori
137′ 10″ (42.00m)
27′ 11″ (8.50m)
7′ 11″ (2.40m)
BAGLIETTO
Motor Yacht
2009
2009
Twin 0 HP Diesel MTU
($11,498,121 Est.)  10 250 000 €
SOY AMOR
137′ 7″ (41.93m)
29′ 9″ (9.05m)
7′ 6″ (2.28m)
BENETTI
Motor Yacht
2014
2014
Twin 1450 HP Inboard Diesel Caterpillar
($21,201,413 Est.)  18 900 000 €
SALADUS
132′ 0″ (40.24m)
26′ 11″ (8.18m)
7′ 4″ (2.23m)
BENETTI
Motor Yacht
2014
2014
Twin 0 HP MTU
($18,509,170 Est.)  16 500 000 €
Chiqui
131′ 3″ (40.01m)
26′ 7″ (8.10m)
8′ 10″ (2.69m)
SUNSEEKER
Motor Yacht
2011
2011
Twin 3180 HP Inboard Diesel MTU
$13,900,000
ZANZIBA
131′ 3″ (40.00m)
29′ 9″ (9.06m)
14′ 10″ (4.50m)
CUSTOM BUILT
Motorsailor
2015
2015
Twin 454 HP Inboard Diesel Caterpillar
($8,188,906 Est.)  7 300 000 €
At the anchor
LITTLE FISH
130′ 7″ (39.80m)
27′ 3″ (8.30m)
8′ 11″ (2.70m)
HEESEN YACHTS
Motor Yacht
2001
2001
2011
Twin 0 HP Caterpillar
($9,983,734 Est.)  8 900 000 €
JETSETTER
126′ 8″ (38.60m)
23′ 8″ (7.20m)
5′ 9″ (1.75m)
DYNAMIQ
Motor Yacht
2016
2016
Twin 0 HP Diesel MAN
($16,316,675 Est.)  14 545 500 €
Harun
123′ 9″ (37.70m)
0′ 0″ (0.00m)
5′ 5″ (1.65m)
H
Motor Yacht
2015
2015
Twin 1200 HP Diesel MAN
($8,974,143 Est.)  8 000 000 €
Quai de l'Hirondelle
EDESIA
121′ 1″ (36.90m)
26′ 11″ (8.20m)
7′ 0″ (2.14m)
BENETTI
Motor Yacht
2014
2014
Twin 528 HP Inboard Diesel MTU
($14,863,425 Est.)  13 250 000 €
Quaranta
111′ 0″ (33.83m)
29′ 7″ (9.02m)
0′ 0″ (0.00m)
Curvelle
Motor Yacht
2014
2013
Twin 1900 HP Inboard Diesel Caterpillar
($9,535,027 Est.)  8 500 000 €
Jettee Lucciana
EMMALINE
106′ 1″ (32.33m)
23′ 1″ (7.02m)
14′ 6″ (4.40m)
HOLLAND JACHTBOUW
Cruising Sailboat
2003
2003
Single 300 HP Inboard Diesel Lugger
($4,430,983 Est.)  3 950 000 €
CCN 102′ Flyingsport
102′ 1″ (31.10m)
23′ 10″ (7.25m)
5′ 11″ (1.80m)
Cerri Cantieri Navali
Motor Yacht
2016
2016
Twin 0 HP Diesel MTU
($9,871,558 Est.)  8 800 000 €
CYCLOS II
93′ 0″ (28.33m)
21′ 0″ (6.40m)
12′ 0″ (3.65m)
ROYAL HUISMAN
Cruising Ketch
1984
1984
Single 225 HP Inboard Diesel Gardner
($897,414 Est.)  800 000 €
YXT 20
70′ 5″ (21.45m)
18′ 1″ (5.50m)
4′ 4″ (1.30m)
LYNX YACHT BV
Motor Yacht
2016
2016
Twin 715 HP Inboard Cummins
($2,187,447 Est.)  1 950 000 €
M/Y SPACE
52′ 8″ (16.03m)
14′ 10″ (4.50m)
3′ 8″ (1.10m)
CNM – CANTIERI NAVALI DEL MEDITERRANEO
Motor Yacht
2009
2009
Twin 800 HP Inboard Diesel MAN
($841,326 Est.)  750 000 €