Find Us At The Antigua Charter Yacht Show
---
As we kick off the start of the Caribbean charter high season, the Antigua Charter Yacht Show will be showcasing some of the worlds' finest charter yachts from December 4th through December 10th. Many of the top charter brokers and charter managers in the industry will be in attendance and have the opportunity to explore and learn more about the curated top selection of available yachts for charter. The  charter brokers in attendance will gain insider knowledge while finding out more about each boat's designs, layouts and facilities in addition to meeting the captains and crew. This will equip industry professionals with the necessary knowledge to best match their clients to the perfect charter yacht.
The Caribbean island of Antigua will host over 80 of the worlds' most impressive luxury yachts during the show between the Nelson's Dockyard Marina in English Harbour, the Falmouth Harbour Marina and the Antigua Yacht Club Marina which are both located in Falmouth Harbour. 
Worth Avenue Yachts is proud to have the following central charter listings on display at the Antigua Charter Yacht Show: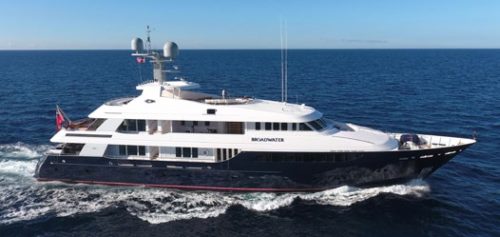 165' Feadship BROADWATER
BROADWATER's size and volume is found in her tri-deck configuration, six-stateroom, 690 GRT build. She offers a superb design in which to utilize all the spaces aboard. Her stunning blue hull gives her a sophistication not easily found on the water today.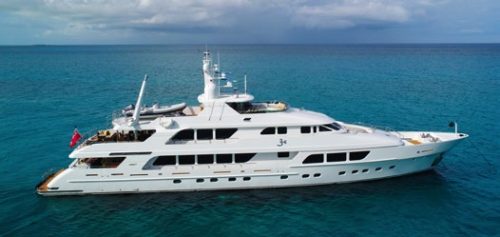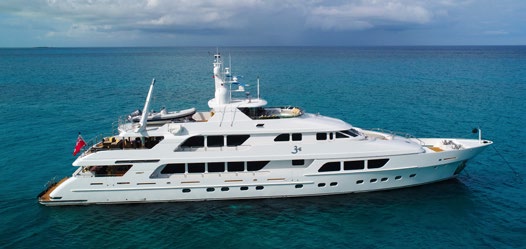 161' Christensen THREE FORKS
THREE  FORKS' popular interior entertaining area includes plenty of seating, multiple couches, reading nook and inviting full bar with lots of seating for cocktail hour.  The sundeck offers guests plenty of lounging options including an oversized jacuzzi and sun pads, seating arrangement, full bar, bar stools and large aft deck for additional lounge chair options. THREE FORKS can comfortably accommodate 12 guests in six staterooms.
Below is a list of all of the yachts you will find at the Antigua Charter Yacht Show:
Boat Name

LOA

Builder

Built

Winter Area

Summer Area

ADASTRA

140′ (42.67m)

McConaghy

2012

Caribbean

Pacific/Indonesia

ADASTRA

60′ (18.29m)

Sunreef

2017

Caribbean

West Med

ANDIAMO

195′ (59.44m)

Benetti

2009

Bahamas/Caribbean

Croatia, East & West Med

ANTARES

130′ (39.62m)

Westport

2008

Caribbean

Bahamas, Florida,

New England

AQUILA

77′ (23.47m)

AURELIUS 111

110′ (33.53m)

JOM/Diijkstra

2011

Caribbean

N/A

BELLA PRINCIPESSA

61′ (18.59m)

Privilege

2009

Caribbean

Caribbean

BLU 470

163′ (49.68m)

Feadship

1990

West Med/Spain

Croatia, East & West Med

BROADWATER

165′ (50.29m)

Feadship

2000

Bahamas/Caribbean

Spain, West Med

CALMAO

74′ (22.56m)

Sunreef

2017

Caribbean

Croatia

CALYPSO

201′ (61.26m)

Amels

2003

Bahamas/Caribbean,

SE Asia, South Pacific

SE Asia

CARTOUCHE

95′ (28.96m)

Blue Coast

2011

Caribbean

N/A

CYAN

159′ (48.46m)

Codecasa

1997

Caribbean

Croatia, East & West Med

DHARMA

95′ (28.96m)

Southern Wind

2005

Bahamas/Caribbeam

N/A

DONA LOLA

130′ (39.62m)

Westport

2003

Caribbean

Bahamas/Caribbean

ELEONORA

163′ (49.68m)

Van Der Graaf BV

2000

Caribbean

N/A

EROS

115′ (35.05m)

Classic teak Schooner

1939

Caribbean

New England

ETOILE D'AZUR

99′ (30.38m)

Moonen

2008

Florida/Bahamas/

Caribbean

Croatia, Greece,

East & West Med

FAR NIENTE

130′ (39.62m)

Westport

2014

Bahamas/Caribbean

Bahamas/New England

FLAG

204′ (62.18m)

Feadship

2000

Caribbean

Croatia, Greece,

East & West Med

G3

144′ (43.89m)

Heesen

2008

Caribbean

West Med

GLADIUS

127′ (38.71m)

Cantieri di Pisa

2007

Caribbean

West Med

GREY MATTERS

150′ (45.72m)

Palmer Johnson

2007

Caribbean

West Med

HANIKON

164′ (49.99m)

Feadship

2004

Bahamas/Caribbean

Croatia, Greece,

East & West Med

HARLE

146′ (44.50m)

Feadship

2007

Bahamas/Caribbean

Croatia, West Med

HEMISPHERE

145′ (44.20m)

Pendennis

2011

Bahamas/Caribbean

Panama/Costa Rica/

French Polynesia

I LOVE THIS BOAT

145′ (44.20m)

Christensen

2002

Florida/Bahamas/

Caribbean

Alaska/Pacific Northwest

ILLUSION V

191′ (58.22m)

Benetti

2014

Bahamas/Caribbean

Croatia, Greece,

East & West Med

JUPITER

100′ (30.50m)

Giorgetti & Magrini

1989

Bahamas/Caribbean

New England

KATHARINE

201′ (61.26m)

CRN Ancona

2000

Bahamas/Caribbean

Greece, East & West Med

LADY J

142′ (43.28m)

Palmer Johnson

1997

Caribbean

Bahamas

LADY VICTORIA

120′ (36.58m)

Feadship

1991

Florida/Bahamas/

Caribbean

East Coast US,

Carolinas, Maine

LAYSAN

72′ (21.95m)

Serenity Shipyard

2017

Caribbean

Caribbean

LAZY Z

170′ (51.82m)

Oceanco

1997

Bahamas/Caribbean

Greece, East & West Med

LEGENDARY

120′ (36.58m)

Northcoast

2000

Bahamas/Caribbean

N/A

LUCKY LADY

205′ (62.48m)

Oceanco

2002

Bahamas/Caribbean

Croatia, Greece,

East & West Med

M4

32′ (40.23m)

Trident

1999

Bahamas/Caribbean

New England

MARAE

108′ (32.92m)

ALLOY Yachts

2004

Caribbean

New England

MARIE

180′ (54.86m)

Vitters

2010

Bahamas/Caribbean

Croatia, Greece,

East & West Med

MAVERICK

70′ (21.34m)

Sunreef

2013

Caribbean

Bahamas

MIDNIGHT

86′ (26.21m)

Oyster Marine

2011

Caribbean

West Med

MOJEKA

54′ (16.46m)

Moody

2014

Caribbean

Caribbean

MRS HAPPY

108′ (32.92m)

Johnson

2016

Caribbean

Caribbean

MUCHOS MAS

144′ (43.9m)

Crescent

2016

Bahamas/Caribbean

West Med

MY MY MY

100′ (30.48m)

Azimut

1999

Caribbean

Caribbean

MY SEANNA

185′ (56.39m)

Delta

2001

Bahamas/Caribbean

Croatia, Greece,

East & West Med

NERO

295′ (89.92m)

Corsair Yachts

2007

Bahamas/Caribbean

Croatia, Greece,

East & West Med

NITA K II

171′ (52.12m)

Amels

2004

Caribbean

West Med

OCEAN CLIB

120′ (36.58m)

Sovereign

2002

Bahamas/Caribbean

N/A

OCEAN'S SEVEN

137′ (41.76m)

Kingship

2012

Caribbean

Croatia, Greece,

East & West Med

ORION

74′ (22.56m)

Sunreef

2017

Caribbean

West Med

P2

126′ (38.40m)

Perini Navi

2008

Caribbean

N/A

PURA VIDA

99′ (30.18m)

Moonen

2009

Bahamas/Caribbean

Bahamas/New England

QUITE ESSENTIAL

180′ (54.86m)

Heesen

2011

Bahamas/Caribbean

West Med

REE

112′ (34.14m)

Valdettaro

1996

Caribbean

Spain, West Med

REFLECTIONS

107′ (32.61m)

Christensen

1997

Bahamas/Caribbean/

Florida

Bahamas, Caribbean,

Florida

SANDISEAS

62′ (18.90m)

Lagoon

2013

Caribbean

Caribbean

SARISSA

139′ (42.37m)

Vitters

2011

Bahamas/Caribbean

N/A

SEAQUELL

108′ 0″ (32.92m)

ALLOY ENGINEERING

& MARINE

1992

Caribbean

TBC

SEQUEL P

179′ (54.56m)

Proteksan

2009

Bahamas/Caribbean

Croatia, East & West Med

SHERAKHAN

228′ (69.65m)

Vuyk en Zonen

2005

Caribbean, SE Asia

Croatia, East & West Med

SIRONA

72′ (21.95m)

Marten Marine

1999

Caribbean

New England

SOVEREIGN

180′ 0″ (54.86m)

NEWCASTLE

SHIPYARDS

2011

Bahamas/Caribbean

Bahamas, Croatia,

West Med

SYCARA V

223′ (68.05m)

NOBISKRUG

2010

Bahamas/Caribbean

Bahamas/Caribbean

TEMPTATION

123′ (37.49m)

Palmer Johnson

2005

Bahamas/Caribbean/

Florida

New England

THALIMA

110′ (33.53m)

Southern Wind

2010

Caribbean

West Med

THE CURE

62′ (18.90m)

CNB

2009

Caribbean

Caribbean

THREE FORKS

161′ (49.07m(

Christensen

2009

Bahamas/Caribbean

Bahamas, Florida,

New England

TRENDING

160′ (48.77m0

Westport

2006

Bahamas/Caribbean

Croatia, West Med

TURQUOISE

182′ (55.40m)

Proteksan

2011

Bahamas/Caribbean

Croatia, East & West Med

TWILIGHT

125′ (38.1m)

Oyster Marine

2013

Caribbean

West Med

TWIN

62′ (18.9m)

Lagoon

2015

Caribbean

Caribbean

UNBRIDLED

116′ (35.36m)

Crescent

1995

Bahamas/Caribbean

Bahamas

VERTIGE

164′ (49.99m)

Tankoa

2017

Caribbean

N/A

VIGILANT 1

63′ (19.2m)

Lagoon

2017

Caribbean

West Med

VIXIT

173′ (52.73m)

Swedeship

1989

Bahamas/Caribbean

Greece, East & West Med

WHERE'S WALDO

100′ (30.48m)

Ocean Alexander

2015

Bahamas/Caribbean/

Florida

Bahamas/Caribbean/

Florida

WHISPER

Holland Jachtbouw

2003

Caribbean

N/A

WINDQUEST

JFA Yachts

2014

Caribbean

N/A