Essential Accessory for Mega Yacht Owners
---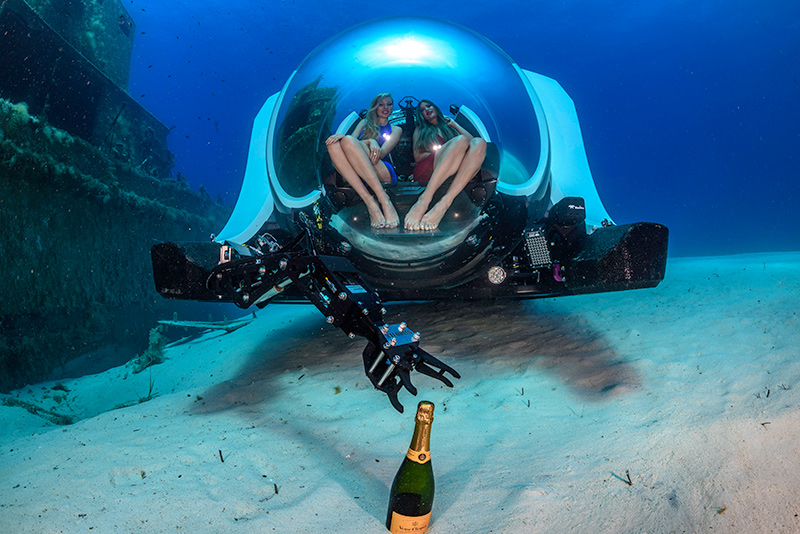 The Personal Submarine
Commercial Submersibles, aka Personal Submarines, have come a long way from their scientific and military counterpart submarines. The latest essential accessory for the mega yacht owners, has initiated an up-and-coming new division for the already existing military and scientific submarine manufacturers but has also opened doors for the new manufacturers of subs specially built for super yachts.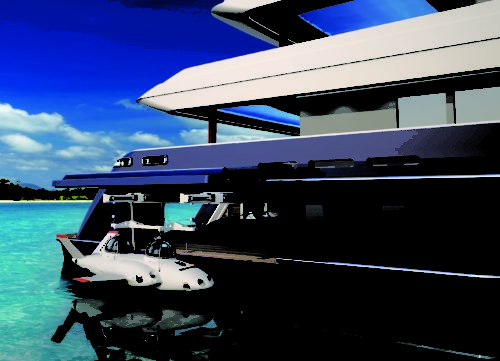 Personal Submarines emerged for the never-ending quest of excitement sought after by the elite mega yacht owners. These new 'water toys' offer an astonishing unique way to enjoy the water and chase rare encounters with the underwater ocean life.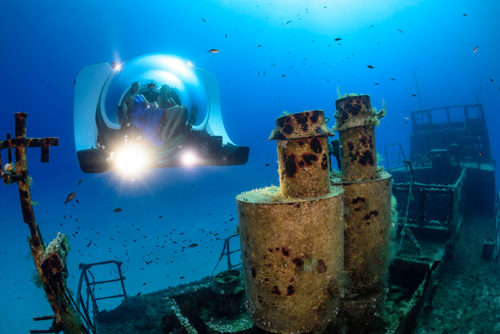 If you are on the hunt for finding the best personal submarine for your yacht, have a look at the following companies and a short summary of each. Although the obvious features to look out for are safety, operating depth, hours of autonomy, low maintenance and operating costs; these new toys for your yacht must also have a small footprint (be compact) and be light weight, an uncomplicated launching and recovery system, must be easy to navigate, and of course, comfort and luxury with undisturbed views.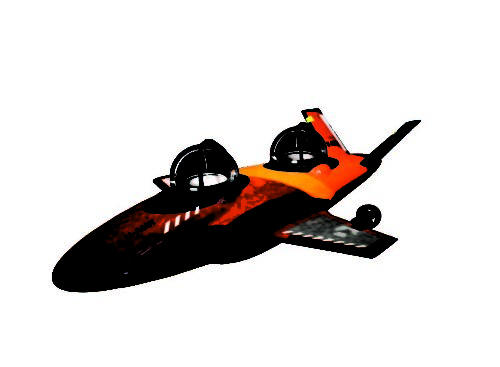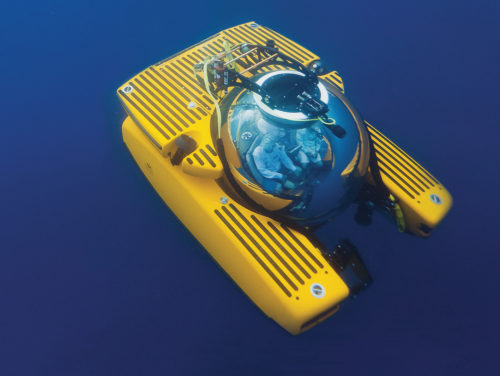 Florida firm, Triton is purely a civil submersible manufacturer for leisure, scientific, film and archaeological exploration. Their new Super-Yacht Sub, the TRITON 1650/3 LP, has an ultra-low profile and lightweight design, ideally suited to deployment from small tender garages and their associated davits. At 5.9ft (1.8m) tall and weighing 8,800lbs (4,000kg), Triton claims this to be one of the lightest three-person sub ever built. The 1650/3 LP has 12 hours endurance and has an operating depth of 1,650ft (500m). Their new benchmark model, however, is the TRITON 3300/3 MKII – which may be taller and heavier (8.5ft and 17,640lbs) than the 1650/3, but it can submerge to 3,300ft (1,000m). It, too, is a three-person sub with 12 hours autonomy. Triton has 4 series available:
1000 Series – 1000/2, 1000/4, 1000/8 and 1650/3LP, which submerge to 1000 – 1650ft (305-500m)
3000 Series – 3300/1 MD, 3300/3 MKII, 3300/4 and 3300/6, which submerge to 3300ft (1000m)
Ultra-Deep Diving 36000/3 and 6600/2 which can dive to depths of a mile deep
Tourist submersible 1000/7 which can take 7 passengers 1000ft (305m) deep.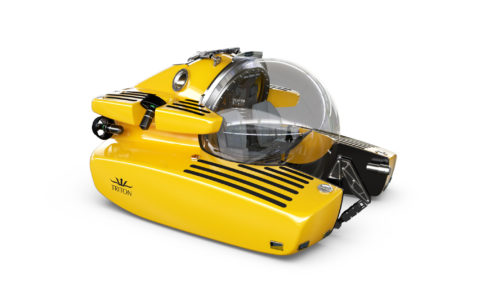 Dutch builder U-Boat Worx, located in Breda, the Netherlands is well known for their subs used in scientific exploration. The Super Yacht Sub 3 is their version of the most compact private submarine for yacht owners.

This 2-passenger sub is 5.7ft (1.74m) tall, weighs 8,377lbs (3,800kg), has 12 hours endurance and can go to depths of 328 -984ft (100 – 300m).  The Super Yacht Sub 3 offers a panoramic and downward visibility view, by intelligently positioning the individual components of the submersible behind the acrylic viewport. U-Boat Worx also has the following models:
HiPer Sub2 – 2 passengers up to 328ft (100m) depth
Cruise Sub – 9 passengers up to 3,609ft (1100m) depth
C-Explorer 5 – 5 passengers up to 656ft (200m) depth
C-Explorer 3 – 3 passengers up to 984ft (300m) depth
C-Researcher 3 – 3 passengers up to 5,577ft (1700m) depth
C-Explorer 2 – 2 passengers up to 328ft (100m) depth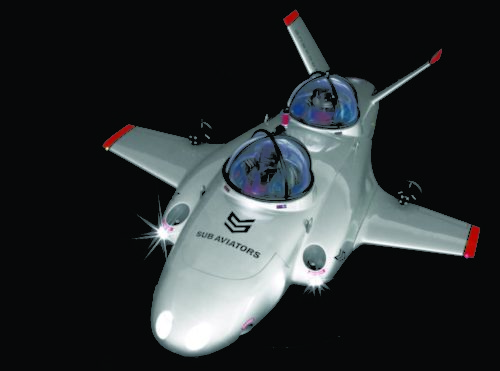 Another Florida sub manufacturer, Sub Aviators, has created Orcasub. ORCASUB combines advanced industrial, military, and hydrobatic aviation technology to offer unequaled speed, agility and maneuverability. Plus, it features the only variable ballast system in a flight-based submersible that lets you stop and hover, motionlessly. This 2-passenger submarine has 80 hours of autonomy and dives up to 3,000ft (914m) deep. The Orca Sub consists of 4 models:
O2KS – weighs 9,500lbs (4,310kg) and dives up to 2,000 ft (609m)
03KS – weighs 11,000lbs (4,990kg) and dives up to 3,000 ft (914m)
02KT – weighs 8,500lbs (3,860kg) and dives up to 2,000 ft (609m)
03KT – weighs 9,000lbs (4,080kg) and dives up to 3,000 ft (914m)
SeaMagine Hydrospace corporation, based in California, produces models of its personal submarines for depths from 492ft (150) meters to 4,921ft (1500) meters deep and for 2 up to 6 passengers. The SeaMagine submersibles can be highly customized in size / weight for each yacht and consist of six models:
Ocean Pearl – 2 passenger, highly practical and professional
Aurora 3C – 3 passenger, compact size and light weight with comfort
Aurora 3 – 3 passenger, deep diving capacity and exceptional views
Aurora 5 – 5 passenger, high comfort and exceptional view
Aurora 6 – 6 passenger, ultra-high comfort with lounge seating
Deepflight is another manufacturer of personal submarines. Their newest addition is the Super Falcon 3S, specifically designed to allow passengers to share the underwater adventure with a friend or family member. Each person benefits from their own cast-acrylic hemispherical canopy that provides a 360-degree view of the surrounding sea life. The Super Falcon 3S is 5.2ft (1.6m) height, weighs 5,511lbs (2,500kg), has an operating depth of 400ft (120m) and 8 hours autonomy. The other two subs offered by Deepflight are:
Super Falcon – 5.3ft (1.6m) height, weighs 4,000lbs (1,800kg) and has an operating depth of 400ft (120m)
Deepflight Dragon – 3.7ft (1.1m) height, weighs 4,000lbs (1,800kg) and has an operating depth of 400ft (120m)
For more detailed information on finding the right personal submarine for your yacht, email the team or call 561.833.4462.