Yacht for Charter
EMINENCE
9582
257ft / 78.4M
| Builder: Abeking & Rasmussen
| Year: 2008
---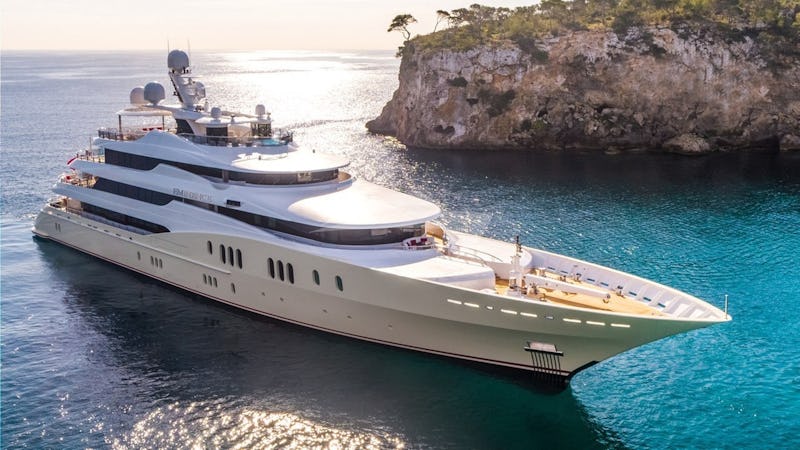 ---
Yacht Charter EMINENCE By Abeking & Rasmussen
EMINENCE welcomes up to 12 guests in 8, beautifully appointed staterooms. The upper deck master suite offers breathtaking 180-degree views, private deck, study and stunning 'his & hers' onyx clad bathrooms. Two VIP staterooms and five equally spacious and luxurious guest staterooms are found on the main and lower decks. 
The main salon offers ample seating in a serene setting, while her dining salon and sky lounge offer the chance for guests to engage. Her five decks encompass a 10-seat movie theatre, spa with sauna and massage room, fully equipped gym, and beach club. There are also numerous outdoor spaces to enjoy gourmet meals and cocktails while taking in the picturesque scenery. A central elevator runs from the lower deck up to the expansive sun deck with Jacuzzi, bar, and sunbathing areas. A professional crew of 24 are on hand to launch any of her 2 tenders or variety of toys. She also features Zero speed stabilizers to ensure ultimate comfort at anchor.

Builder
Abeking & Rasmussen
Designer
Reymond Langton Design
Cruising Speed
14kts (26kph)
Engines
2x 2010hp CAT DITA 3516
Locations
Bahamas, Caribbean, West Mediterranean
From:
$800,000
plus expenses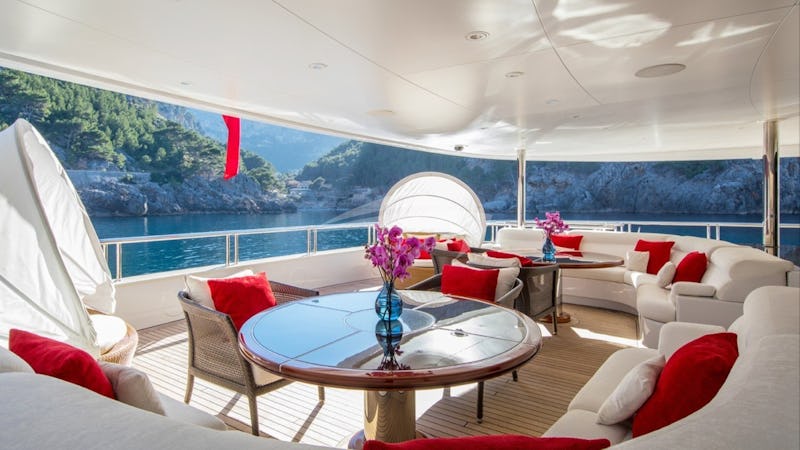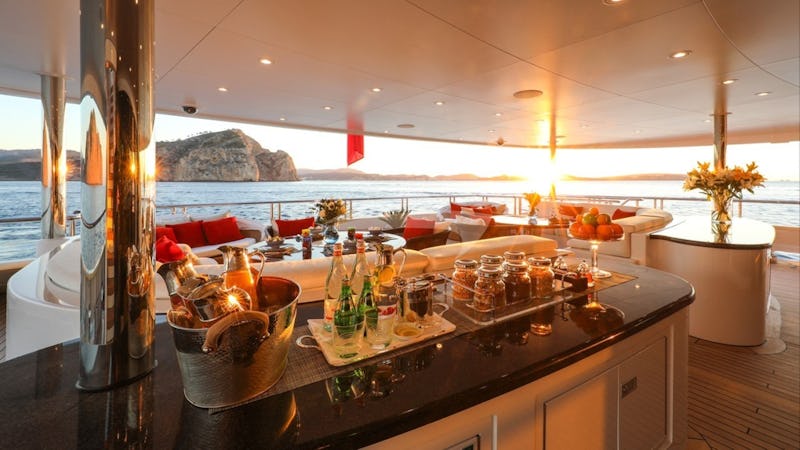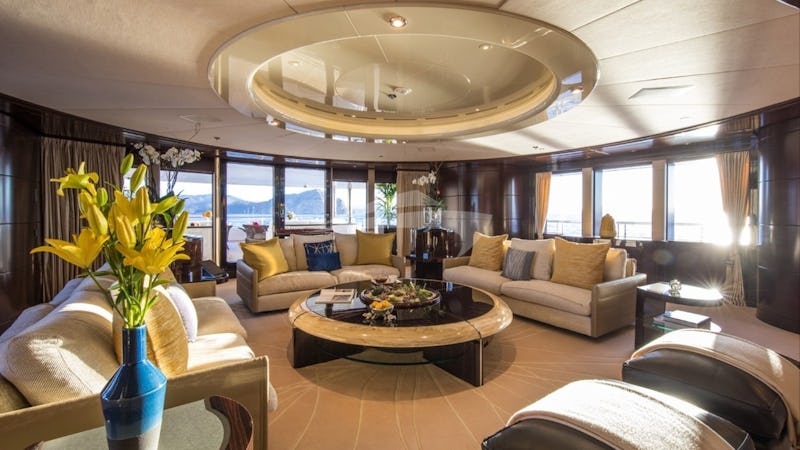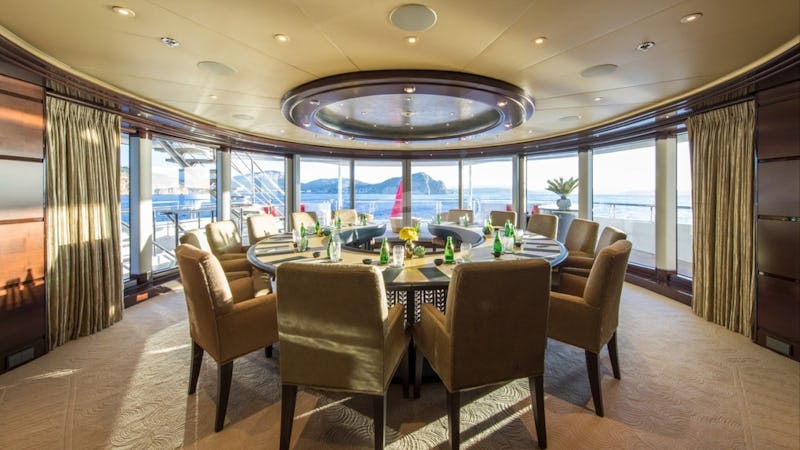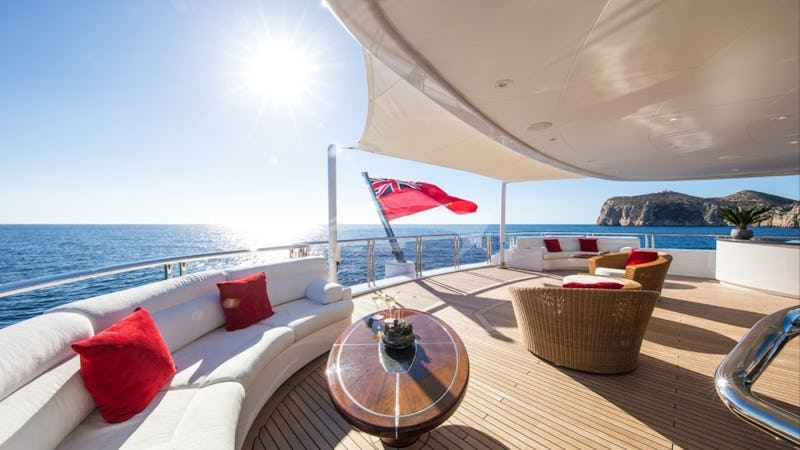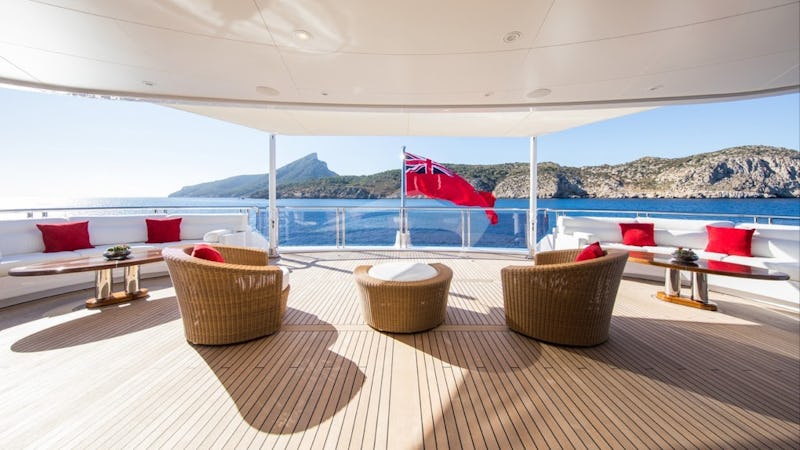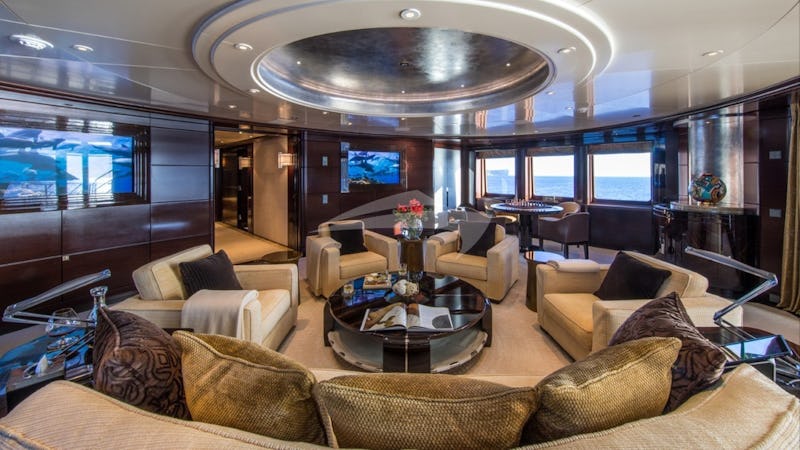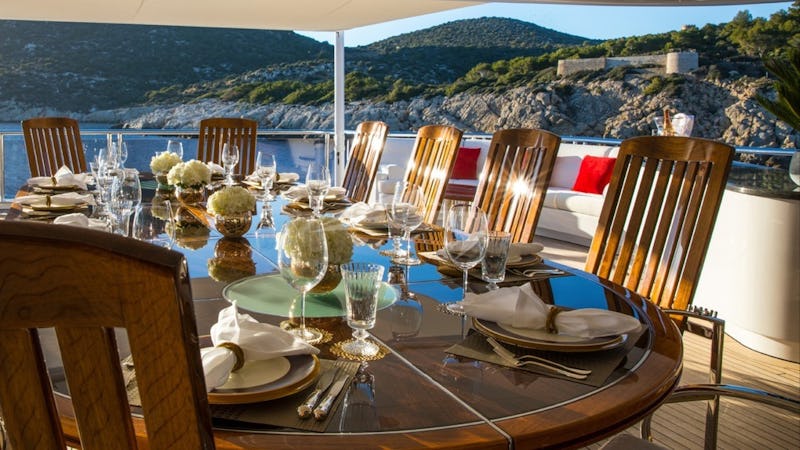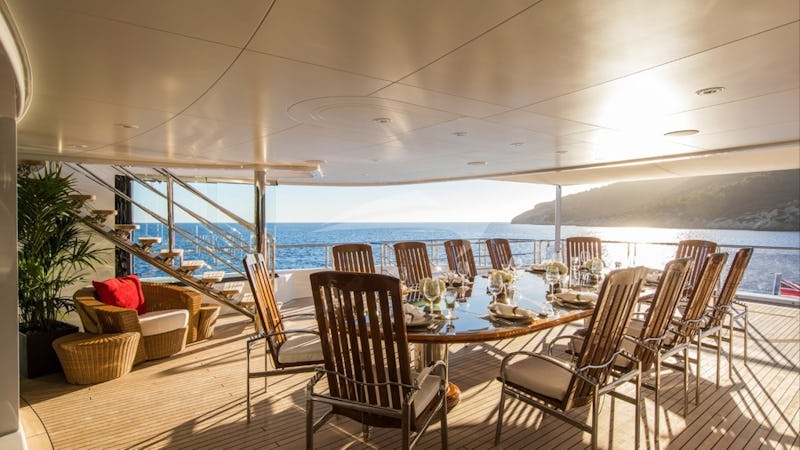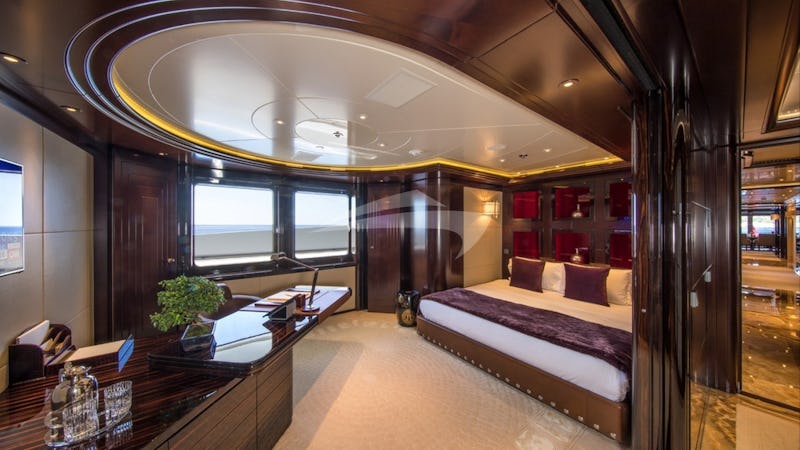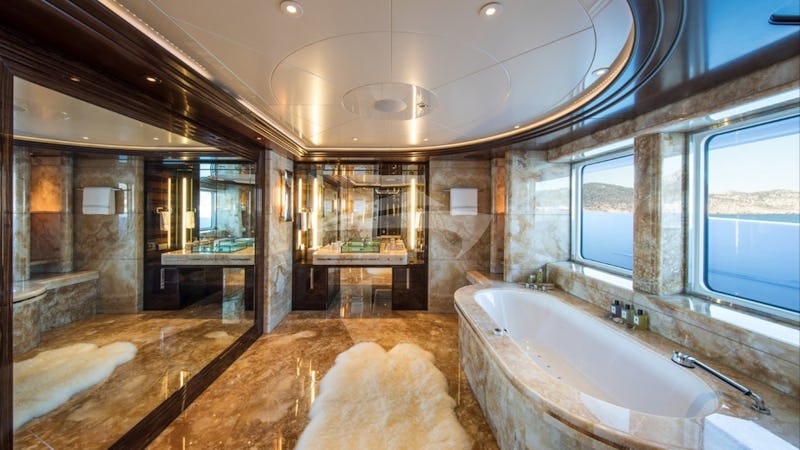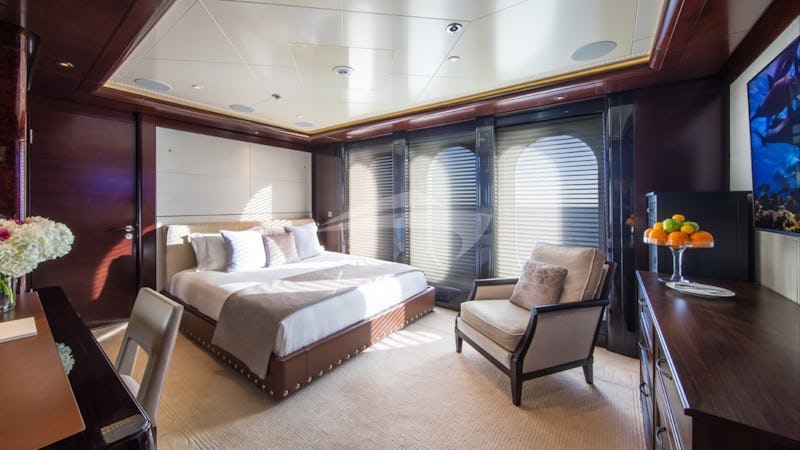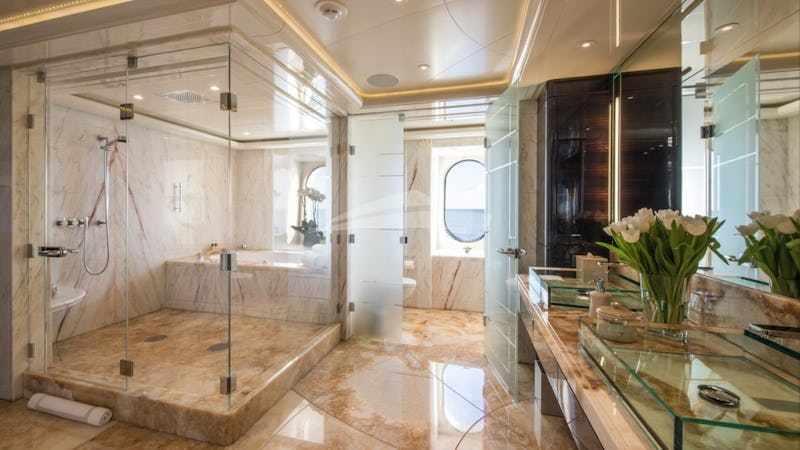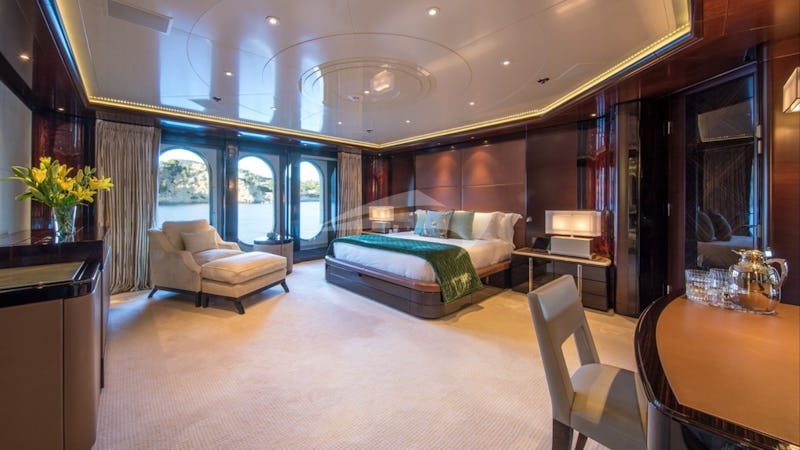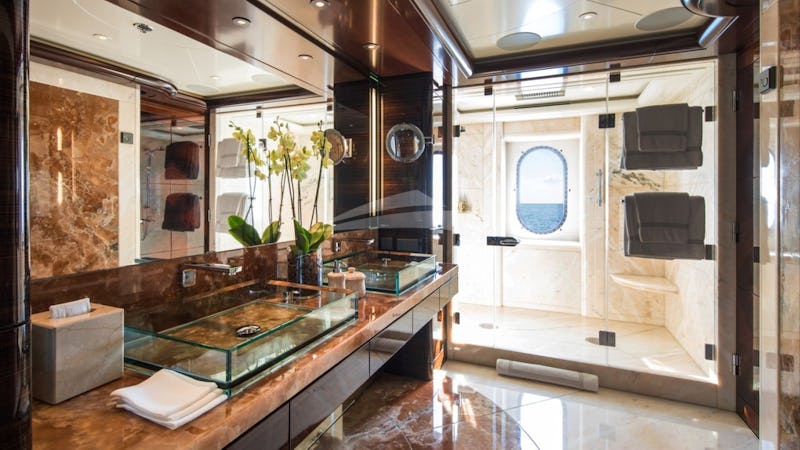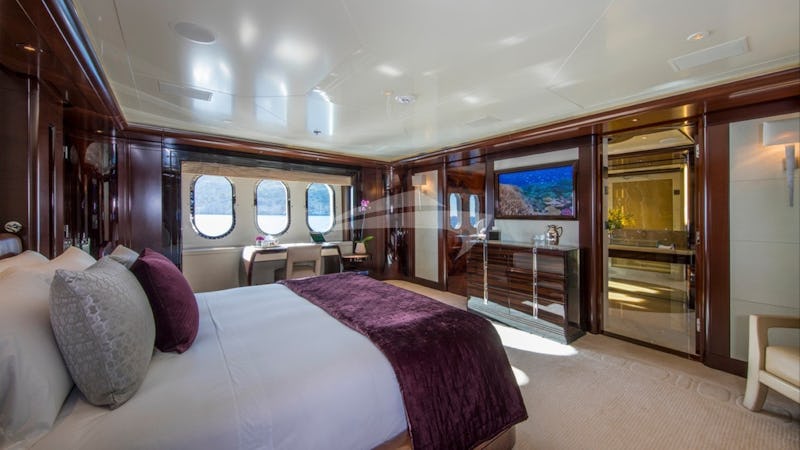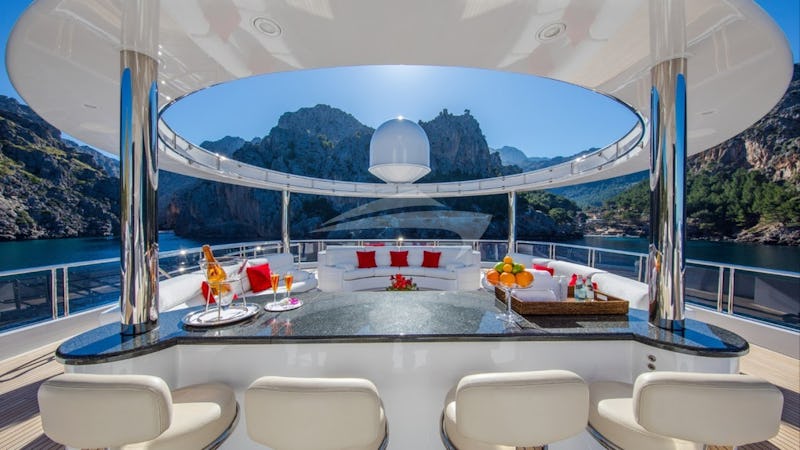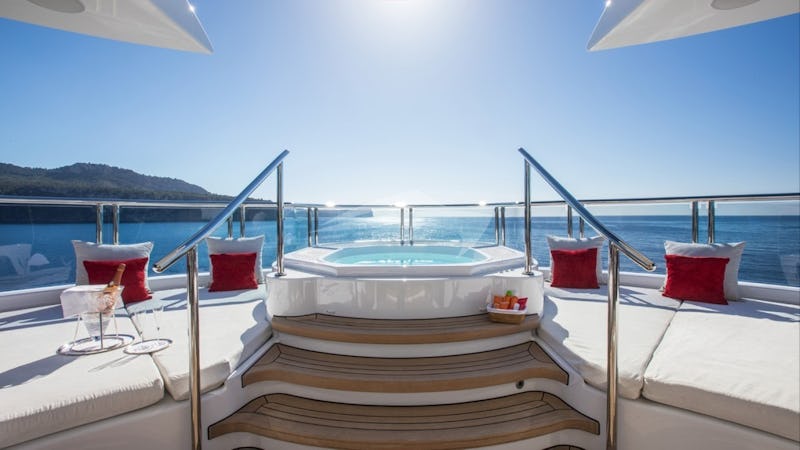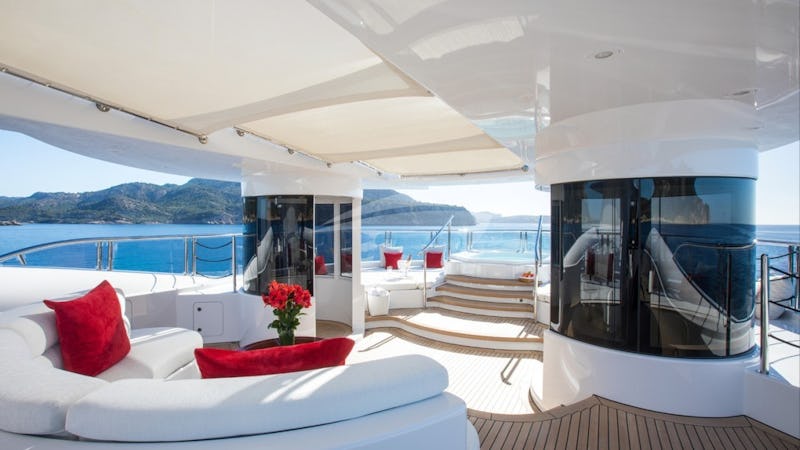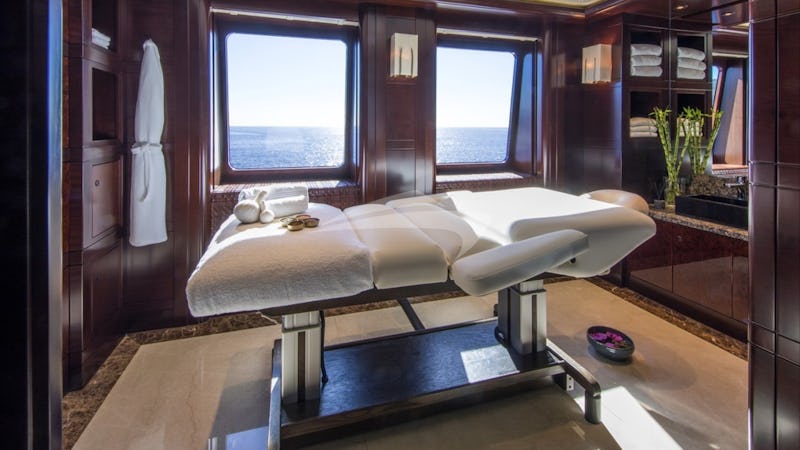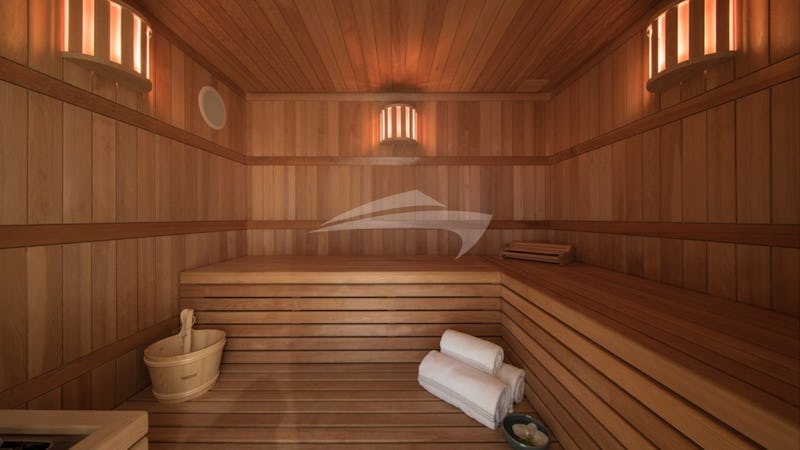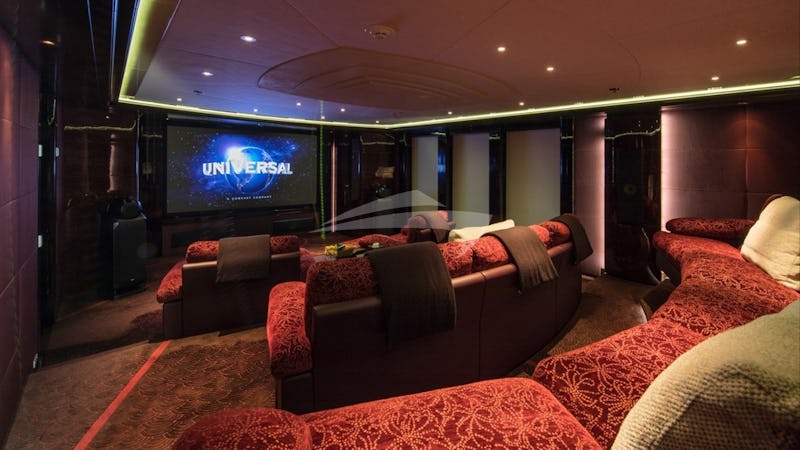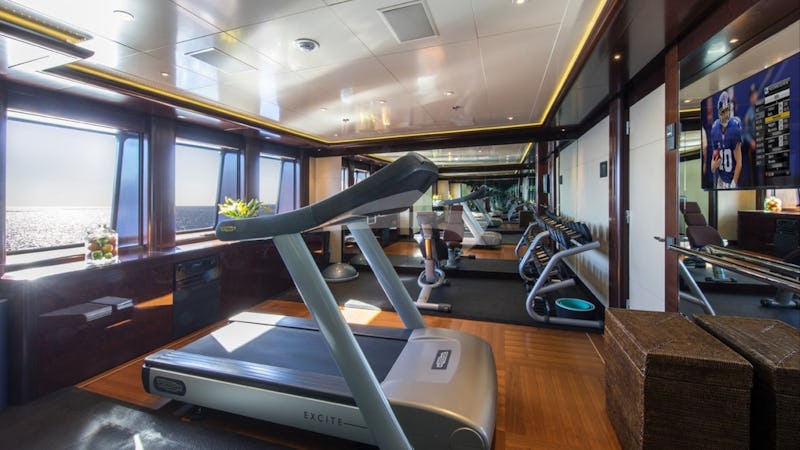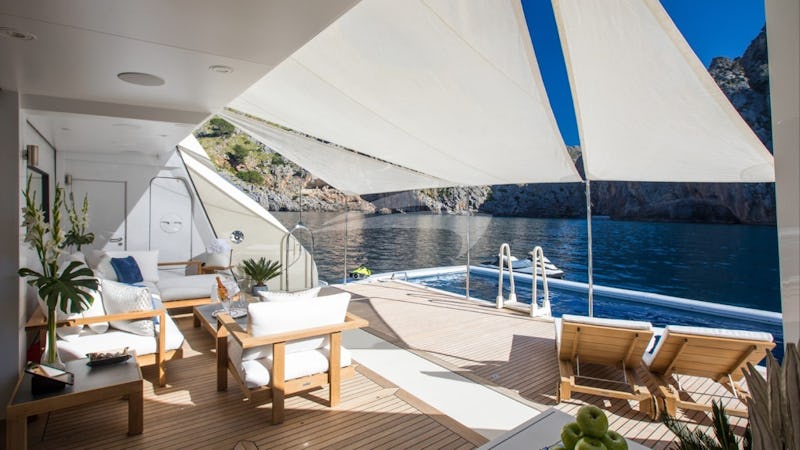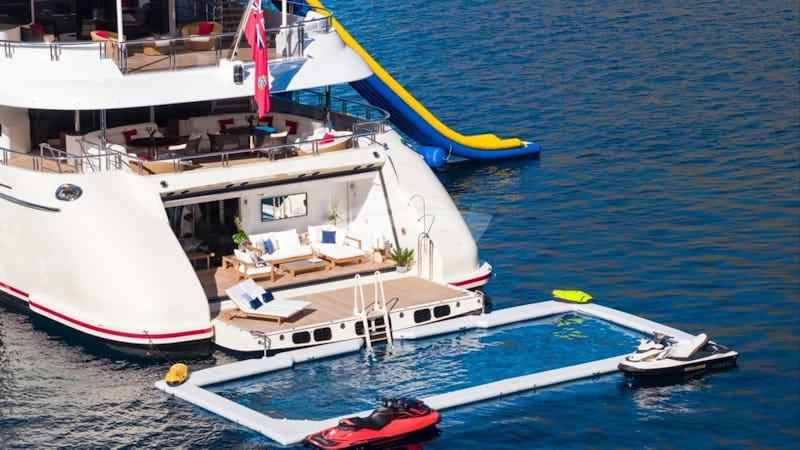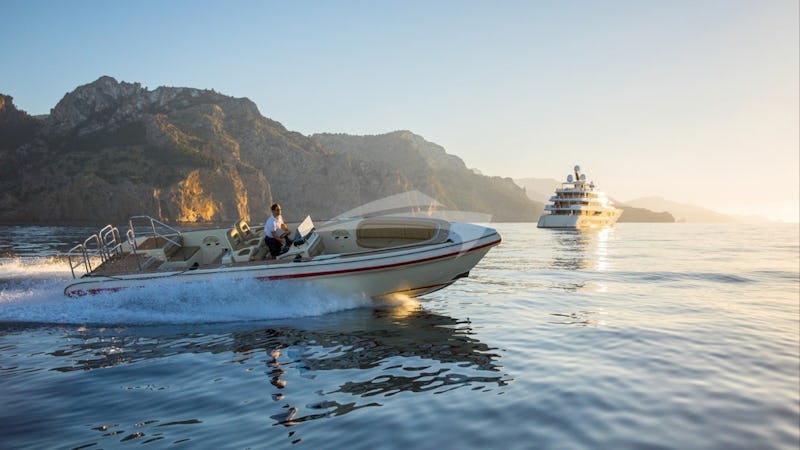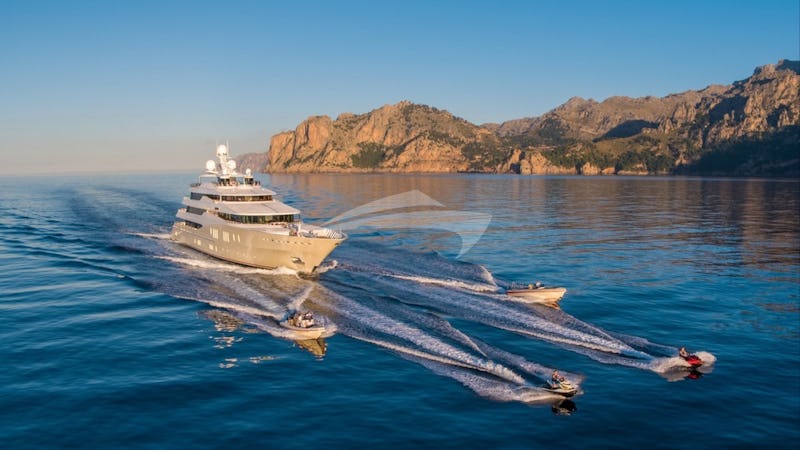 Contact Us For More Information
• 1 X Master Suite on Upper Deck forward with King Size bed, 'his and hers' bathrooms and private deck.
• 1 X Master Suite office - With additional King size bed.
• 2 X VIP Staterooms on Main Deck forward with King Size beds and en-suite bathrooms.
• 1 X VIP Style Guest/Staff Stateroom on Main Deck forward with King Size bed, Pullman, en-suite bathroom and desk.
• 3 X Guest Staterooms on lower deck with King Size Beds and en-suite bathrooms.
• 1 X Guest Stateroom on lower deck with Twin size beds and en-suite bathroom.

Captain: Marcus Gilbert
Marcus was born in England but has lived most of his life overseas. He has been working on yachts for 16 years. Having travelled extensively worldwide and through a former career as a diving instructor Marcus is passionate about all water sports and ensuring his guests are looked after to the highest standard. Marcus likes to maintain a high level of fitness and has run the London and Barcelona marathons and is now turning his attention to triathlons. He is a keen kite surfer and would like to improve on his skills when he gets the opportunity.
Chief Officer: John Dudgeon
John grew up around Scotland's golf coast East Lothian. He joined the yachting industry in 2006 and holds his Master 3000GT qualification. His passion for the water began at a young age where he would help his friends catch lobsters in the North Sea, this helped lead him to his first job as a lifeguard. From there he grew a passion for watersports such as wakeboarding & waterskiing. Seeking warmer climates, he headed to the Mediterranean to start his yachting career, John is passionate about the industry and loves meeting new people and exploring new areas to cruise. In his spare time, he enjoys a round of golf and considers himself a bit of a wine connoisseur.
Second Officer: Pete Grunow
Pete grew up on the South African east coast but has recently migrated to Cape Town. He left the South African logistics industry 7 years ago and found his feet in Europe, on M/Y Eminence. Over his 7-year yachting career, on Eminence, he has worked his way up from junior deckhand to present day Second Officer. Pete is accompanied onboard by his soon to be wife, Guinivere (third stewardess), who both enjoy taking on physical endurance challenges. Pete is a sports fanatic and when not taking part in trail running events can be found on the golf course. Pete is also an avid reader who enjoys reading non-fiction.
Purser: Iva Gilbert
Iva was born and grew up in Croatian coastal town of Zadar. After graduating from university and trying her luck in financial industry, 8 years ago, she decided to embark on a completely new career and become a yacht stewardess. Being surrounded by beautiful crystal-clear Croatian waters all her life, as well as coming from a family of seafarers, this was no surprise. Before becoming a yacht Purser, she enjoyed being a part of the interior team, having spent over 5 years on Eminence.
Bosun: Charlie Pyle
Charlie is a 32-year-old Scotsman hailing from farmland near Edinburgh. After completing a bachelor's degree in history in 2009, he spent three winters in the French alps doing ski seasons. Initially coming into yachting on a temporary basis, he has found himself almost completing his OOW qualification after 5 years on board Eminence. When not working he likes to ski, golf, rock climb and swim.
Lead Deckhand: Nick Osborn
Nick spent his childhood growing up in Europe courtesy of her Majesty, Royal Air Force. There he developed a taste for travel and foreign cultures and nurtured his love for the Ocean and Scuba diving. He studied Maritime Leisure Management in Southampton and then went on to travel the world and work as a Divemaster for 5 years. Then he returned to the UK, trained as a Personal Trainer and Sports Massage Therapist and set up his own business in London where he stayed for 4 years. However, the Ocean and adventure kept calling him and that is what led him into yachting 8 years ago and well the rest is history…
Deckhand: Elliot Low
Elliot was born in England before moving to Singapore then Queensland, Australia. It was in Australia he found a love for the ocean, growing up as a competitive swimmer and surfer. He joined Eminence prior to the summer 2017 season and enjoys the team dynamic of working on deck. When he isn't onboard, he can be found scouting out local restaurants, going on an outdoor adventure or spending time with family and friends.
Deckhand: Sam Robinson
Sam is a British native who has sailed all his life, both motor and sail. After numerous travels ranging from Africa to Australia and many other places in between he set his sights on a career in superyachting. His other passions include surfing, skiing, snowboarding and most other watersports. He is available for dance lessons having studied ballet, ballroom dancing and tap as a youngster. He is very motivated and extremely excited to be doing his first season in the industry with us.
Deckhand: Matthew Colley
Matthew is an extremely hard‐working and friendly person. Born and raised on the coast, he has an abundance of ocean knowledge and experience. Coming from South Africa, being such a diverse country, he is able to work well and communicate with people from all cultures and ages. He has a passion for anything ocean related and spent his entire childhood either surfing, fishing or diving. However, his greatest passion is for deep sea fishing and because of this he has represented his country on various occasions. Matthew has been deep sea fishing since the age of four. Matthew has thousands of hours either on or in the ocean.
Chief Engineer: Ian Whibley
Ian knew he was going to be an engineer from a very young age. After school he went on to do motor vehicle courses before progressing to university to do a mechanical engineering degree. By the time Ian had left academia he had earned himself a masters in materials research. After a gap year travelling around the world Ian found himself drawn to the yachting industry. Ian has been in yachting industry for over 10 years. Ian now lives on the Aegean coast of Turkey with his wife and little girl. When not working on board or at home, Ian really enjoys cycling, a drop of wine, an evening out, and music.
Second Engineer: Quinton Ross
Quinton grew up sailing small sailboats with his family in South Africa. Since this first introduction to sailing Quinton has completed a national diploma in Diesel mechanics and obtained his Y3 engineering certificate. When he is not working on boats, he enjoys spending time with his family along with surfing and fishing in the waters of Cape town where he resides.
Second Engineer: Gary Chatten
Gary has been on board M/Y EMINENCE since 2012 and in the yachting industry since 2010. Once Gary left school, he completed a Mechanical Engineering NVQ and then went on to do various Engineering and Electrical jobs before Moving to Mallorca and joining the Yachting industry. Gary now lives in Liverpool, United Kingdom where he was born. He has a wife and two young daughters, and he is a huge football fan but also enjoys many other sports and physical activities.
ETO: John Deegan
John was born in Liverpool, UK where he still lives his young family. John Studied a 5-year Apprenticeship with Marconi Communications gaining a Degree in Electrical & Electronic engineering from Liverpool John Moores University. John was then employed as a Process Engineer before leaving to Pursue a career in the British Army where he completed several overseas tours of duty. On completing his tours in the Armed Forces, John studied for his Yacht master Ocean Qualification he then joining Sunsail for six months as Flotilla Skipper in Vounaki Greece.
John has been in the yachting industry for the last 12 years working as an ETO on-board MY Saint Nicolas, MY Queen K and MY Lady S.
John enjoys watching football and is also a keen skier and sailor when the chance arises.
Head Chef: Tom Nicholas
From Greek and Italian heritage, Tom was born in Australia where he attended Culinary Schooling and worked at several high-class restaurants and catering companies. His passion for food has taken him around the world, studying cuisine from Asia, South America, Italy, Croatia & Spain. Tom has 10 years' experience in Hospitality and has been in the yachting industry for 5 years now, working on board MY Amore Vero & MY Eminence. When not in the galley, Tom can be found at the closest fruit and vegetable market sampling the local cuisine, spending time with his young daughter Alba or cooking at home for family. Experienced in all cuisine, he can easily accommodate any and all dietary requirements or preferences. Tom always aims to please and goes above and beyond for the Eminence guests to have the most enjoyable culinary experience whilst onboard.
Sous Chef: Joshua Warriner
Joshua originates from South Africa, although he moved to the United Kingdom at a young age his culinary roots stem from what he knows. Classically trained and having spent a vast amount of time travelling through India and South East Asia, Josh likes to keep a modern flair to his food with a twist of tradition and fusion, as well as always been readily available to suggestions or requests from guests. Joshua aims to provide guests with the most memorable experiences that they may encounter in any restaurant, whilst on the water with beautifully presented and tasting food. "My biggest joy in life is being able to feed someone something and see a smile on their face. Whether that's something that is completely new to them or something they ate as a child. I want my guests to be happy with what they eat."
Chief Stewardess: Mirabela Lemak
Mirabela was born in Romania where she studied Tourism and Hotelier Management. Always having a passion for the sea and the French culture, she had a natural progression into Chief Stewardess on high profile yachts. During her 17 years in the industry Mirabela went through extensive training programs from wine courses to bartending, mixology, service, management and also just got an MBA degree that she is very proud of. She always thrives to motivate the crew and lighten up the day. In her spare time, she is an avid reader and Freakonomics radio fan.
Second Stewardess: Tatum McCartney
Tatum is about to embark on her fourth summer on board MY Eminence, as Second Stewardess. Having joined Eminence with 10 years hospitality experience and a Bachelor of Design Degree, she enjoys injecting her creativity into every facet of the yacht from decorating the boat during mealtimes, to themed parties and more! Born in South Africa and raised in Australia, Tatum developed a love of travelling from an early age and is excited for the new adventure ahead. In her spare time Tatum loves to go dancing, painting, hosting dinner parties with friends and hiking. With her positive and bubbly personality, Tatum will endeavor to make you feel at ease during your stay on board MY Eminence.
Head Housekeeper: Claire Nugent
Claire was brought up in a small town called Feilding in New Zealand, awarded the most beautiful town in New Zealand 9 times. Claire always enjoyed the ocean and is determined to impress upon her three granddaughters and others the importance of protecting it whilst enjoying the many opportunities it provides. She started her career on the water when she was 24 working onboard ferries and Showboats before venturing further to join the Yachting Crew Community for a career spanning 17 years. She has been Chief Stewardess on Private and Charter Yachts and when the Head Housekeeper position was offered on Eminence in 2008 she grabbed the opportunity making it home for 4 years. She has built, trained and managed many teams and is always impressed with the Eminence 'Pixies' whom are working hard to make your stay as comfortable as possible. Her goal before she is 50 is to have a holiday home by the beach big enough for the whole Family to enjoy.
Third Stewardess: Guinivere Rogers
Guinivere joined Eminence as a green stewardess two and a half years ago. Graduating with a degree in Quantity Surveying, she previously worked as a project manager in the Petrochemical industry but soon decided to follow her dream to travel and see the world. She is a proud South African, passionate about people, the outdoors & her favourite pastime, when not running, swimming or cycling is enjoying a good meal with her soon to be husband, Pete (2nd Officer).
Stewardess: Elle Yeandle
Ella grew up in the countryside of southwest England, spending most of her time outdoors, horse riding, surfing and hiking. Always having a sense of adventure, Ella worked as an Au Pair in the French Alps and skied throughout the days with the children. Working in hospitality across New Zealand really blossomed her passion for the service industry. She then joined the yachting industry back in 2015 and has never looked back since - sailing throughout the Caribbean, Bahamas, Northern America and the Western Mediterranean. Studying Art and photography she developed a keen eye for creativity and love for all floral things. Always smiling as an enthusiastic host, Ella loves to create the ultimate dining experience on board M/Y Eminence.
Senior Housekeeper: Emma Levy
Emma grew up in Australia on Sydney's Northern Beaches. She previously worked in the childcare industry for 11 years and studied event management. In her spare time, she loves to go to the beach, catch up with friends and work out. Emma's love for the ocean and meeting new people lead her to the yachting industry and she began her career on M/Y Eminence in 2016. This being Emma's third season on board, she is eager to see where this new adventure takes her.
Housekeeping Stewardess: Romana Bobokova
Romana was born in Slovakia where she studied Pedagogy at University. During her studies she did modelling as a part time job. She participated in the competition 'Miss Slovakia'; and since that time, she began modelling full time, travelling all over the world. Her favourite country is Mexico where she lived for two and a half years. She likes to work out and go running. Romana believes in the philosophy: positive mind = positive vibes = positive life.
Housekeeping Stewardess/ Masseuse: Julatreekook Sujanta (Nim)
Nim previously completed 2 summers seasons on board with private M/Y Eminence. She was born in Sisaket province in the North East of Thailand. She started work in the hospitality industry initially at the top-class Banyan Tree resort and Spa in Phuket, Thailand before moving overseas to the UAE and then to the Princess Cruises Line. Nim loves to treat people and make them feel fresh, relaxed and more comfortable. Back home in Thailand, she proudly owns a small oyster mushroom farm. Nim loves to experience new cultures and meet people from across the world.
Laundryman: Arnel Go
Arnel is originally from Philippines with two lovely daughters and a loving wife. Studied Bachelor of Science in Marine Engineering. He started working in hospitality industry back in 1995, improving his skills in different luxury hotels, 6 years working for the royal family in Brunei. After that he started working on Cruise ships and yachts up to now. Throughout these years his professional experience and friendly character has been appreciated by both crew and guests alike. He enjoys cooking, biking, basketball and life at sea. Arnel has many other skills such as massage, deck duties and helping out the engineering team in case they need an extra hand.
Ammenities
Bluray player all cabins, Cinema, Indoor audio system, Karaoke, Satellite TV, TV all cabins, TV saloon, Wi-Fi, 29ft / 9.00m 250hp RIB, 31ft / 9.50m 440hp Novurania, Assorted water toys, Beach games, Floating pool, Free weights, Kayaks multiple, Paddleboards multiple, Skurfer, Surf board, Trampoline, Tube - towable, Wakeboard, Water skis - adult, Water slide, Wave runners multiple (sitdown), Beach club, Deck shower, Disabled friendly, Elevator, Exercise equipment, Fishing gear - light, Gym, Jacuzzi in master cabin, Jacuzzi on deck, Sauna, Spa, Special diets
Diving
Not Insured, Diving by arrangement, Seabobs multiple, Snorkelling gear, 6 Tanks, 6 BCs, 6 Regulators