Yacht Charter Itinerary Bahamas
---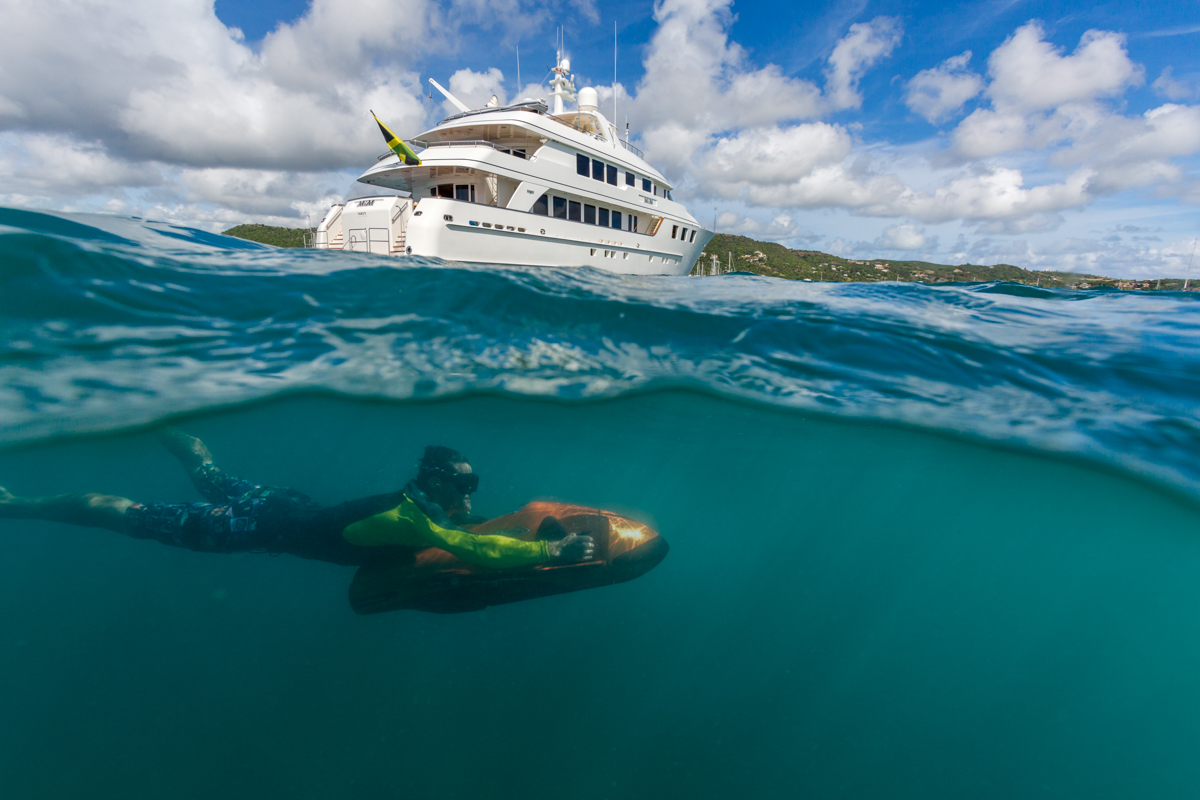 Bahamas Luxury Yacht Charter Day 1:
The Atlantis Resort, Paradise Island 
Today will be your first day on board your home-away-from-home for the next 10-days!  We would like to welcome you and your family on board at the Atlantis Resort, Paradise Island, Bahamas. After introductions and vessel orientation, take a tour of Atlantis and have lunch aboard the yacht. Today we will make the most of the Atlantis Resort and enjoy the water slides, casino and all of the amenities this awesome resort has to offer!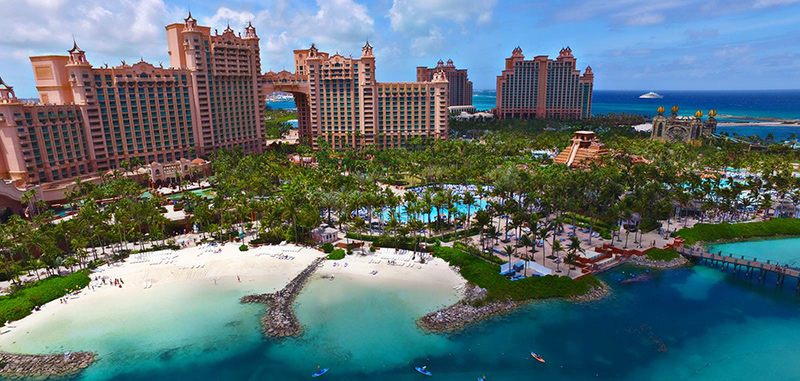 Bahamas Luxury Yacht Charter Day 2:
The Atlantis Resort, Paradise Island 
This morning we can play golf at the One & Only Ocean Club 18-hole golf course designed by Tom Weiskoph or if a fun adventure off the beaten path is what you are looking for, load up the tender for a fun day at Rose Island. Spend the day snorkeling, kayaking, jet skiing or simply lounging on the private beach. In the evening head back to Nassau where we will make the most of the resort before we depart tomorrow morning for our cruise through the Exuma Island chain.
Bahamas Luxury Yacht Charter Day 3:
Highbourne Cay 
This afternoon we will depart Paradise Island for our passage to the northern Exuma Islands where we will stop off at Highbourne Cay Marina for the evening. We can spend the afternoon beach combing and playing with the water sports equipment like the tender and JetSki, reef snorkeling or offshore fishing as desired. Tonight we can have dinner on board while anchored out under the tropical stars, or secured at Highbourne Cay Marina.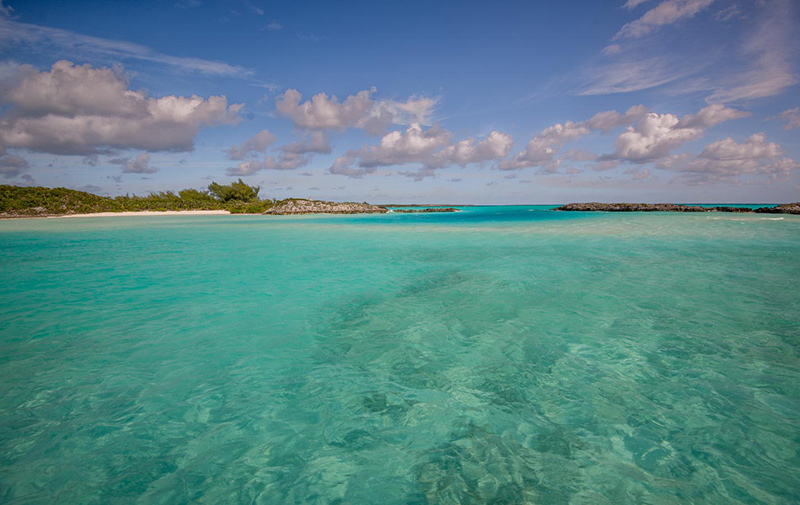 Bahamas Luxury Yacht Charter Day 4:
Staniel Cay/Big Major Island
This morning we can enjoy a swim and beach combing after breakfast before departing for Staniel Cay. We will raise anchor for blue water fishing and have lunch offshore. A stop at Hog Beach, Big Major Island, is a must to see the famous swimming pigs. Rumor has it that about fifty years ago, a farmer brought some pigs to the island to forage in the wild and serve as the food supply for his family. The farmer is long gone but the pigs remain, swimming into the surf to greet arriving boats and beg for day-old bread.  You may be lucky enough to convince one of the pigs to come swimming with you in the crystal clear water in the cove.  We will only stay here for one night as we'll stop here again on our way back north.
Bahamas Luxury Yacht Charter Day 5:
George Town, Great Exumas
This morning after breakfast we will make our way to George Town. Here we will spend the day exploring the natural sights, cave diving, snorkeling and shopping at the local market.
Bahamas Luxury Yacht Charter Day 6:
Great Exumas
This morning we can enjoy another round of golf at Sandals Emerald Bay Resort, which boasts the Greg Norman designed 18-hole course that is said to use environmentally friendly seashore paspalum grass which offers a lush, deep green canopy.  There are also tennis courts should you be interested, or fitness facilities.  We can stay here another night before we depart back to Staniel Cay.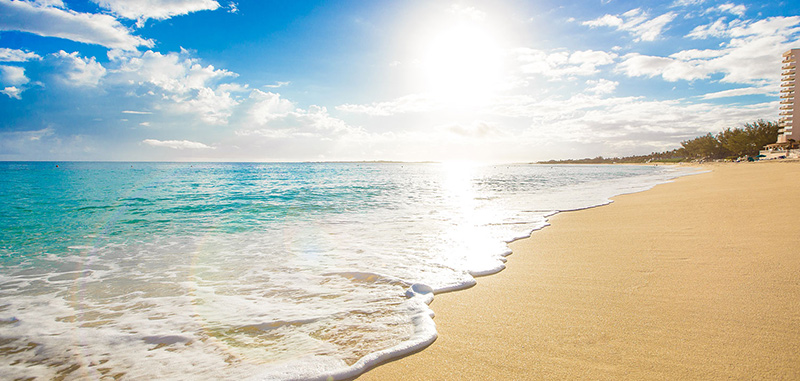 Bahamas Luxury Yacht Charter Day 7:
Staniel Cay
This morning we will make our way back to Staniel Cay to enjoy some of the sights we missed the first time round! Staniel Cay is the jewel in the center of the long necklace of Exuma islands stretching for 100 miles southeast of Nassau. Less than a mile square and home to about 100 people, Staniel Cay is the hub for the Pipe Creek area, a group of islands stretching for eight miles north to Compass Cay. Of particular interest is "Thunderball Grotto," a hollowed-out island where James bond movies "Never Say Never Again" and "Thunderball" as well as "Splash" were filmed. Snorkelers can swim into the natural fish bowl at slack tide and become one with the many varieties of fish. Light streams through the top where rain has eroded natural skylights.  There are several entrances and passageways to explore. Look but don't touch… Thunderball islands are protected by the Bahamas National Trust. Anglers are treated to some of the best bone fishing flats in the world, (there's an annual Bone Fishing Festival each summer), while Exuma Sound offers blue water fishing only minutes offshore. Local guides are always available.
Bahamas Luxury Yacht Charter Day 8:
Compass Cay
Today you can enjoy swimming with the nurse sharks – if you dare! Or simply enjoy some of the 13 pristine beaches – collect shells, swim or have a picnic. Visit Rachel's Bubble Bath, a lagoon on the north end where water breaks over the rocks creating a bubble bath like foam to form. We can settle in for a nice BBQ here. After, you can explore the vast trail system of the island. Venture to the south to the Bat Cave and Low Tide Airport; walk the shoreline of Crescent Beach, one of the world's finest beaches; take the" jungle walk" to the west or if you are feeling energetic, climb Compass Peek, the highest point of the island at 92 feet, and enjoy the stunning views of the Exumas Land and Sea Park from your Bahamas yacht charter.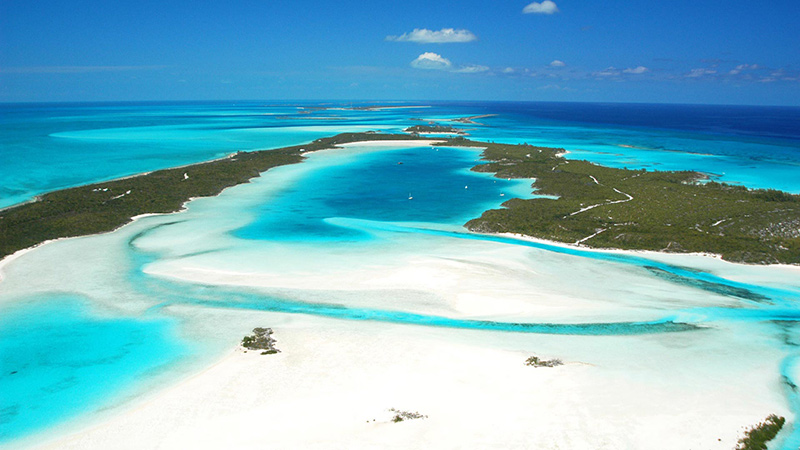 Bahamas Luxury Yacht Charter Day 9:
Warderick Wells
Warderick Wells deserves its place as "most popular cay". And you will probably remember it as that one particular harbor that you will long to return to, if only in your memories. Over four miles of nature trails on the cay lead to rare plants, caves, wells, and the ruins of a small Loyalist Plantation. Discovery of the ruins lead to a search of the files in the National Archives in Nassau, revealing a land grant given to a family named Davis around 1785. And to preserve its integrity, remember that fishing or taking of any wildlife within park limits is strictly forbidden.
Bahamas Luxury Yacht Charter Day 10:
Shroud Cay 
Once we arrive in Shroud Cay, take the JetSkis and explore the many miles of crystal clear rivers that loop back and forth through the center of Shroud Cay and discover the lookout atop a hill decorated with flotsam washed ashore.  You can walk the ruins or snorkel over the wrecked plane that was gunned down during an invasion by the US and Bahamian governments.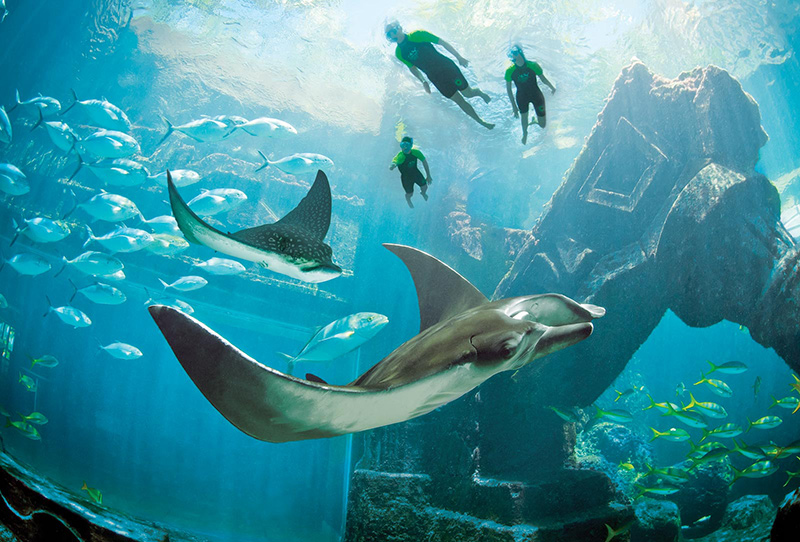 Bahamas Luxury Yacht Charter Day 11:
The Atlantis Resort, Paradise Island 
This morning we will make an early morning departure and cruise back to Nassau and the Atlantis Resort on Paradise Island. While we hate to see you go, we hope to have you back on board with us again in the near future!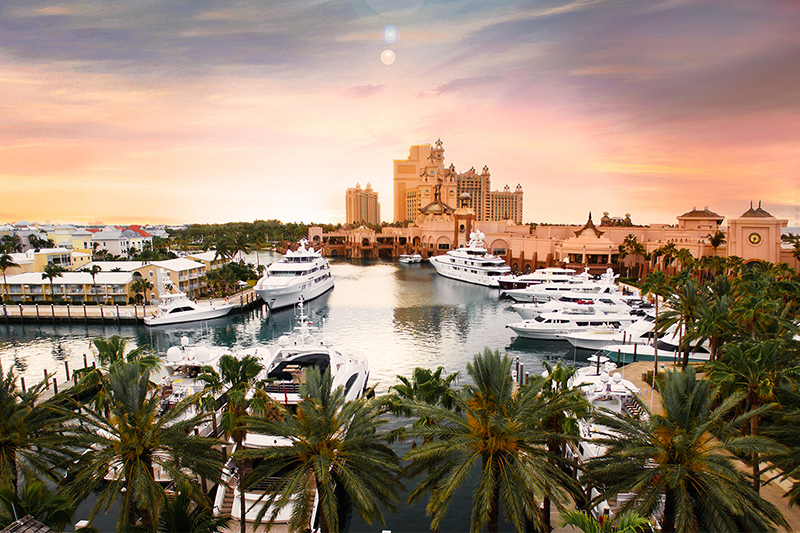 discover the best of yachting