Yacht Charter Itinerary Thailand
---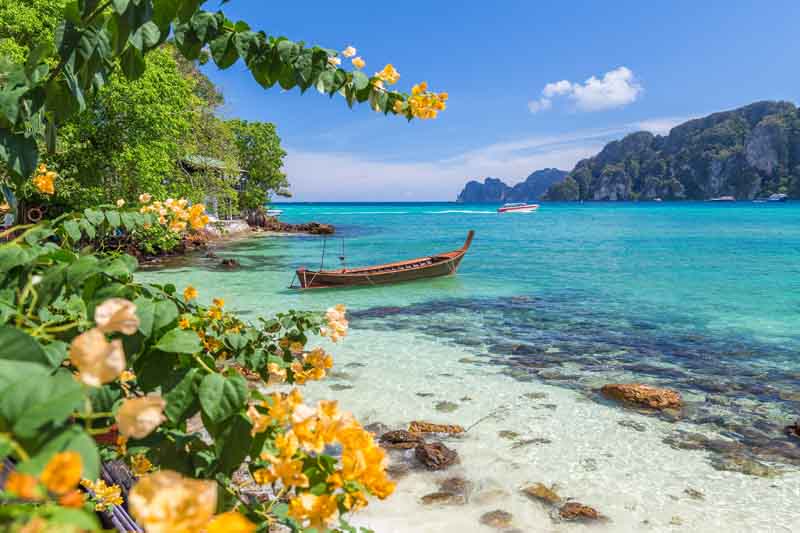 Luxury Yacht Charter in Thailand
Explore the pearlescent beaches, cosmopolitan cities, and exotic culture of the fabled Far East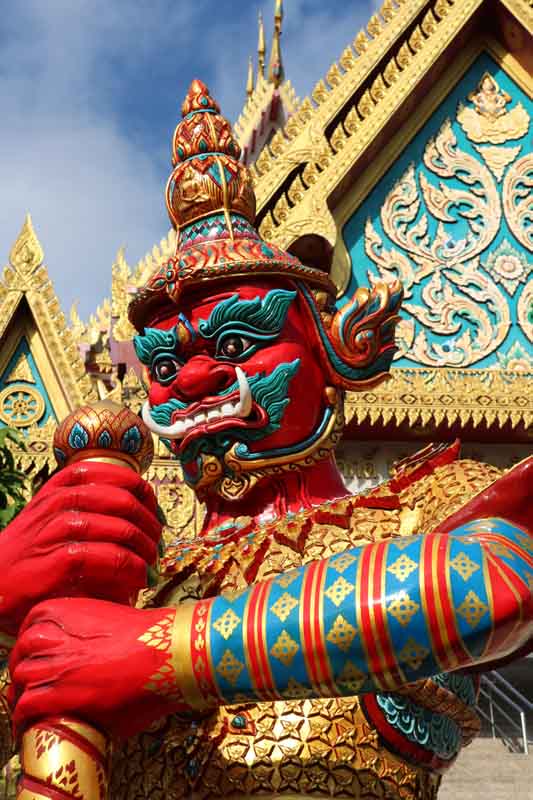 With an abundance of islands fringed by shimmering white sand beaches and palm trees, a Thailand yacht charter entices travelers world-wide with its extraordinary snorkeling and diving, clandestine caves to explore, calm aquamarine waters, and friendly, welcoming culture. The scattering of islands lends itself perfectly to yacht exploration, allowing you to find coves and inlets beyond the well-known attractions, for an exclusive tour of this impressive region.
The exotic Far East offers a balanced fusion of mouth-watering cuisine and high-end luxury along with tranquil retreats and secluded hideaways, all with influences from Chinese and Indian cultures. Within this land, you can cruise to your own secret beach one day, and then climb to Island Peaks the next. Snorkel in a colorful reef by day and indulge in fresh local cuisine by night.  The options are yours to explore.
The largest island, Phuket, is rising in popularity as a yachting mecca, due in large part to new legislation granted in 2015 that opened the gates for superyacht charters from afar. It also doesn't hurt that just south of Phuket lie hundreds of smaller islands, many of which are uninhabited and perfect for exploring by yacht charter.
This suggested itinerary explores along Thailand's west coast and the islands in the southern Andaman Sea. With diverse landscapes, stunning coastal scenery, majestic Buddhist temples, and ethereal cultural experiences, this journey is meant to awaken the senses and renew the soul.
Phuket to Koh Roi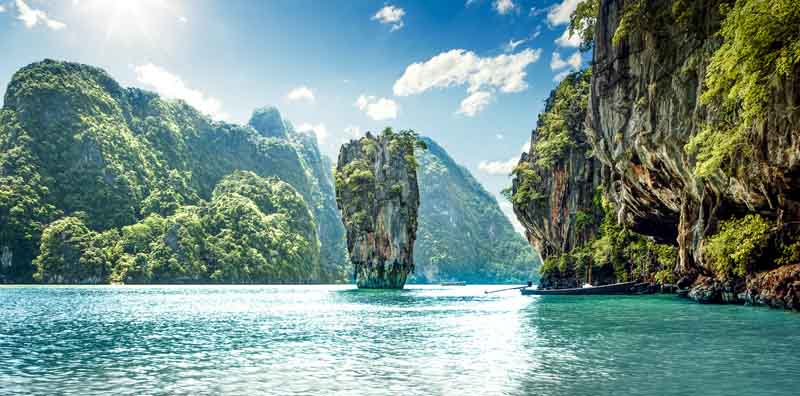 Arrive at Phuket International Airport and take the quick car ride to Yacht Haven Marina, where you'll meet your charter. Enjoy a celebratory toast on board and then cruise east, passing fish farms, coconut and pineapple plantations along the way. At Koh Phanak, take the tender or kayak to explore the secret caves and hidden lagoons surrounded by towering limestone cliffs. Continue on to Khao Phing Kan, the legendary spot named after the James Bond Movie, The Man With the Golden Gun.Finally, make your way to Koh Roi and enjoy a private anchorage with a meal on board prepared by your chef.
Koh Roi to Koh Pak Bia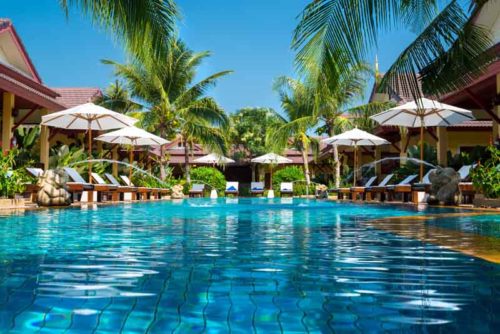 The largely undeveloped Koh Yao Noi is delightfully serene, the perfect spot to venture ashore to one of the few exquisite resorts and treat yourself to an indulgent spa treatment. On to Pak Bia, where you can while away the hours on your own deserted tropical beach.
Koh Pak Bia to Rai Leh Beach, Krabi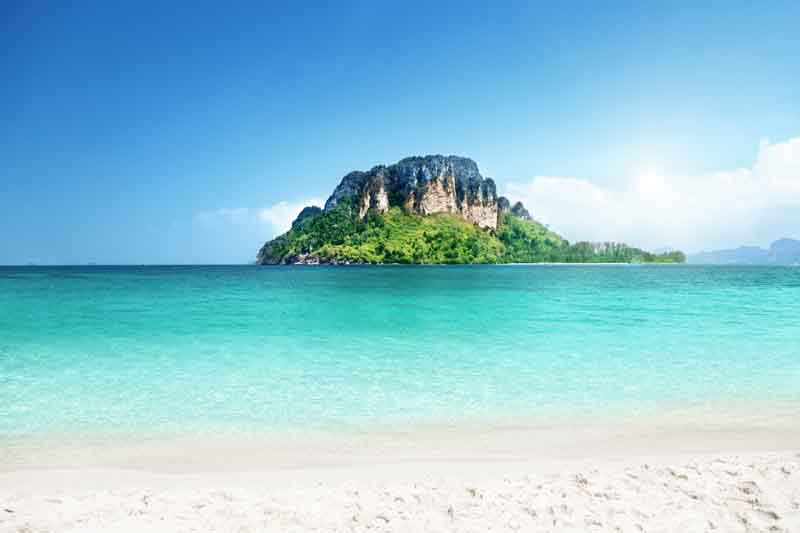 Head south to Krabi and head to Rai Leh Beach, a less-touristy area known as a rock climbing hot spot that attracts climbers from all over the world to its impressive towering limestone cliffs. Beginners can try boulder climbing right from the beach, while the more adventurous can attempt the roped climbs up the cliffs themselves.
Rai Leh Beach to Phi Phi Don via Ban Pa Ko Dam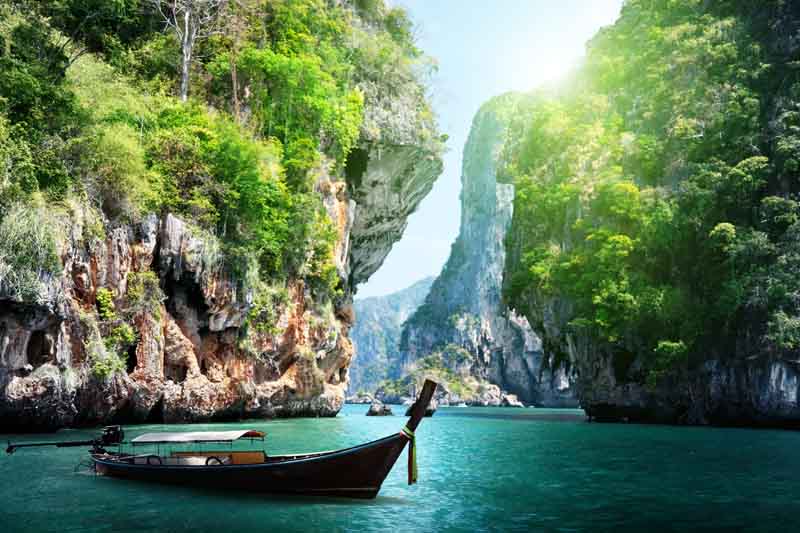 Continuing south, you'll pass the iconic peaks of Ko Dam as you cruise to the pair of islands that seemingly rise from the sea like a fortress. A breathtaking white stretch of sand joins the two islands, offering a convenient anchoring spot to take a closer look. The calm, transparent water is perfect for swimming, snorkeling, or a shoreline stroll. When you're ready to experience some legendary nightlife, head to Ton Sai Bay in Phi Phi Don.
Phi Phi Don to Koh Racha via Phi Phi Leh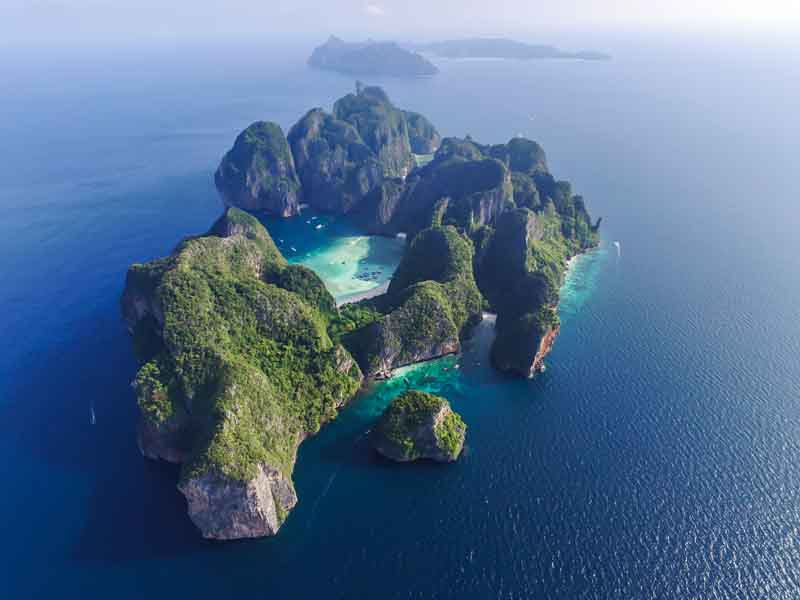 Phi Phi Leh may be recognized as the location of the Leonardo DiCaprio movie, The Beach, but you'll appreciate it for its breathtaking sheltered bays and secluded caves. Cruise towards the crystalline waters of the Koh Racha islands, one of the most idyllic places for diving.
Koh Racha to Nai Harn Bay
Nai Harn Bay, with its towering headland high above, is an awe-inspiring place to watch the sunset into the Andaman Sea. Explore the coastal splendor and indulge in the local Thai cuisine, fresh from the land and sea.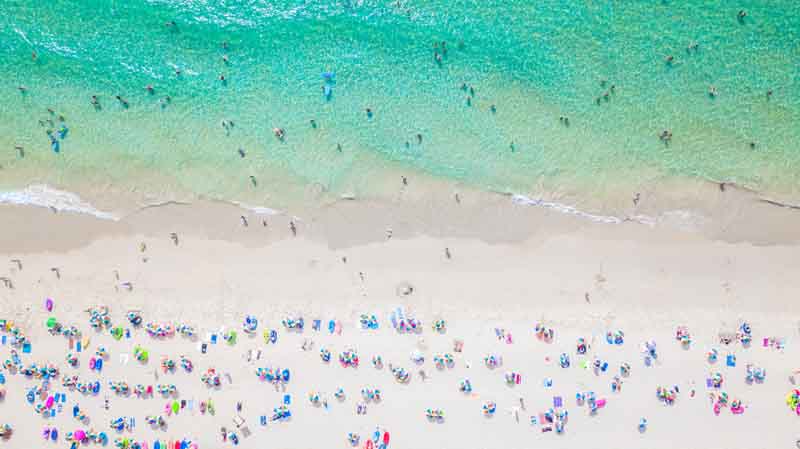 As you cruise up Phuket's west coast, you'll delight in the panoramic skyline of scenic bays, rocky coastlines, luxury resorts, colorful villas, and cosmopolitan cities. Patong Bay entices yacht travelers with its selection of high-rise developments, boutique-style shops, gourmet restaurants, and local bars.
Nai Harn Bay to Patong or Nai Yang via Kata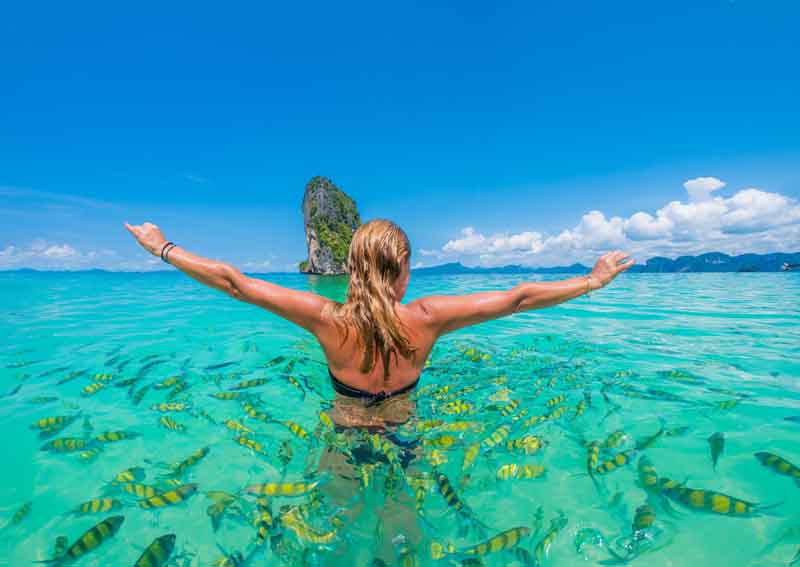 In contrast to the hustle and bustle, Nai Yang Bay offers a more authentic experience, with seaside restaurants serving the best in local cuisine. After the sun sets, the sea comes alive with green phosphorescence, giving you the perfect opportunity to immerse yourself in the magic of this exotic destination as your trip comes to an end.
---
THAILAND OVERVIEW
TIME ZONE: Indochina Time (+7 GMT)
CURRENCY: Thai Baht (BHT)
CLIMATE: Thailand's climate is tropical with a mean annual temperature of 82°F (27°) and high humidity. There are three distinct seasons – the hot season from March to May, the cool season from November to February and the rainy season from about May to October. The recommended time to visit is between December and March.
February/March/April : Highs of 90 °F (32°C) and lows of 75°F (23°C)
May/June/July : Highs of 87 °F (31°C) and lows of 77°F (25°C)
August/September/ October : Highs of 86 °F (30°C) and lows of 76°F (24°C)
November/December/January : Highs of 87 °F (31°C) and lows of 74°F (23°C)