Yacht Charter Itinerary Antigua – 7 Days
---
Clusters of glistening emerald-hilled isles and islets lined with silky white beaches define the Caribbean's Leeward Islands. This necklace of enchanting jewels also presents the ultimate of the diverse Caribbean atmosphere and culture.
The journey begins with sister islands that could not be more different – tranquil and serene Barbuda where relaxation comes effortlessly and popular and lively Antigua. Next, it's on to tiny, yet mountainous, Nevis – a lush, green, unspoiled Caribbean paradise. Then make your way to the incredibly chic and picture-perfect island of St. Barths. From there, sail on to experience the more remote paradise of Anguilla. The cruise ends in Simpson Bay on the Dutch side of Sint Maarten.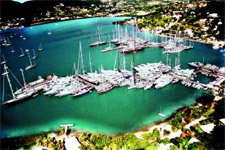 DAY 1 – ANTIGUA
Pick up guests in Antigua and transfer to the yacht docked in Falmouth Harbour. Let the guests relax and explore their surroundings. Antigua has a complex coastline of safe harbors, and a protective, nearly unbroken wall of coral reef. It would make a perfect place to hide a fleet.
Antigua and Barbuda are located in the middle of the Leeward Islands in the Eastern Caribbean, roughly 17 degrees north of the equator. To the south are the islands of Montserrat and Guadeloupe, and to the north and west are Nevis, St. Kitts, St. Barths and Sint Maarten.
DAY 2 – ANTIGUA/GREEN ISLAND
Take a two-hour cruise* in the morning to Green Island, an uninhabited island just off the east coast of Antigua that offers pristine white sand and secluded beaches to discover. It's best to leave very early in the morning to stake your claim on the beach since it's only big enough for one yacht's group of guests. It's a perfect place for a beach party.
It is possible to anchor by the beach on the northwest side of Green Island. Note there are numerous coral heads – leaving in good light is advisable. Serve lunch at anchor in the secluded, sheltered bay and send the guests out to explore the island and swim or snorkel among the multitude of brightly colored tropical sea life. The island remains virtually unchanged from the time it was discovered by European sailors 500 years ago.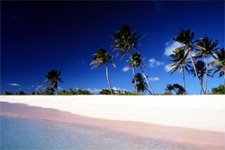 DAY 3 – BARBUDA
Depart Antigua early in the morning for a two-hour cruise to Barbuda, a Caribbean island unspoiled by tourism. It is renowned for its vistas of shimmering miles-long natural beaches sprinkled with pink sand.
The island, just 15 miles long and eight miles wide, has the deep blue Atlantic on one side with wild beaches full of driftwood and shells, and the calm Caribbean sea on the other, perfect for swimming and snorkeling, with plenty of opportunities to see turtles and many varieties of tropical fish undisturbed in the turquoise water. It really is a picture-book Caribbean island. Leisurely sail around the island to the eastern side of Coco Point and drop anchor in the reef-fringed Gravenor Bay, which offers good protection against a western swell. In the evening, serve dinner under the stars.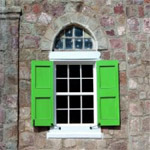 DAY 4 – NEVIS
Leave Barbuda in early morning for a five-hour jaunt to Nevis, a small island (36 square miles) that rises to 3,600 feet above sea level, complete with rain forests, tropical flower gardens and unspoiled, uncrowded beaches.
Tender the guests ashore to stroll around and check out the architecture of eras gone by: churches, windmills and refurbished great houses. The 10,000 residents on the island are helpful and ready to make new friends with their genuine charm and hospitality. Anchor in front of the Four Seasons resort for the afternoon and night.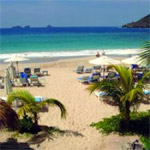 DAY 5 – ILE FOURCHUE/ST. BARTHS
During the early morning, travel five hours to the uninhabited Ile Fourchue, a great spot to snorkel and admire the multi-colored fauna. Then, let the guests bathe in the sun and enjoy cocktails and a gourmet lunch before heading on to the popular yachting center of St. Barths.
St. Barths is located in the French West Indies and, at eight miles long, is one of the smallest islands in the entire Caribbean. The picture-postcard capital of Gustavia is an enchanting harbor town. Dock here for the evening and send the guests to explore its "downtown" area, which includes dozens of chic boutiques, duty-free shops, galleries and an open-air market. They will also discover world-famous restaurants and bars housed in buildings that date back to the Swedes and the early French settlers.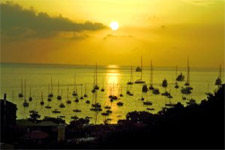 DAY 6 – ST. BARTHS/ANSE COLOMBIER
Leave the dock at Gustavia in the morning to travel over to Anse Colombier, an idyllic spot for yachts to anchor, and a favorite meeting place for tortoises, rays, lobster and even dolphins.
This beach hideaway is still called "Rockefeller's Beach" because for many years, David Rockefeller owned the property that surrounds it. Today, guests may opt to take advantage of scuba diving or snorkeling opportunities, or simply relax on board and soak in this oasis of peace and tranquility. This evening, return to the dock in Gustavia, where guests are welcome to once again explore the opportunities for shopping and dining in the lively and fashionable port.
DAY 7 – ANGUILLA
Serve an alfresco breakfast underway during the two-hour cruise north to the wild island of Anguilla. With its deserted white sand beaches, Anguilla is little more than a strip of sand some 16 miles long by three miles wide. Anchor in Long Bay for the afternoon for the guests to relax, sunbathe and take a light lunch.
The waters around this idyllic Caribbean sanctuary are a National Park and the numerous reefs make this a perfect spot for snorkeling or scuba diving. Guests may also choose to take a tender ashore to explore the island's secluded beaches. Anguilla is a top birding spot with more than 80 bird species that either migrate or permanently reside here.
It is hardly surprising that this small island ranks as an expensive top-end destination in the Eastern Caribbean. Anchor overnight off Anguilla and leave early the next day for guests' departure in Sint Maarten. 
* note that all cruise times are based on a 12- to 15-knot speed. 
By Capt. Carl Sputh, MY Starfire
discover the best of yachting