Yacht Charter Itinerary Virgin Islands
---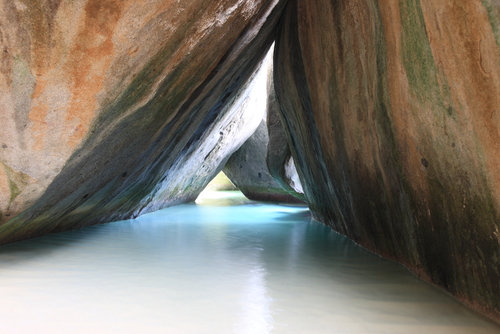 The Caribbean yacht charter your guests dream about is wrapped in two different flags, the United States and the British Virgin Islands. From the most popular of the U.S. Virgin Islands, St. Thomas, the following itinerary will have you leisurely exploring the enchantment of St. John's national park waters before heading over to the more remote islands of the BVIs.
With their clusters of glistening emerald-hilled isles and islets, and cays lined with silky white beaches, the BVIs present the ultimate low-key Caribbean lifestyle. Many islands are a haven of serenity and solitude with hidden coves accessible only by boat, technicolor sea life and beach bars that appeal to everyone's inner Jimmy Buffet.
Luxury Yacht Charter Virgin Islands DAY 1:
ST. THOMAS
St. Thomas, the most popular of the U.S. Virgin Islands, makes an outstanding pick-up or drop-off point for guests with flights abound into the Cyril E. King Airport. Provisioning is also a snap thanks to the large concentration of supermarkets and shopping centers located on the island.
Crown Bay Marina is a full service marina located just 10 minutes from the airport, making it a convenient starting point. Another option for larger boats is at the "Waterfront" in Charlotte Amalie. The only downside is that you will have to call a water truck and will have no shore power. Note that the restoration of the full service Yacht Haven Marina is expected to be completed this winter season. After a light lunch, depart for a more remote destination. Head for the island's north shore; Magen's Bay, a short 16.8-nm hop, makes an excellent spot for watersports action, including skiing and taking the WaveRunners for a spin. Anchor out for a spectacular night.
Luxury Yacht Charter Virgin Islands DAY 2:
ST. JOHN/FRANCIS BAY
Just a short jump from the commercial isle of St. Thomas delivers your guests to a completely different world. St. John, the smallest of the U.S. Virgin Islands, is two-thirds national park, offering scenic hiking trails, numerous scallops of secluded coves and broad bands of spectacular beaches. To these natural resources, add relics from the pre-Colombian Amerindian civilization and remains of the Danish colonial sugar plantations. Francis Bay, located between Maho and Leinster Bays is just a 12.3 nm run from Magen's Bay. Teeming with marine life and a sunken plane under water, snokerling there is a real treasure-hunting treat. 
Luxury Yacht Charter Virgin Islands DAY 3:
TORTOLA/NORMAN ISLAND
Cruise north from Francis Bay to the British Virgin Islands, clearing customs at the West End of Tortola in Soper's Hole (a 3.7-nm jaunt). You will want to time your arrival before the ferry, otherwise customs could take hours. Customs agents normally don't ask to see the passengers; the crew can usually clear them in. Your guests may enjoy a brief walk ashore and shopping in the town of Soper's Hole. Minor provisioning is also possible here. Once cleared, head to Norman Island (4.7 nm), and anchor in "The Bight," which is the reputed setting for Robert Louis Stevenson's Treasure Island.
Treasure Point, located at the lower end of The Bight, has three caves, appropriately named "The Caves," which are excellent for snorkeling. You can count on finding hordes of Sergeant Major fish. Don't forget to bring the Cheez Whiz – the fish go crazy over it! The Bight is also where the William Thornton Floating Bar & Restaurant (a.k.a. "Willy T") is moored. Guests may enjoy this unique dining experience for a late lunch or dinner – or better yet, a jumping cocktail hour! Anchor in The Bight for the night, and consider having your crew throw a special pirate-themed party for your guests.
Luxury Yacht Charter Virgin Islands DAY 4: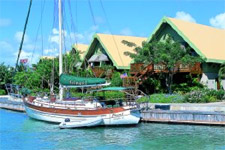 PETER ISLAND
Today, take a 4.6-nm jump over to Peter Island, located directly across the Sir Francis Drake Channel from Road Town, Tortola. Great Harbour is an excellent spot for snorkeling, water skiing and tubing – just be careful to avoid the local fishermen. Sprat Bay is another popular place to visit. Some slips may be available at the Peter Island Yacht Club.
Nearby, Deadman's Bay is the home of a beautiful stretch of beach lined with coconut palms. There is also a clearing for landing helicopters. It tends to get a bit rolly here and there is typically only room for one or two large yachts, but it makes a great spot for a day anchorage. Make sure you tell snorkeling guests to keep an eye out for the green sea turtle hanging out in the sea grass beds below. Choose Great Harbour if anchoring at Peter Island for the night.
Luxury Yacht Charter Virgin Islands DAY 5:
THE BATHS/VIRGIN GORDA
From Peter Island, cruise the turquoise waters to the southern point of Virgin Gorda (9.6 nm). Here you will find The Baths, where giant boulders form a series of spectacular pools and grottoes filled with sea water, a perfect spot for swimming and exploring. Send the guests by tender to the northern entrance; let them make their way to the southern entrance, where you can have the crew waiting with snorkeling gear and chilled drinks. After the fun, proceed around to the North Sound of Virgin Gorda (9.2 nm) to one of a couple places: The Bitter End Yacht Club's friendly staff will rent out Sunfishes and Lasers or visit the Saba Rock Resort for drinks or dinner. Another good anchorage is close to shore at Biras Bay.
Luxury Yacht Charter Virgin Islands DAY 6:
MARINA CAY
From Virgin Gorda, it is an 11.5-nm journey to the tiny island of Marina Cay, just off Scrub Island. Beef Island is also nearby and has an airport for any guests arriving or departing. Marina Cay makes for a picturesque anchorage. The swimming and snorkeling here are superb; the reef of Great Camanoe is located just slightly west of the island. Send your guests ashore to Pusser's Landing, a restaurant offering an amazing view, for evening drinks or dinner.
Luxury Yacht Charter Virgin Islands DAY 7:
SANDY CAY/JOST VAN DYKE
Forge on to Jost Van Dyke with a brief stop at Sandy Cay (11.1 nm). This small island makes a great spot for lunch or a beach party. The water is deep right up to the island. (It's suggested to get there early for a prime location.) In the afternoon, head to Jost Van Dyke's Great Harbour – just a 2.6-nm trip.
Jost Van Dyke is also home to Foxy's, a renowned watering hole, where the guitar-playing owner normally starts his nightly gig around 4-6 pm – he always puts on a great show. Dinner is also an experience. Anchor out in Great Harbour for the night.
For departure, get underway early the next day for St. Thomas – a 16.3-nm run. It used to be a good idea to clear customs/immigration in St. John's Cruz Bay, but yachts over 126 feet can no longer anchor here. Instead, pull on to the "Waterfront" dock in Charlotte Amalie, St. Thomas, stern to, and walk your guests to the efficient customs office. There is a small room on the street side of the building to accommodate yachts. Your guests might want to end their trip by shopping for the last minute "All I got was this lousy t-shirt" in St. Thomas.
discover the best of yachting