Have the time of your life, and you don't even have to lift a finger.
A crewed yacht charter is wonderfully indulgent; you don't have to do a thing. Each morning the yacht's private chef cooks up an extraordinary feast that awaits you when you climb out of your soft comfy bed. The stewardess serves your breakfast on deck at an elegant table decorated with crisp linen and flowers, and afterwards disappears to clean your luxury cabin, return your laundry and make sure the yacht is absolutely spotless.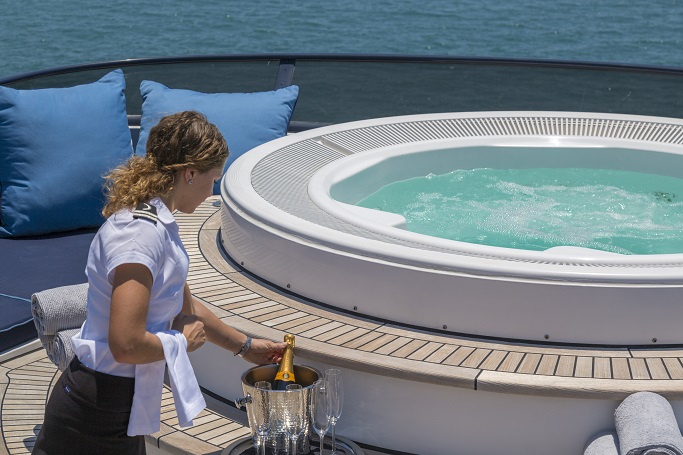 Every Captain has a Little Black Book of their favorite secret spots.
On a crewed yacht charter, the captain will come to you each morning to discuss the itinerary for the day – what would you prefer to do? Relax on a deserted tropical island beach? Hike through the rainforest?  Dive with dolphins? Michelin star restaurants? Boutique shopping? Helicopter flight?  All of the above? A yacht skipper has many years of experience finding the best spots, activities and restaurants in your destination, tailoring the perfect yachting vacation for your tastes.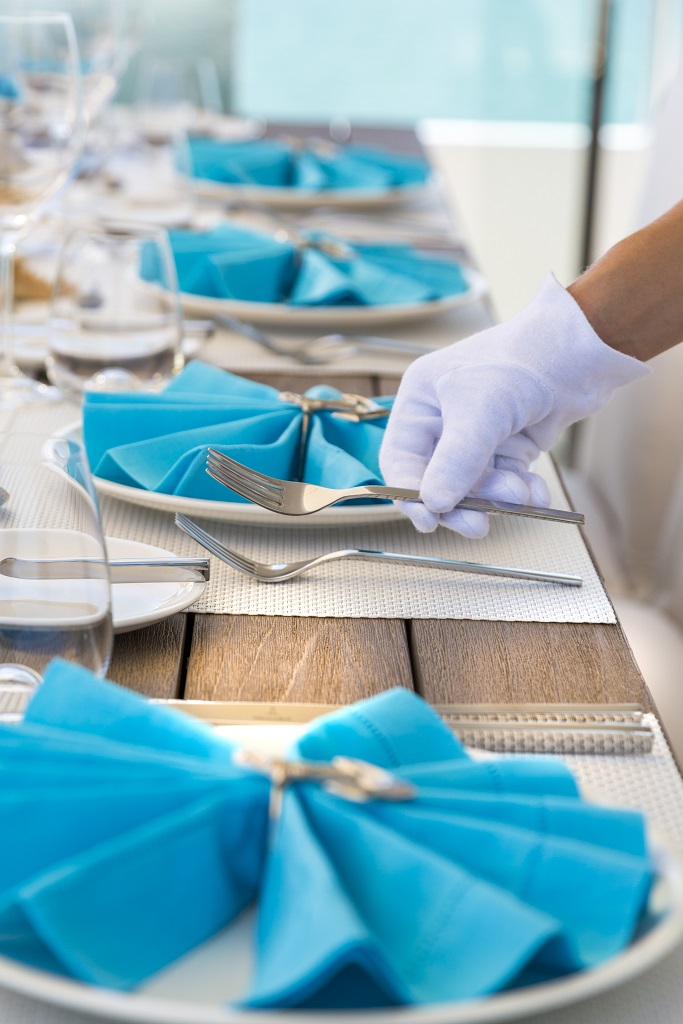 Special VIP treatment at the best restaurants.
The deck crew are always at your service on crewed luxury yacht charters – taking you to a perfect snorkeling spot in the tender, or teaching the kids to jetski or windsurf. Whichever outdoor activity you have in mind, the 'deckies' can assist.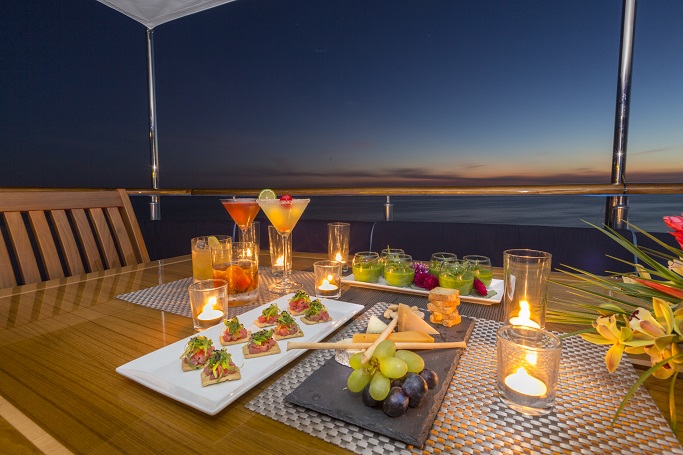 Onboard Haute Cuisine Dining (Breakfast, Lunch, Afternoon Cocktail and Dinner)
When you get back to the charter yacht, a beautiful lunch awaits you, served in the shade with the afternoon breeze springing up off the water. Or you can have a luxury beach barbecue ashore, tables and chairs set up on the soft sand, the chef cooking lobster on the grill and the stewardess pouring icy cold drinks and setting the music. The deck crew line up the watertoys on the beach – like seabobs, jetskis, kayaks – so you can play the afternoon away in the sunshine.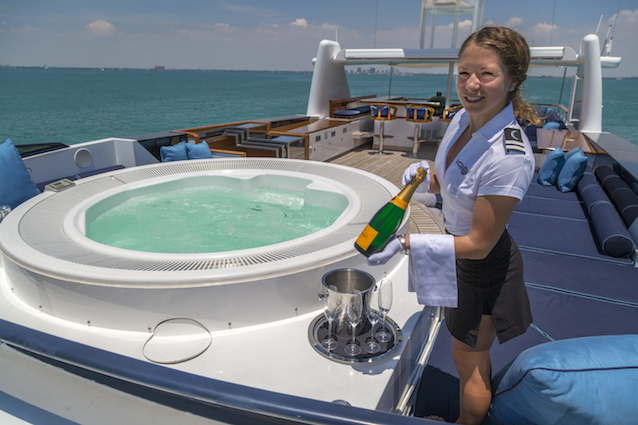 Your Perfect Adventures Are Planned (while you sleep).
Perhaps you'll head back to the boat to relax in the Jacuzzi, or lie on a deckchair with a book while the captain drives the yacht to another stunning location, wind blowing in your hair. The stewardesses will appear with fresh towels and bathrobes and trays of iced tea or champagne. Afternoon tea approaches, and the yacht soon fills with the smell of baking cakes wafting from the galley.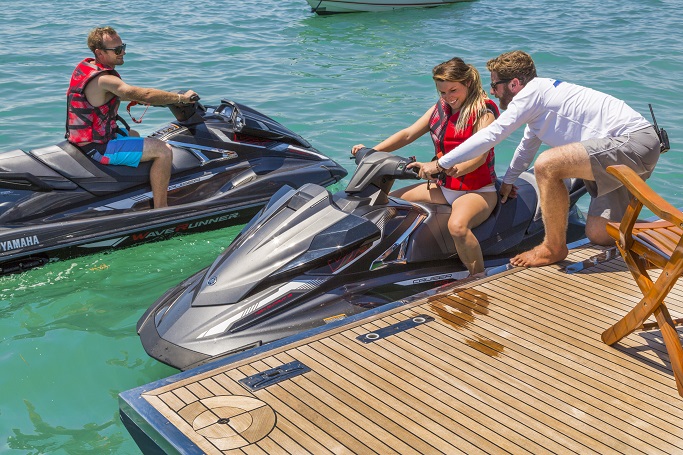 Yacht Toys Training & Guidance
Charter Yachts come packed with things to do. From Seabobs to underwater submarines, there are many ways to enjoy the turquoise surroundings. Some yachts even offer onboard diving certification for those who have always wants to explore the colorful reefs and underwater spectacles.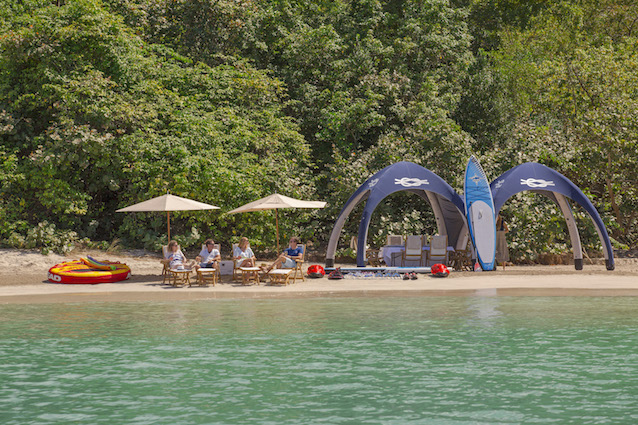 Private Beach Picnics
Perhaps at some point you'll head to your cool, quiet cabin for an afternoon nap, then dress up for cocktails and canapés on the sundeck, watching the sun set into the sea as the stewardess blends more margaritas. Afterwards, you'll retire to the dinner table to eat another utterly delicious meal under the stars, surrounded by flickering candles. Or perhaps you'll want to go ashore to a glamorous restaurant, or head to a Caribbean sailor's bar for a night of reggae and dancing. On crewed yacht charters, everything's up to you – just tell your yacht crew what you want and they will deliver.
Corporate Entertaining, or large family groups; and for families with young children, Yacht Charters can be child proofed throughout
Crewed yacht charters not only delivers exceptional, 7 star service with a guest-to-crew ratio that luxury hotels can only dream of, but it also but it also takes all the stress out of being on the water-navigation headaches, bad weather, tricky anchorages or faulty machinery – that can sometimes disturb an uncrewed, or 'bareboat' charter as they're known in the business. A skippered yacht charter means that your yachting holiday truly is a holiday.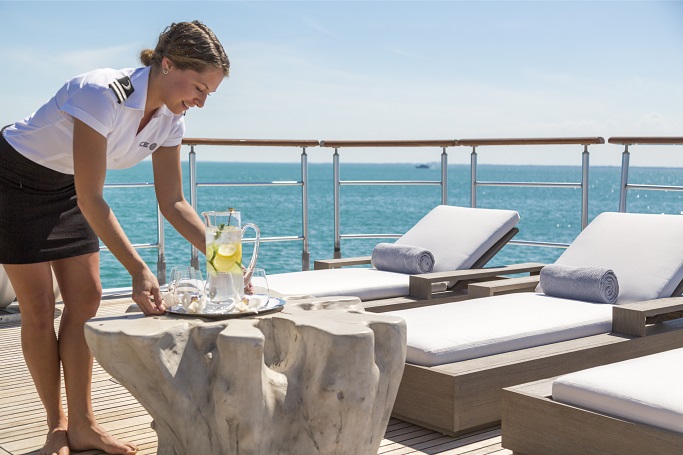 Crewed yacht charters are hassle-free, incredibly safe, and deeply relaxing. With a team of friendly and highly trained crew offering superb service, you will want for nothing. A crewed yacht charter really is one of the great experiences of a lifetime.
Also read about family yacht charters, corporate yacht charter and honeymoon yacht charter.